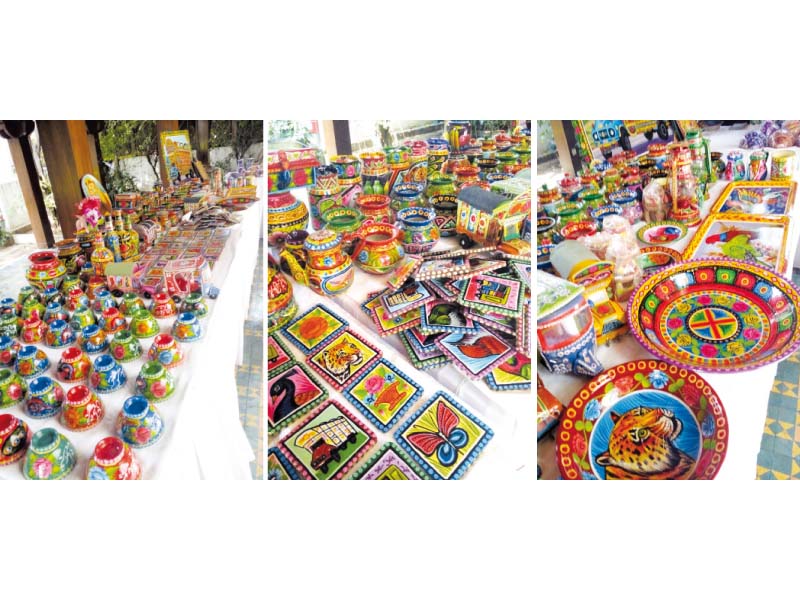 ---
ISLAMABAD: In a bid to promote Pakistani artists and traditional crafts, an exhibition by SerenArts focuses on truck art and detailed engravings on lacquered wood.

"This Independence Day, we celebrated Pakistan's artisans by giving them the platform of SerenArts to help them promote and sell their artwork," said SerenArts and Satrang Gallery Director Asma Rashid.

Unlike others, the exhibition features stalls to ensure that the artisans get the attention they deserve.

One of the stalls featured truck art items. These included mugs, jars, plates, trays, painted bowls, urns and various other items with classic truck art images as well as popular couplets in Punjabi and Urdu by talented craftsmen Abid Hussain and Farid Ahmed.

"I have been painting trucks since the 1980's and now that truck art has become recognised, we decided to paint other items on the same theme and exhibit them in Islamabad. We have exhibited at various other exhibitions and noticed that truck art products are in high demand especially trays and jars," Hussain told The Express Tribune.

He said even though truck art products are commonly found now, there is immense detailing and the fine products always stand out. "A true art enthusiast can set a professionally painted truck art item apart from the rest," said Hussain.

Another stall at the exhibition featured detailed engravings on lacquered wood items like plates, bowls, lamps, mirrors, and tables. The stall featured work of master craftsman Mohammad Waseem and his wife Ayesha who have been working on their age-old family craft.

"Our family and ancestors have been in this industry since hundreds of years, way before partition took place. This type of art was in high demand in Delhi where my ancestors were located. We migrated to DI Khan after partition and revived our family business, which is also part of our culture and tradition," said Farhat, Ayesha's sister who is also involved in the business.

She told The Express Tribune that even though a bowl may look simple it requires hours of detailed work. "We do not paint the design, we paint the bowl and then engrave the design on it, which requires effort, time, hard work and immense persistence," she said.

What sets this exhibition apart from the rest is the fact that it features artists working on the products who also produce customised items on request. For art enthusiasts, watching them work live is an absolute treat.

The exhibition will continue at Serena Hotel Bazaar Court till August 18.

Published in The Express Tribune, August 16th, 2015.