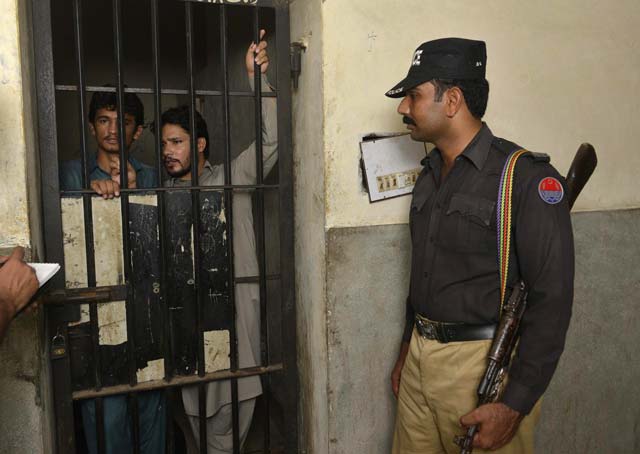 ---
KASUR: A lawyer for the victims of the Kasur child porn scandal on Monday accused police of protecting the culprits, as activists warned the case was only the tip of the iceberg.

At least 280 children were filmed being sexually abused by a gang of 25 men who used the hundreds of videos they produced to blackmail the youngsters' parents, according to Latif Ahmed Sara, a lawyer and activist representing the victims.

Punjab Chief Minister Shahbaz Sharif had ordered an independent judicial probe and Prime Minister Nawaz Sharif has vowed stern action against those responsible.

Read: Amid nationwide outrage, PM vows to punish culprits

More arrests in Pakistan child sex abuse scandal

Police on Monday arrested five more people over a major child sex abuse scandal after a lawyer for the victims accused them of protecting culprits, while activists said the case was just the tip of the iceberg.

The total number of suspects in custody stands at 12 following Monday's arrests.

A police cover up? 

There are suggestions of a politically-influenced cover up. The village at the heart of the scandal, Hussain Khanwala, lies in the ruling Pakistan Muslim League-N (PML-N) party's stronghold.

According to Latif Ahmed Sara, a lawyer and activist representing the victims, the police were dragging their feet in the case where some of the videos date back to 2007.

"The police are protecting the criminals, they are supporting them and have provided them an opportunity to escape the village," Sara told reporters.

The head of Punjab's Child Protection Bureau, Saba Sadiq, described the case as "the largest child abuse scandal in Pakistan's history".

But an initial police probe, carried out last week at the behest of the provincial government described the allegations as "baseless", a conclusion immediately rejected by local media and rights activists.

Read: Police play down Kasur child porn scandal

District police chief Rai Baber Saeed told AFP officers were doing their best to catch those responsible, but accused activists and media of exaggerating the scale of the abuse.

He said the case was an old one, dragged up by a group of villagers as a tactic in a land dispute.

The gang allegedly attempted to extort money from parents of victims, selling clips of the videos locally for Rs40 (around 40 US cents) if they did not pay up.

"They made the video of my son in 2011 and we have been paying the blackmailers since then," the mother of one of the victims, who did not want to be named, told an AFP reporter.

"I have seen the videos, they are disgusting," she said.

Villagers told Reuters that a prominent family there has for years forced children to perform sex acts on video.

Rubina Bibi says her 13-year-old son was a victim, but when she tried to file a report at the Ganda Singh Wala police station a month and a half ago, "the police station clerk told me to get lost and I was thrown out."

"My son ... is in the videos, he is a victim," she said. "Our children were forced into this. They were humiliated. But the police are treating them like criminals."

Read: Eight members of Ganda Singh Wala pedophile group arrested: RPO

Another mother, Shakila Bibi, added: "I went to the police station to file a complaint, but instead of registering a (report), they took my son into custody."

Her 15-year-old son is still in jail, she said.

Activists working to fight child sex abuse said the problem was widespread in Pakistan but difficult to quantify because victims were often unwilling to speak out.

Activist Mobeen Ghaznavi says many children were abused and that he had 130 video clips containing abuse.

"People are afraid. They are being threatened and intimidated," he said.

Suraiya Bibi said that when she complained to police, her family was threatened by the abusers.

"One day some women in the village showed me these videos. My son was in them. My world collapsed," she said.

"Kids were being intimidated in these videos with weapons, they were drugged. Kids as young as five years old were made to perform oral sex."

In one clip seen by Reuters, a boy cowers and cries before putting his hands over the camera lens. In another, a groggy boy is beaten and abused as a man tells him, "I will not stop until you smile."

Three 15-year-old boys told Reuters they were abused for several years. Two said they was threatened with weapons that included knife, an axe and a gun.

"He threatened me if I did not compromise, he would kill me on the spot," one said.

One 18-year-old told Reuters he had been abused since he was 10. He stole cash and jewellery from his family after his abusers blackmailed him, he said.

"I was going to school one day when these boys picked me up and beat me up badly. Then they drugged me, and when I woke up, they showed me these videos they had made of me," he said.

"They told me that they would bury me alive if I told anyone ... I thought about killing myself every single day."

Mumtaz Hussain from Sahil, Pakistan's leading campaign group working against child abuse, told AFP there were more than 3,500 registered cases last year -- representing nearly 10 children a day being abused.

But he said the true figure was far higher, perhaps as many as 10,000.

"Very few are reported because the victims and families are shy to disclose the sexual offence against them because of cultural, social and religious barriers," he said.

"It is important to break the silence and challenge the taboo around it," Minallah told AFP.

"How can a child be safe if he knows that his parents, the culture and societal norms expect him to remain silent to uphold the family's 'honour'?"

SHO Kasur supended

Meanwhile, SHO Kasur Mehar Akmal was suspended over involvement in child pornography case on Monday evening, Express News reported.

The suspended SHO allegedly used to make videos of complainants and would later on provide the abusers with these clips. He was also reportedly backing the gang.
COMMENTS (19)
Comments are moderated and generally will be posted if they are on-topic and not abusive.
For more information, please see our Comments FAQ