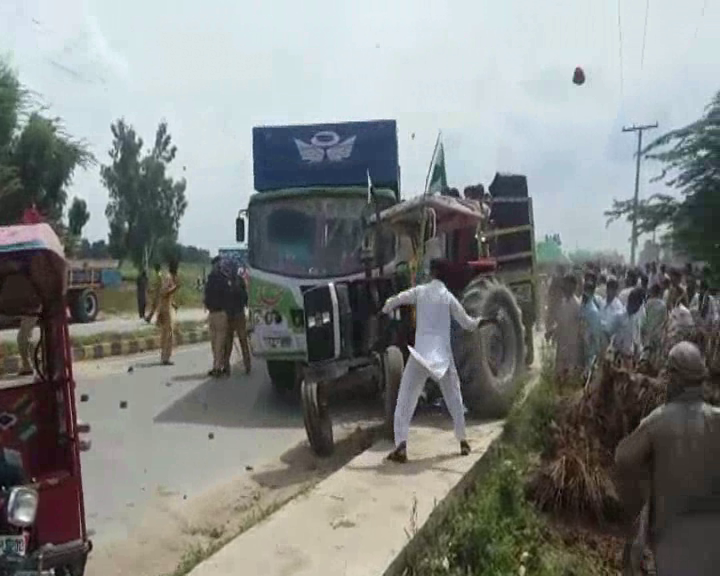 ---
KASUR: Sheikhupura Regional Police Officer (RPO) Shehzad Sultan said on Saturday that investigations into Ganda Singh Wala pedophilia ring showed that far fewer victims had been filmed than was being claimed in media reports, adding that the victims were 'teenagers' and not 'children.'

During a press conference at Qurban Police Lines, Lahore on Saturday, Sultan said that calling the pornography scandal victims 'children' was incorrect.

The RPO, flanked by District Police officer (DPO) Kasur, claimed that all videos that the police had reviewed showed victims being sexually abused, adding that the victims were teenagers, not children.

Refuting the claims that more than 280 children had been targeted by the alleged pedophile ring, the RPO claimed that so far only eight cases had been registered against 15 accused men.

He added that after receiving the complaints about a pedophile ring working in the area, police officials from Ganda Singh police station travelled to the village and made announcements in mosques urging people to come forward and lodge their complaints.

However, Sultan said that despite repeated requests only eight complainants came forward o lodge cases.

If there was any truth in the claim that more than 280 children were assaulted sexually, than more complainants would have definitely come forward, the RPO said.

Following investigations, the RPO said that they discovered that of the 15 accused, nine were directly involved. Eight of these men directly involved had been apprehended by police. The ninth man, he said, had secured pre arrest bail from court.

Sultan further said that they had found no evidences against the remaining six accused.

The RPO said that the police found 13 video clips in mobile phones seized from the eight accused. The RPO further claimed that the accused had confessed to making around 30 such video clips, all of which have been destroyed.

Alleging that the protests were orchestrated against police, the RPO claimed that it was a tactic to pressurise the police to arrest some of the people who are relatives of the accused owing to malafide intentions of the protesters, but that these people had no direct connection with the case.

The RPO also exhorted the public to play its role in such a case. "It is not only the police's responsibility but society's responsibility as well to stop such aggressors and inform police about them in a timely manner."

Responding to question that the local SHO was suspended for taking a bribe from the accused to quash the case, Sultan said, "The SHO was replaced after he was injured in a scuffle between villagers and police and not on charges of corruption."

Earlier it was reported that six men accused of being involved in a child abuse and child pornography scandal have been arrested.

According to a report submitted to the Punjab chief minister revealed that raids are being conducted to apprehend six other men. All 12 men were identified through videos of abuse that investigators got hold of.

Read: 19 injured as protesting villagers clash with police

The committee, comprising Additional Inspector General (IG) Arif Nawaz Khan and Commissioner Lahore Division Abdullah Sunbal, presented its findings to Chief Minister Shahbaz Sharif, who has directed authorities to apprehend any individuals involved in such incidents.

The CM has vowed to keep influential figures from pressurising the police and has asked authorities to investigate the involvement of PML-N MNA Malik Ahmed Saeed.


CM Punjab has vowed to keep police out of any pressure from any influential figure. Justice will be served. #Kasure

— Punjab 2013-18 (@Punjab13to18) August 8, 2015
Shehbaz Sharif has also asked the authorities to investigate involvement of PMLN MPA Malik Ahmed Saeed #Kasur.

— Punjab 2013-18 (@Punjab13to18) August 8, 2015


A gang of 20 to 25 individuals had reportedly made about 400 videos of sexual abuse of at least 280 children belonging to Hussain Khanwala village near Kasur, according to Express News.

The first FIR of the case was registered on July 1. A total of eight FIRs have been registered so far at the Ganda Singhwala police station, seven for assault and one for threats.

Read: A dangerous place for children

The Punjab chief minister took notice after clashes erupted over the past few days between protesters and police in villages around Kasur, some of which grew violent, injuring both citizens and policemen.

Protesters came out on the streets after news broke out of the police letting go of one of the arrested suspects. Protesters also claim that the police had accepted bribes to turn a blind eye to the activities of the 25-man gang.

Read: Child abuse: Eight-year-old killed after being raped in Quetta

Pakistan Tehreek-e-Insaf (PTI) chief Imran Khan expressed shock at the revelations and condemned the acts of child abuse and police complicity.


3/3 If we cannot protect our children & instead police protect perpetrators of abuse, then we are becoming an inhumane & depraved society.

— Imran Khan (@ImranKhanPTI) August 8, 2015
PTI will pursue this issue of child abuse in Parliament.

— Imran Khan (@ImranKhanPTI) August 8, 2015


Around 280 children in remote villages in Kasur district were targeted in a criminal operation that began in 2006. The acts of abuse were filmed and then sold to paedophiles on the Internet and locally. The children who were targeted were reportedly blackmailed and coerced into stealing jewellery and money from their own homes. Families eventually learnt of the crime when several children confessed to their parents.
COMMENTS (45)
Comments are moderated and generally will be posted if they are on-topic and not abusive.
For more information, please see our Comments FAQ