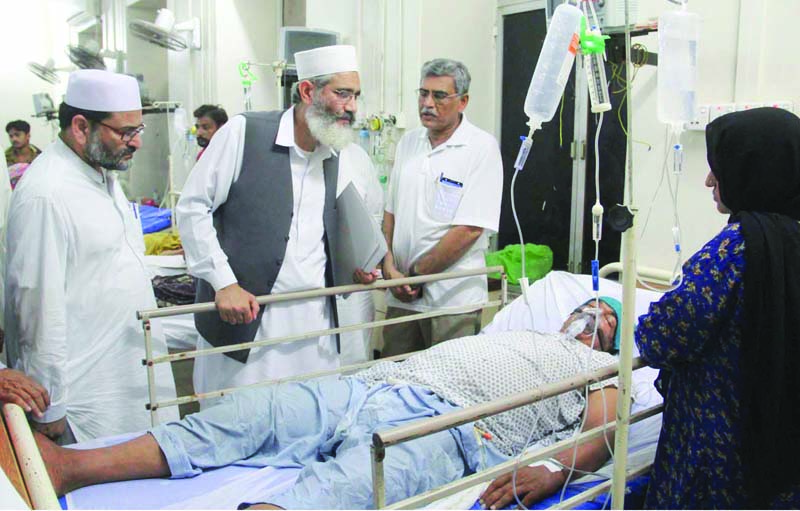 ---
KARACHI: As 21 more people succumbed to heat exhaustion on Sunday, Prime Minister Nawaz Sharif's imminent arrival in the metropolitan city seemingly caused many ministers and political leaders to leap into action.

While they made a dash for different hospitals around the city to meet heatstroke patients, the Sindh Health Department has also, finally, collected and collated the death toll data, according to which 1,213 people have died in the province in nine days due to dehydration and other heat-related complications.

Interestingly, this data was collected within 24 hours. "The health department started collecting the data from private hospitals on Saturday," said Hasan Murad Shah, the health department's director general.

Read: Karachi heatwave death toll crosses 1,200: Health Department





Pakistan Peoples Party Chairman Bilawal Bhutto Zardari inquires about the health of a heatstroke patient at the Civil Hospital. PHOTO: PR




He admitted that health officials had not been collecting data from private hospitals – even though heatstroke victims have been dying every day for the past nine days. "All public and private hospitals have been directed to share the figures of heatstroke patients with the health department."

According to the department's report, a total of 1,203 people have died in Karachi. Ten others died in other parts of the province: five in Tando Allahyar, two each in Hyderabad and Thatta, and one in Tharparkar.

Earlier, the Provincial Disaster Management Authority and health officials had claimed that some 80 people had died due to heat exhaustion in other districts of Sindh.

Of the 21 people who died in Karachi on Sunday, eight were reported dead at the Abbasi Shaheed Hospital (ASH), seven at the Jinnah Postgraduate Medical Centre and six at the Civil Hospital Karachi (CHK). According to Sindh Health Minister Jam Mehtab Hussain Dahar, 35% of the Karachi heatstroke victims were women.

Read: Heatwave volunteerism: These images will restore your faith in Karachi

Qaim is elderly, says Siraj

During his visit to different hospitals across Karachi, Jamaat-e-Islami Ameer Sirajul Haq said Sindh Chief Minister Qaim Ali Shah was an elderly man who could not deal with the affairs of the city. "Karachi's issues should be resolved at once because it pays the maximum tax."

Meanwhile, the Sindh government refused to accept any responsibility for the heatwave deaths. "The federal water & power minister and K-Electric are responsible for the deaths," said Sindh Information Minister Sharjeel Memon during his visited to the ASH.

He said the city's power utility was making billions of rupees in profit, but it didn't spend a single penny on upgrading its system. "Power outages are the reason for people dying of heat."

Moreover, Pakistan Peoples Party Chairman Bilawal Bhutto-Zardari visited the CHK to ask after the heatstroke patients. After meeting with the patients, Bilawal asked the hospital management to set up special wards with all the required facilities until the heatwave lasts.

Published in The Express Tribune, June 29th, 2015.