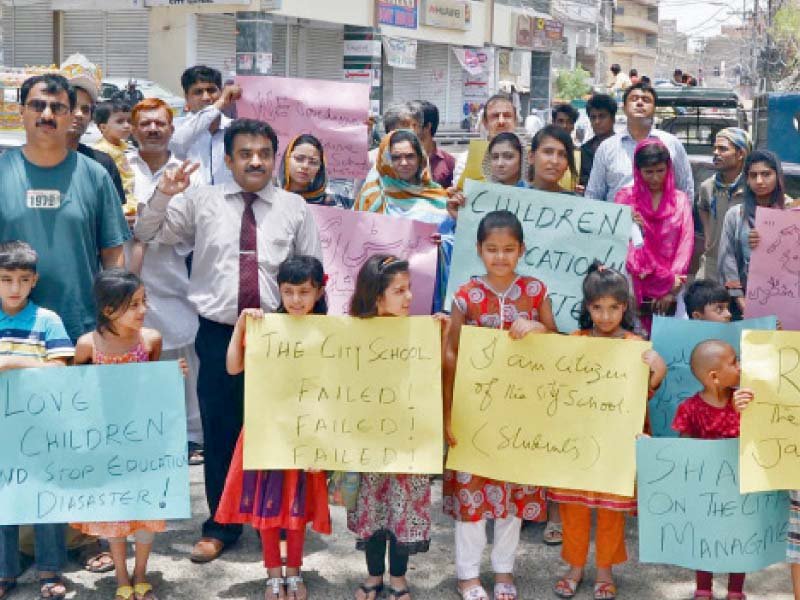 ---
HYDERABAD: A branch of The City School in Jamshoro district has been suddenly closed down, leaving teachers, students and their parents appalled and dismayed. The employment and schooling of some 31 teachers and 160 students, respectively, has been put at stake, said protesters on Friday.

Parents, students and a few teachers gathered outside the press club to express their anger. The parents, Imdad Ali Bughio, deputy controller examinations at Mehran University of Engineering and Technology, Sindh University (SU) professor Dr Hamadullah Kakepoto and SU fine arts teacher Saeed Mangi, Imran Halepoto, and one of the 31 affected teachers, Hoor Yousuf, were among the protesters. Addressing a press conference, they said that the school administration did not inform anyone prior to the closure.

The school, located in Sindh University Housing Society, has classes from kindergarten till the sixth grade. The children were mostly those of the teachers. The parents said that they have learnt that the branch is being sold to another school franchise, The Smart School, which already has one branch in Jamshoro's Mehran University Housing Society. "The school management took advantage of the summer vacations," they claimed. "They have begun shifting the furniture and fixtures." The protesters said that they will take the matter to the court if the school management does not stop with the sale.

According to Bughio and another parent, Imran Halepoto, principal Shazia told them that even she was given slapdash information over a phone call that the school is changing hands. "I am also shocked and not in a position to say anything to the teachers, parents and students," they said, quoting Shazia. The principal could not be contacted for her version.

The parents claimed they learnt about the change of ownership recently from the school's regional office in Karachi. "Now, we are being given the option to continue our children's studies in the new system or get them transferred to the Qasimabad branch [in Hyderabad]."

Yousuf said the teaching faculty has been made redundant without an advance notice. The parents, meanwhile, were apprehensive that they will face difficulty in the transfer of their children in addition to a possible academic break in their education. "The school even collected the tuition fee for the months of June and July," said Bughio.

The protesters appealed that the provincial government, Hyderabad commissioner and the judiciary take notice of the matter. The management could not be contacted.

Published in The Express Tribune, June 28th, 2015.
COMMENTS
Comments are moderated and generally will be posted if they are on-topic and not abusive.
For more information, please see our Comments FAQ