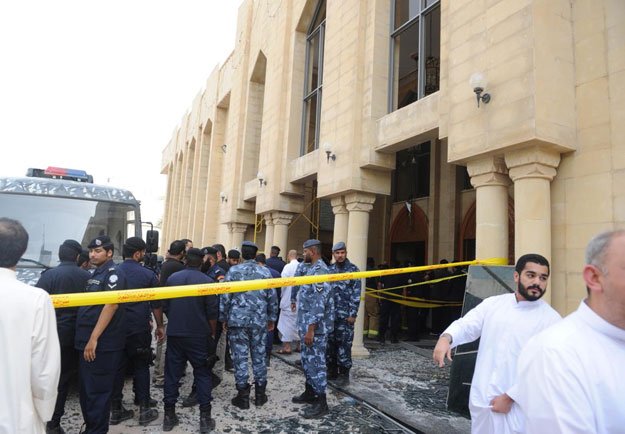 ---
KUWAIT CITY: Kuwait is to hold a mass funeral on Saturday for 26 people killed in a suicide bombing at a Shia mosque claimed by the Islamic State group.

The interior ministry said in a statement early Saturday that 26 people and the bomber were killed and 227 others wounded in one of the country's worst bombings and its first ever on a mosque.

The attack targeted Al-Imam Al-Sadeq mosque in the capital Kuwait City during Friday noon prayers.

The mosque authorities said in a statement that "Kuwait martyrs" will be laid to rest at the Shia cemetery, west of the capital, at 4:00 pm (1300 GMT).

Read: Kuwait boosts oil sector security after mosque bombing

It said that condolences would be accepted for three days starting on Saturday at the Grand Mosque, the largest place of worship for Sunni Muslims, in a show of solidarity.

Kuwait's emir, the government, parliament and political groups and clerics have said the attack was aimed at stirring sectarian strife in the emirate.

Sunni religious and political groups were quick to condemn the attack carried out by the Islamic State, a radical Sunni group which considers Shia to be heretics.

Shia form a third of Kuwait's 1.3 million native population.

Read: IS suicide bomber kills 25 at Kuwait Shia mosque

The interior ministry has said an unspecified number of suspects were held for questioning in connection with the attack that shocked the small oil-rich Gulf state. No details were provided.

The cabinet announced after an emergency meeting Friday that all security agencies and police had been placed on alert to confront what it called "black terror".

It also declared Saturday a day of mourning.

Shia activist Abdulwahed Khalfan told AFP that security at the mosques was beefed up and citizens' committees have been formed.

Read: Pakistan condemns attack at Kuwait mosque

The IS-affiliated group in Saudi Arabia, calling itself Najd Province, said militant Abu Suleiman al-Muwahhid bombed the mosque, which it claimed was spreading Shia teachings among Sunni Muslims.

The emir, Sheikh Sabah al-Ahmad al-Sabah, who immediately visited the site of the bombing, said that the "criminal attack is a desperate and evil attempt targeting Kuwait's national unity".

Several countries and organisations including the United Nations, the United States and others deplored the bombing.
COMMENTS
Comments are moderated and generally will be posted if they are on-topic and not abusive.
For more information, please see our Comments FAQ