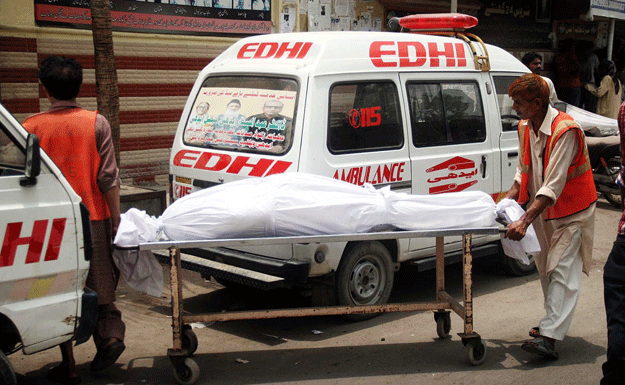 ---
ISLAMABAD/ KARACHI:



As Prime Minister Nawaz Sharif instructed federal ministries to ease the suffering of heatwave victims in Sindh province through all possible assistance, at least 33 more people died on Friday in different hospitals of Karachi, taking the overall death toll to 1,031.




More than 50 people also died in other parts of Sindh.

Though the Provincial Disaster Management Authority (PDMA) claimed that at least 13,000 people were affected by the heatwave that was slowly subsiding, other experts said that the number was probably much higher.

Dr Salma Kausar Ali, senior director of Karachi Metropolitan Corporation, said the number of patients was falling with every passing day. "The situation is under control but scores of people are still hospitalised," she added.

Read: Feeling the heat, Taliban threatens K-Electric against power outages

Meanwhile, Federal Health Minister Saira Afzal Tarar and States and Frontier Regions (Safron) Minister Lt General Abdul Qadir Baloch arrived in Karachi and visited the Jinnah Postgraduate Medical Centre (JPMC) where nine more sunstroke patients died on Friday.

Addressing the press conference at the Karachi Press Club, Baloch said the PM Nawaz is quite concerned over the fatalities due to heatstroke in Karachi. "The inept officers, found guilty of negligence, will be dealt with severely," he said.

He said all stakeholders were responsible for the deaths in Karachi. "Investigation is being conducted about the role of K-Electric in the crisis. The power supplying company will be nationalised, if required," he said.

Tarar said a majority of the people, who died in Karachi, were above 50 years of age. "This heatwave was caused by climate change," she said.

Read: UN chief offers help to Pakistan to deal with deadly heatwave

A Met official in Karachi has said no rain is expected in Sindh province, including Karachi, for at least five days. "Sea breezes will cool down hot weather of the port city in the coming days," said Meteorological Department official Abdul Rasheed.

However, the Pakistan Meteorological Department (PMD) Director Dr Mohammad Hanif said the monsoon season will begin in Pakistan from the first or second week of July. "This [monsoon] will bring the mercury down to a great extent," he said.

He said the deaths were still being reported from the Karachi but the victims had actually received sunstroke earlier in the week during peak temperatures.

Published in The Express Tribune, June 27th, 2015.