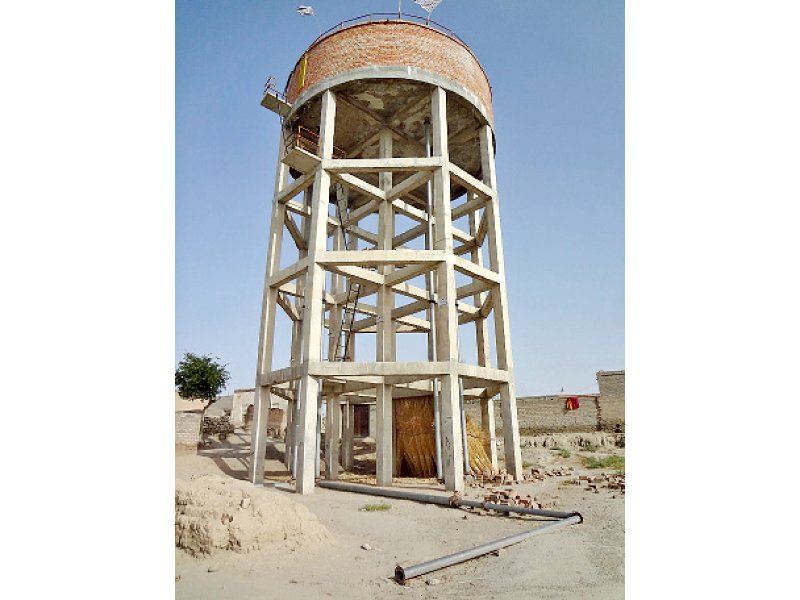 ---
LAKKI MARWAT: Residents of Shah Hassan village in Lakki Marwat have been forced to buy water bottles for Rs5 to quench their thirst as tube wells in the region are running dry.

A village which once had an abundant supply of water from tube wells now finds no use for them. Many of which have been out of order for quite some time and have not served the needs of residents.

Gul Badshah, who operates a tube well in the village, told The Express Tribune it has been a long time since the well has been non-functional and no one has paid attention to the problem.

"Prompt action is needed to repair the tube well," he said. "A stabiliser has been provided. However, my tube well is much too big and the voltage is too low for it to function."

The tube well was constructed during the tenure of the Awami National Party government. It had also constructed an overhead water tank in the village which also remains non-functional.

The ANP government had vowed to start development work in the village after over 100 people were killed in a deadly blast during a volleyball match in the village on January 1, 2010. It had also promised to rename the area to Model Village.

However, these promises have not been kept and many locals have still been deprived of bare necessities such as water. Similar problems exist for other tube wells in the village. Insiders told The Express Tribune that many of these tube wells have been built using low-quality material. This has affected their efficiency.

Core of the matter

Speaking to The Express Tribune, Hazrat Ali, a landowner, on whose land a tube well was built, said, the facility was built between 1988 and 1990 under the Pakistan Muslim League-Nawaz government.

"However, in the long years since it was set up, the tube well has not worked properly," he said. "I have been told there were some problems while it was being constructed. We tried shifting it to another location but it didn't work in either case."

Out of order

The use of substandard material during construction is not the only reason why locals have not been able to use tube wells. More often than not, feuds between people from different villages have interfered with the process.

The construction of a tube well in Daulat Khel village became a bone of contention between Daulat Khel village and Shah Hassan village. It was inaugurated by PML-N MPA Mashal Khan Begukhel and drew the ire of residents from Shah Hassan village. Subsequently, the MPA managed to pacify them by building a tube well in the village.

Swept under the carpet

The nazims of the village who have recently been elected after the local government polls claim the villager's needs have been ignored by the government and no development efforts are taking place.

Abdul Malik Shah, a village council nazim, said tube wells have been constructed in the village."And yet, there is not a single drop of water in Shah Hassan," he said. "Locals have been forced to purchase bottled water due to a grave shortage."

He added the lack of basic facilities plagues the entire region. "Residents of adjacent areas are also facing similar problems," he added.

Published in The Express Tribune, June 26th, 2015.
COMMENTS (1)
Comments are moderated and generally will be posted if they are on-topic and not abusive.
For more information, please see our Comments FAQ