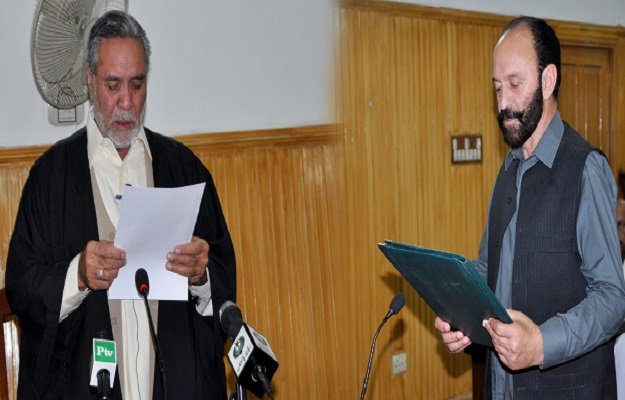 ---
GILGIT: The speaker and deputy speaker of the Gilgit-Baltistan Assembly were elected unopposed during a session on Thursday. PML-N's Fida Mohammad Nashad was elected as the speaker while Jafarullah the deputy speaker of the house.

"I congratulate the winning members and also the government on holding free and fair elections across the region," said Pakistan Tehreek-e-Insaf's Raja Jehanzeb, who won from Ghizer Valley.

Jehanzeb was also the unanimous candidate from opposition parties for the slot of speaker but withdrew in favour of PML-N's Nashad, paving the way for his unopposed election. Jehanzeb is the only PTI member in the 33-member assembly; his comments contradicted claims made by PTI chief Imran Khan who accused Pakistan Muslim League-Nawaz of rigging elections in G-B.

Just like Jehanzeb, Majlis Wahdat-e-Muslimeen lawmaker Kacho Imtiaz was running for deputy speakership but withdrew in favour of Jafarullah.

Changing hands

The former speaker, Wazir Baig, vacated his seat and left the house after announcing Nashad as the speaker of the assembly.

As the new lawmakers were given time to speak, Nawaz Khan Naji hoped the speaker would act "not as a mouthpiece for the government" like the former speaker during the previous government. Naji, an independent lawmaker, is one of three lawmakers who was re-elected, termed the June 8 polls free and fair and hoped the new government would work for the welfare of the people.

He criticised the former government of Pakistan Peoples Party, in which he was an opposition member, for perpetrating corruption in the region. "The present government is expected to not repeat the mistakes of the previous government."

The chief minister-hopeful, Hafeezur Rahman, said his government's top priority would be the elimination of corruption and restoration of merit in the region. "We will work for the betterment of the region and for that we would take the opposition into confidence."

Prime Minister Nawaz Sharif is expected to visit Gilgit on Friday to formally the announce leader of the house. The PM is expected to address the assembly session.

Published in The Express Tribune, June 26th, 2015.