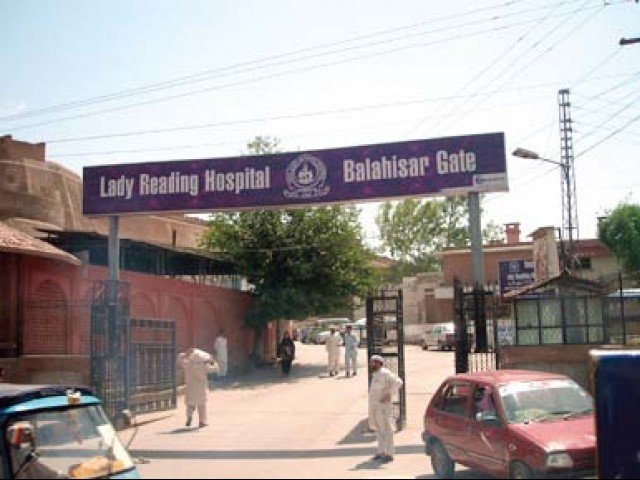 ---
PESHAWAR: At least 35 people stormed Lady Reading Hospital Emergency and Trauma Centre's after their relative succumbed to injuries at the facility on Thursday.

Safeer, a 34-year-old truck driver, was brought to the ward after his car collided with a tractor-trolley near Tarnab on GT Road. He eventually succumbed to his injuries. Members of the deceased's family held the hospital medics responsible for his death, saying he could have recovered if timely medical assistance had been provided to him. As a result, they barged into the ward and beat up doctors.

"Safeer's daughter, aunt and other relatives beat up Dr Saeed, a medical officer, and two other staffers, Asad and Ejaz, and blocked the ward's entrance," LRH Spokesperson Jamil Shah told The Express Tribune.

He added the deceased had been brought to the hospital in a serious condition and doctors had tried their best to save his life.

Staff members vacated the centre and police was called in to prevent the situation from spiralling out of control. Subsequently, negotiations were held between the hospital administration and family members who were shouting slogans against doctors who were on duty. Once the situation was brought under control, hospital medics and doctors resumed their duties.

"A three-member committee has been constituted to investigate Safeer's death," Shah said. The committee, comprising LRH deputy medical superintendent Dr Ghulam Subhani, City SP Afzal Khan and Dr Muzaffaruddin Sadiq, will submit a report within three days.

"Action will be taken against those found guilty of negligence," he added.

Collateral damage

A large number of people who had come to the hospital to seek medical assistance faced difficulties for over two hours due to the incident. However, many others found themselves in the wrong place at the wrong time.

"My sister, Hifza, fell from the stairs and injured her right arm," said Ehsan Ali, waiting outside the ward. "We will have to take her elsewhere,"  Doctors have decided to boycott emergency services at Khyber-Pakhtunkhwa's largest medical facility until an FIR is registered against the protesters.

Talking to The Express Tribune, Grand Doctors Alliance President Dr Rizwan said, "We will resume work only when an FIR is registered against the protesters." He also warned that medics will not perform duties in absence of security. "No one can work until security is guaranteed," he added.

Published in The Express Tribune, June 26th, 2015.