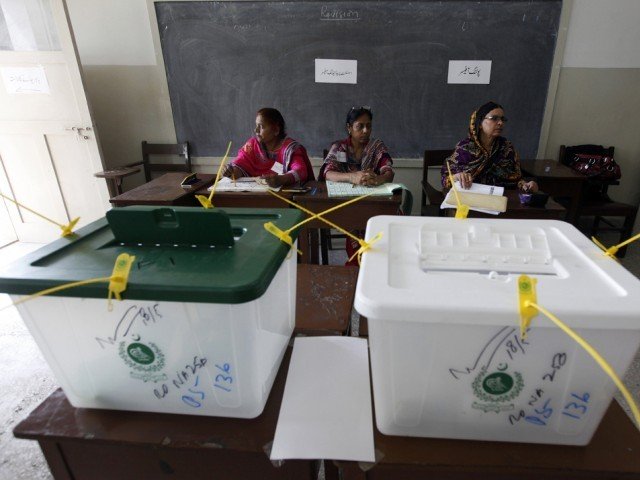 ---
ISLAMABAD: In what will eventually be a mini-local government election exercise in Khyber-Pakhtukhwa (K-P), the Election Commission of Pakistan (ECP) has decided to hold fresh elections at hundreds of polling stations in the province where May 30 local government polls were marred by large scale irregularities.

The ECP on Thursday notified more than 250 polling stations across K-P, where fresh polling will be held on July 5.

An official of the ECP told The Express Tribune that the commission had ordered re-election since it had received irrefutable evidence of irregularities from scores of polling stations, i.e. snatching of ballot boxes and ballot papers, and use of force to influence the election process on polling day.

Read: LG polls: K-P government, ECP row intensifies

The order will impact seats contested for village council, neighbourhood council, tehsil/town council and district councils in Peshawar, Nowshera,  Charsadda, Mardan, Swabi, Kohat, Hangu, Karak, Bannu, Lakki Marwat, DI Khan, Abbottabad, Mansehra.

Under the K-P local government act, each voter was given ballot papers of seven different categories for voting. Often termed to be a complicated exercise under which it takes a voter 15 minutes to cast their vote.

Other than polling stations and constituencies where re-polling has been ordered, the ECP has asked complainants of other areas to approach post-election tribunals for resolution of their grievances. So far, the ECP has set up a total of 92 tribunals in the province for to resolve election-related complaints.

Independents asked to finalise allegiances

Meanwhile, those elected as independents in May 30 polls have been given an opportunity to join a political party of their choice.

The electoral authority has asked independents to provide a letter of acceptance from the leader of party they have joined or they wish to join to the district returning officer.

Under the law, those who are elected as independents to a legislature can join a party within three days of notification of wining an election.

The ECP on June 23 had officially notified the winners of May 30 elections.

Read: Opposition alliance in K-P protests against 'historic' rigging in LG polls

According to rule 74 (7) of the Khyber-Pakhtunkhwa Local Government  Act 2013, the total number of seats by a political party would include independent returned candidates who may join the party within three days of the publication in the official gazette of the names of returned candidates.

The completion of this process will show the total of a party on general seats, upon which the reserved seats will be allocated to a party in LG legislatures, i.e. tehsil and district councils to be set up in the province under the new local bodies system.

Local govt repolls

Following are the polling stations where fresh polls will be held on July 5th from 8 am to 5 pm.












Name of District





No. & Name of District / Tehsil Ward





Name of V/N Council





No. & Name of Polling Station







Peshawar





82





Jogani


Bela Muhamandan





1





GGPS, Bela Mohmandan (Female)




Peshawar





45





Urmar Payan


Yousaf Khel





2





GHSS Urmar payan (M)




Peshawar





45





Urmar Payan


Yousaf Khel





3





GPS No.1 Urmar Payan (F)




Peshawar





45





Urmar Payan


Laise Koruna





4





GGPS No.3 Yousaf Khel (M)




Peshawar





45





Urmar Payan


Laise Koruna





5





GPS Lais Koruna (F)




Peshawar





45





Urmar Payan


Kambar Khel





6





GPS No.2 Urmar Payan (M)




Peshawar





45





Urmar Payan


Kambar Khel





7





GGPS No.1 Urmar Payan (F)




Peshawar





45





Urmar Payan


Ghazi Khel





8





GPS No.4 Urmar Payan (M)




Peshawar





45





Urmar Payan


Ghazi Khel





9





GGHS Urmar Payan (F.1)




Peshawar





45





Urmar Payan


Mishan Khel





10





GPS No.3 Urmar Payan (M)




Peshawar





45





Urmar Payan


Mishan Khel





11





GGHS Urmar Payan (F.2)




Peshawar





28





Hazar Khawani 2


Sadozi





12





Sahibzada Public School Hazar Khawani-II




Peshawar





28





Hazar Khawani 2


Sadozi





13





GGPS near Hujra Ayub Khan




Peshawar





21





Yakkatut


Rashid Garhi-I





14





PS No.204 GHSS, Wazir Bagh (Rasheed Garhi 1)




Peshawar





21





Yakkatut


Rashid Garhi-II





15





GHSS wazir Bagh




Peshawar





21





Yakkatut


Rashid Garhi-I





16





PS No.205 GHSS Wazir Bagh (Rasheed Garhi 1)




Peshawar





49





Bazid Khel


Marozai Deh Bahadur





17





GGPS No.2, Deh Bahadur Marozai (Female)




Peshawar





49





Bazid Khel


V/C Ahmed Khel





18





GHS,Ahmed Khel 500 (M)




Peshawar





49





Bazid Khel


V/C Ahmed Khel





19





GHS,Ahmed Khel 501 (M)




Peshawar





67





Suri Zai Payan


Gharib Abad





20





GPS Gharibabad (PS-2)




Peshawar





48





Musa Zai


Phandu Payan





21





BHU Phandu Payan (F)




Peshawar





48





Musa Zai


Musa Zai





22





GGHS Musazai (F)




Peshawar





58





Shekhan


V/C Kara Khel





23





GPS Masho Peki (Female) (Kara Khel)




Peshawar





58





Shekhan


V/C Kara Khel





24





GPS,Anizai (Combined)




Peshawar





75





Takht Abad Awal


Takht Abad Awal





25





BHU Takhtabad (F)




Peshawar





30





Bhana Manri


Mohallah Kandar





26





GMS Boys Bhana Mari (F-No.1)




Peshawar





30





Bhana Manri


Mohallah Kandar





27





GMS Boys Bhana Mari (F-No.2)




Peshawar





30





Bhana Manri


Temar Garhi





28





Government Ghala Godown Bhana Mari (M)




Peshawar





15





Karim Pura


Shah Masoom





29





GGPS,New Karimpura




Peshawar





25





 Kakshal-II


 Miskeen Abad





30





PS No.239 GGPS,Mohmand Abad (Female)
























Nowshera





11





11. Spain Khak


15.Dakhili Spain Khak





1





GPS No.3 Spin Khak (M)




Nowshera





11





11. Spain Khak


16.Khariji Spin Khak





2





GPS Spin Khak 2nd (F)




Nowshera





11





11. Spain Khak


17.Jarooba





3





GGMS Jarooba (F)




Nowshera





11





11. Spain Khak


16.Khariji Spin Khak





4





GPS No.5 Spin Khak (M)




Nowshera





11





11. Spain Khak


15.Dakhili Spain Khak





5





GHS Spin Khak (Combined)




Nowshera





9





9. Shan Kot


48.Bakhti





6





GGPS Bakhtai (F)




Nowshera





10





10. Dag Ismail Khel


13.Dag Ismail Khel





7





GHS DIK PS-4 (F)




Nowshera





2





2. Balu


10.Babi





8





2-GGMS Babi Qadeem (F)




Nowshera





3





3. Kurvi


29.Banda Mullan Khan





9





GPS Bhanda Mulahan (M)




Nowshera





3





3. Kurvi


29.Banda Mullan Khan





10





GPS School Bhanda Mulahan (F)




Nowshera





23





23 Adamzai


13.Mula Kali (Mali Khel)





11





GHS Mali Khel Bala (Combined 3)




Nowshera





22





22 Maira Akora


Ayubabad





12





CMS Refaqatabad (PS No.2F)




Nowshera





23





23 Adamzai


Esori Chashmai





13





GGMS Chashmai (Combined 5)




Nowshera





22





22 Maira Akora


Ayubabad





14





GPS Ali Garh (M)




Nowshera





22





22 Maira Akora


Surya Khel





15





GGPS Surya Khel (F 4)




Nowshera





24





24. Khairabad


Kati Miana





16





GPS No.1 Petaw Payan (Combined)




Nowshera





26





26. Inzari


Inzari





17





GGHS Inzari (F)




Nowshera





26





26. Inzari


Khan Kaway





18





GPS Gandab (Combined)




Nowshera





26





26. Inzari


Khan Kaway





19





GMS Siavi (M)




Nowshera





26





26. Inzari


Khan Kaway





20





GMS Siavi (F)




Nowshera





27





27. Kahi


Kahi-1





21





GHS Kahi (F)




Nowshera





27





27. Kahi


Kahi-1





22





GGPS No.2 Kahi (F)




Nowshera





27





27. Kahi


Kahi-1





23





GPS No.1 Kahi (M 1st PS)




Nowshera





27





27. Kahi


Kahi-1





24





GPS No.1 Kahi (M 2nd PS)




Nowshera





5





5. Pahari Kati Khel


 Pahari Kati Khel





25





GPS Palosai Payan (F)




Nowshera





5





5. Pahari Kati Khel


 Pahari Kati Khel





26





GMS Spin Kanay Kalan (Combined)




Nowshera





5





5. Pahari Kati Khel


 Pahari Kati Khel





27





GGMS Spink Kanay Kalan (Combined)




Nowshera





8





8. Dheri Kati Khel


Dheri Kati Khel





28





GGPS No.2 Dheri Kati Khel (F)




Nowshera





8





8. Dheri Kati Khel


Dheri Kati Khel





29





GGPS No.2 Dheri Kati Khel (F)




Nowshera





13





13. Gandheri


Gandheri





30





GPS Gandari Bala (F)




Nowshera





13





13. Gandheri


Kalanjar





31





GMS Makeen Abad (F)




Nowshera





13





13. Gandheri


Kalanjar





32





GGPS Shapano Killy (F)




Nowshera





41





41. Nowshera City


Allah Yar Khel





33





GPS Allah Yar Khel Nowshera City (1st Female PS)




Nowshera





41





41. Nowshera City


Allah Yar Khel





34





GPS Allah Yar Khel Nowshera City (2nd Female PS)




Nowshera





41





41. Nowshera City


Allah Yar Khel





35





GPS Allah Yar Khel Nowshera City (3rd Female PS)




Nowshera





42





42. Chowki Town


Bara Khel





36





GGPS Hoti Khel Bara Khel Chowki Town (F)




Nowshera





11





11. Rashakai


Rashakai-1





37





GPS Khorabad (M)




Nowshera





11





11. Rashakai


Rashakai-1





38





GGPS Khorabad (F)




Nowshera





11





11. Rashakai


Rashakai-1





39





GGHSS Rashakai (M)




Nowshera





11





11. Rashakai


Rashakai-1





40





GGHSS Rashakai (F)




Nowshera





11





11. Rashakai


Rashakai-1





41





GMPS Shereen Koty Rashakai (M)




Nowshera





11





11. Rashakai


Rashakai-1





42





GHSS Rashakai (1st Male PS)




Nowshera





11





11. Rashakai


Rashakai-1





43





GGPS Rashakai  No.2 (F)




Nowshera





11





11. Rashakai


Rashakai-1





44





GHSS Rashakai (2nd Female PS)




Nowshera





12





12. Bara Banda


37.Mera kandar





45





GHS,Afrido Kaly  Kandar (M)




Nowshera





12





12. Bara Banda


37.Mera kandar





46





GHS,Afrido Killi  Kandar (F)




Nowshera





12





12. Bara Banda


39. Kutar Pan





47





GPS No.1 Kutar Pan (F)




Nowshera





12





12. Bara Banda


39. Kutar Pan





48





GMS Kutar Pan (M)




Nowshera





12





12. Bara Banda


39. Kutar Pan





49





GHS Kutar Pan (Male 1st PS)




Nowshera





12





12. Bara Banda


39. Kutar Pan





50





GHS Kutar Pan (Male 2nd PS)




Nowshera





32





32. Pir Sabaq


50. Pir Sabaq-2





51





GGPS No.2 Pir Sabaq (Combined)




Nowshera





31





31. Zaramiana


30. Turlandi





52





GPS No.2 Turlandi (F)




Nowshera





32





32. Pir Sabaq


49. Pir Sabaq





53





GPS Khawas Koroona Pirsabaq (F)




Nowshera





12





12. Aman Kot


18. Aman Kot-I





54





BHU Amankot (M)




Nowshera





12





12. Aman Kot


18. Aman Kot-1





55





GGMS Amankot (F)




Nowshera





12





12. Aman Kot


18. Aman Kot-1





56





BHU Amankot (Combined)




Nowshera





12





12. Aman Kot


19. Aman Kot-2





57





GGMS Amankot (Combined-2nd)




Nowshera





12





12. Aman Kot


19. Aman Kot-2





58





GGMS Amankot (Combined-1st)




Nowshera





12





12. Aman Kot


20. Aman Kot-3





59





GMS Amankot (Combined)




Nowshera





12





12. Aman Kot


20. Aman Kot-3





60





GPS Dheri Ishaq (M)




Nowshera





12





12. Aman Kot


20. Aman Kot-3





61





GGPS Dheri Ishaq (F)




Nowshera





12





12. Aman Kot


21. Chowki Drab





62





GPS Chowki Drab (M)




Nowshera





12





12. Aman Kot


21. Chowki Drab





63





GGPS Chowki Drab (F)




Nowshera





6





6. Muhib Banda


22. Jabba Daudzai





64





GPCMS Jabba Daudzai (F)




Nowshera





6





6. Muhib Banda


22. Jabba Daudzai





65





GPCMS Jabba Daudzai (Combined)




Nowshera





30





Misri Banda


1. Marthi Banda





66





GHS Marhatti Banda (M 1st PS)




Nowshera





30





Misri Banda


1. Marthi Banda





67





GHS Marhatti Banda (F 2nd PS)




Nowshera





30





Misri Banda


1. Marthi Banda





68





GHS Marhatti Banda (Combined 3rd PS)




Nowshera





30





Misri Banda


2.Mera Misri Banda





69





GHS Islamabad Maira Misri Banda (M 1st PS)




Nowshera





30





Misri Banda


2.Mera Misri Banda





70





GHS Islamabad Maira Misri Banda (F 2nd PS)




Nowshera





30





Misri Banda


2.Mera Misri Banda





71





GPS Karimabad (Combined 3rd PS)




Nowshera





30





Misri Banda


3.Misri Banda





72





GHS Misri Banda (Combined 3rd PS)




Nowshera





30





Misri Banda


3.Misri Banda





73





GGHS Misri Banda (M 1st PS)




Nowshera





30





Misri Banda


3.Misri Banda





74





GGHS Misri Banda (F 2nd PS)




Nowshera





29





Mughalki


4. Ali Muhammad Mishak





75





GPS Mishak (M 1st PS)




Nowshera





29





Mughalki


4. Ali Muhammad Mishak





76





GGPS Mishak (F 2nd PS)




Nowshera





29





Mughalki


5. Mughalki





77





GHS Mughalki (Combined 1st PS)




Nowshera





29





Mughalki


5. Mughalki





78





GMS JICA Mughalki (Combined 2nd PS)




Nowshera





29





Mughalki


5. Mughalki





79





GPS Mughalki (M 3rd PS)




Nowshera





29





Mughalki


5. Mughalki





80





GGMS Mughalki (F 4th PS)




Nowshera





29





Mughalki


6. Nandrak





81





GGPS Och Khwar Mian Essa (Combined 3rd PS)




Nowshera





29





Mughalki


6. Nandrak





82





GGPS Nandrak (F 1st PS)




Nowshera





29





Mughalki


6. Nandrak





83





GPS Nandrak (M 2nd PS)




Nowshera





29





Mughalki


7. Mian Essa





84





GPS Och Khwar Mian Essa (Combined 1st PS)




Nowshera





29





Mughalki


7. Mian Essa





85





GPS Zaranai Mian Essa (Combined 3rd PS)




Nowshera





29





Mughalki


7. Mian Essa





86





GHS Mian Essa (Combined 2nd PS)




Nowshera





29





Mughalki


7. Mian Essa





87





GHS Mian Essa (Combined 4th PS)
























Charsadda





5





Agra


Gidder





1





GMS Gul Abad (M)




Charsadda





7





Dargai


Dargai





2





GHSS Dargai (M PS No.1)




Charsadda





7





Dargai


Dargai





3





GHSS Dargai (M PS No.2)




Charsadda





7





Dargai


Dargai





4





GGMS Dargai (F PS No.1)




Charsadda





7





Dargai


Dargai





5





GGMS Dargai (F PS No.1)




Charsadda





7





Dargai


Kuda Khel





6





GPS Kuda Khel (M)




Charsadda





7





Dargai


Kuda Khel





7





GGCMS Kuda Khel (F)




Charsadda





7





Dargai


Mani Khel





8





GHS Mani Khela (M)




Charsadda





7





Dargai


Mani Khel





9





GPS Mani Khela (F)




Charsadda





7





Dargai


Qalat Naseer





10





BHU Dargai (M)




Charsadda





7





Dargai


Qalat Naseer





11





GPS Majeedabad (F)




Charsadda





12





Maira Prang


Maira Prang





12





GGPS Kafoor Dheri (F)




Charsadda





23





Behlola


Behlola





13





GGHS Behlola (Female PS No.2)




Charsadda





27





UC-II Shabqadar


NHC Shabqadar Bazaat SHB-III





14





GGPS Pehlawan Qilla (F PS No.1)




Charsadda





29





Panjpao


Mian Essa





15





GHS,Khwajawas (F.PS No1)




Charsadda





29





Panjpao


Mian Essa





16





GHS Khwajawas (Male PS No.2)




Charsadda





30





Hassanzai


Mirzai





17





GGPS Mirzai (F PS No.1)




Charsadda





30





Hassanzai


Mirzai





18





GGPS Mirzai (F PS No.2)




Charsadda





31





Rashakai


Noorani





19





GGPS Mian Killi (F PS No.1)




Charsadda





31





Rashakai


Noorani





20





GPS Malook Koroona Ghonday (F)




Charsadda





31





Rashakai


Rashakai





21





GPS Rashakai Banda (F)




Charsadda





31





Rashakai


Rashakai





22





GPS Mian Essa (F)




Charsadda





34





Hajizai


Ocha Wala





23





GGMS Ocha Wala (F PS No.1)




Charsadda





34





Hajizai


Ocha Wala





24





GGMS Ocha Wala (F PS No.2)




Charsadda





33





Matta Mughal Khel


Matta Rustam Khel-I





25





GGPS Daman Minora (F PS No.3)




Charsadda





36





Daulat Pura


Ambadher





26





GGHS Ambadher (F)




Charsadda





40





Sherpao


Solemanzai





27





GGHSS Sherpao (F PS No.1)




Charsadda





40





Sherpao


Solemanzai





28





GGHSS Sherpao (F PS No.2)




Charsadda





41





Ziam


Hawara





29





GGPS Jarnail Killi (F)




Charsadda





41





Ziam


Hawara





30





GPS Zuhrab Gul Killi (F)




Charsadda





41





Ziam


Ziam





31





GGPS Ziam (F)




Charsadda





42





Abbazai


Janokai





32





GDC Tangi (F PS No.4 & 5)




Charsadda





43





Mirzadher


Dang Qilla





33





GPS Dang Qila (M)




Charsadda





44





Kuz Behram Dheri


Bar Behram Dheri





34





GPS Landi Shah (F)




Charsadda





39





Hisara Nehri


Gul Abad





35





GPS Gul Abad (F PS No.2)




Charsadda





48





Shodag


Peeran





36





GPS Ganje Dag (Combined)




Charsadda





48





Shodag


Peeran





37





GPS Peeran (Combined)




Charsadda





48





Shodag


Shodag





38





GHS Shodag PS No.1 (Combined)




Charsadda





48





Shodag


Shodag





39





GHS Shodag PS No.2 (Combined)




Charsadda





48





Shodag


Shodag





40





GPS Shodag (F)




Charsadda





48





Shodag


Spalmai





41





GGPS Spalmai (Combined)




Charsadda





48





Shodag


Chail





42





GPS Chail (Combined)




Charsadda





49





Harichand


Jamal Abad





43





GPS Harichand PS No.1 (M)




Charsadda





49





Harichand


Jamal Abad





44





GPS Harichand PS No.2 (F)




Charsadda





49





Harichand


Jamal Abad





45





Govt Veternary Hospt Jamal Abad (Combined)
























Mardan





19





Maho Dheri


Bakri Banda





1





GGHS Bakri Banda (Combined)




Mardan





19





Maho Dheri


Maho Dheri





2





GGHS Maho Dheri (M)




Mardan





16





Chamtar


Chamtar Dheri





3





GHSS Chamtar (PS No.2 Female)




Mardan





23





Mayar


Mayar-3





4





GGHS Mayar (PS No.1 M)




Mardan





23





Mayar


Mayar-3





5





GGHS Mayar (PS No.2 F)




Mardan





22





Toru


Toru-I





6





GHS Nawan Killi (PS No.1 M)




Mardan





22





Toru


Toru-I





7





GHS Nawan Killi (PS No.2 M)




Mardan





22





Toru


Toru-I





8





GHS Nawan Killi (PS No.3 M)




Mardan





22





Toru


Toru-I





9





GHS Nawan Killi (F)




Mardan





22





Toru


Toru-I





10





GGPS Nawan Killi (F)




Mardan





21





Ghala Dher


Ghala Dher





11





GGHS Ghala Dher PS-I (F)




Mardan





21





Ghala Dher


Ghala Dher





12





GGHS Ghala Dher PS-2 (F)




Mardan





21





Ghala Dher


Ghala Dher





13





GGHS Ghala Dher PS-3 (F)




Mardan





27





Garhi Ismailzai


Garhi Ismailzai-I





14





GGPS No.2 Garhi Ismailzai (Combined)




Mardan





27





Garhi Ismailzai


Garhi Ismailzai-I





15





BHU Garhi Ismailzai (Combined)




Mardan





27





Garhi Ismailzai


Garhi Ismailzai-I





16





GPS No.2 Garhi Ismailzai (Combined PS-1)




Mardan





27





Garhi Ismailzai


Garhi Ismailzai-I





17





GPS No.2 Garhi Ismailzai (Combined PS-2)




Mardan





27





Garhi Ismailzai


Garhi Ismailzai-II





18





GMS Charmang (M)




Mardan





27





Garhi Ismailzai


Garhi Ismailzai-II





19





GPS No.1 Charmang (M)




Mardan





27





Garhi Ismailzai


Garhi Ismailzai-II





20





GGMS Charmang (F)




Mardan





27





Garhi Ismailzai


Garhi Ismailzai-II





21





GPS No.1 Garhi Ismailzai (Combined)




Mardan





28





Garhi Daulatzai


Garhi Daulatzai-I





22





GHS Garhi Kafora (PS No.1 (M))




Mardan





31





Chak Hoti


Ala Dad Khel-I





23





GGPS Taus Banda Pani Ala Dad  Khel (F)




Mardan





30





Mohib Banda


Mohib Banda-I





24





GHS Mohib Banda (F PS-1)




Mardan





66





Madey Baba


Fazal Abad





25





GPS Yakh Kohi (Combined)




Mardan





66





Madey Baba


Fazal Abad





26





GMS Muhammad Din Kali (PS-1 Combined)




Mardan





66





Madey Baba


Fazal Abad





27





GMS Muhammad Din Kali (PS-2 Combined)




Mardan





66





Madey Baba


Fazal Abad





28





GGPS Muhammad Din Kali (Combined)




Mardan





66





Madey Baba


Fazal Abad





29





GPS No.1 Charagh Din Kali (Combined)




Mardan





66





Madey Baba


Fazal Abad





30





GPS Fazal Abad No.2 (Combined)




Mardan





66





Madey Baba


Fazal Abad





31





GGPS Fazal Abad (Combined)




Mardan





66





Madey Baba


Tor Dher





32





GPS Madey Baba (M)




Mardan





66





Madey Baba


Tor Dher





33





GGPS Madey Baba (F)




Mardan





66





Madey Baba


Tor Dher





34





GGPS Kanda Ghar (Combined)




Mardan





66





Madey Baba


Tor Dher





35





GMS Charagh Din Kali (Combined)




Mardan





66





Madey Baba


Tor Dher





36





GHS Madey Baba (Combined)




Mardan





66





Madey Baba


Tor Dher





37





GPS No.2 Charagh Din Kali (PS No.1 Combined)




Mardan





66





Madey Baba


Tor Dher





38





GPS No.2 Charagh Din Kali (PS No.2 Combined)




Mardan





66





Madey Baba


Madey Baba





39





GPS Noor Bach Banda (M)




Mardan





66





Madey Baba


Madey Baba





40





GGPS Dandao (M)




Mardan





66





Madey Baba


Madey Baba





41





GHS Sanga Madey Baba (M)




Mardan





66





Madey Baba


Madey Baba





42





GPS Sanga Madey Baba (F)
























Swabi





14





Salim Khan


Salim Khan West





1





GMS Bakar (Salim Khan West) (F)




Swabi





10





Thand Koi


Kadi





2





GGHS Kaddi (Thandkoi) (Female 1st  PS)









10





Thand Koi


Kadi





3





GGHS Kaddi (Thandkoi) (Female 2nd PS)




Swabi





38





Naranji


Naranji-I





4





GPS Naranji-1 (F 1st PS)




Swabi





38





Naranji


Naranji-I





5





GPS Naranji-1 (F 2nd PS)




Swabi





38





Naranji


Naranji-I





6





GGMS Naranji-1 (F)




Swabi





46





Sheikh Jana


Sheikh Jana-III





7





GGPS Banday Owba (Sheikh Jana-III) (F)




Swabi





44





Bachai


Bachai





8





GGHS Mathra (Bachai) (F)




Swabi





51





Dobian


Daulat





9





GGPS Daulat (1st PS Male)




Swabi





51





Dobian


Daulat





10





GGPS Daulat (2nd PS Male)




Swabi





51





Dobian


Daulat





11





GGMS Daulat (F)




Swabi





54





Yaqoobi


Yaqoobi-I





12





GGPS No.1 Yaqoobi 1st Polling Station (F)




Swabi





54





Yaqoobi


Yaqoobi-I





13





GGPS No.1 Yaqoobi 2nd Polling Station (F)




Swabi





54





Yaqoobi


Yaqoobi-I





14





GGPS No.1 Yaqoobi 3rd Polling Station (F)




Swabi





53





Sudher


Sudher





15





GGHS Sudher (Female 1st  PS)









53





Sudher


Sudher





16





GGHS Sudher (Female  2nd PS)




Swabi





20





Gabasni


Chanai





17





GMS Dewal Garhi Payan (Gabassani) (F)
























Kohat





32





Shakardara Rural-II


Rehman Abad





1





GPS Jannak PS No.424  (Combined)




Kohat





32





Shakardara Rural-II


Sarki Dhal





2





GGPS Rehman Abad PS No.3 (F)




Kohat





32





Shakardara Rural-II


Sarki Dhal





3





GMS Pakka Toppi PS No.2 (F)




Kohat





28





Lachi Rural


Banda Fateh Khan





4





GPS Hassan Banda (Combined)




Kohat





19





Kharmatoo


Dheri Banda





5





GMS Dehri Banda PS-1
























Hangu





11





Doaba


Doaba-II





1





PS No.110 GGPS Doaba (M)




Hangu





11





Doaba


Doaba-II





2





PS No.111 GGPS Doaba (M PS-2)




Hangu





14





Karbogha Sharif


Mazrin Kalay





3





PS No.131 GMS Shamal Din
























Karak





3





Jandari


Jandari





1





RHC Jandari (Combined)




Karak





3





Jandari


Jandari





2





GHS Shahidan Jandari (Combined)




Karak





3





Jandari


Serat Khel





3





GPS Serat Khel (M)




Karak





3





Jandari


Serat Khel





4





GGPS Serat Khel (F)




Karak





3





Jandari


Serat Khel





5





GGMS Serat Khel (F)




Karak





3





Jandari


Serat Khel





6





GGPS Gul Banda (Combined)




Karak





3





Jandari


Dhoda Khel





7





GPS Sre Khwa (F)




Karak





5





Palosa Sar


Palosa Sar





8





GGPS Palosa Sar (F)




Karak





6





GMK Khel


GMK Khel





9





GGPS Pirdal Banda (F)




Karak





6





GMK Khel


Tarki Khel





10





GGHS Tarki Khel (F)




Karak





6





GMK Khel


Tarki Khel





11





GGPS Badin Khel (F)




Karak





7





Isak Chontra


Isak Chontra





12





GPS Dabb (Combined)




Karak





7





Isak Chontra


Kandu Khel





13





GGPS Maveez Khan Koroona Kando Khel




Karak





8





Mitha Khel


Mitha Khel





14





GMS Teran Koi (F)




Karak





8





Mitha Khel


Lakki Ghundaki





15





GPS Garori Chambi ©




Karak





8





Mitha Khel


Kanda Karak





16





GHS Dabli Lawaghar (F)




Karak





8





Mitha Khel


Kanda Karak





17





GMS Kanda Baji Khel




Karak





8





Mitha Khel


Kanda Karak





18





GPS Shagi Lawaghar No.2 (F)




Karak





9





Latambar


Latambar Gharbi





19





GGPS Latambar (F)




Karak





9





Latambar


Surdag





20





GMS Surdag (F)




Karak





9





Latambar


Warana Latambar





21





GHSS Warana Mitha Khel (F)




Karak





10





Bahadar Khel


Bahadar Khel





22





GMS Anar Banda ©




Karak





10





Bahadar Khel


Darish Khel





23





GMS Amhad Khel (C )




Karak





11





Nari Panoos


Khurram Muhammad Zai





24





GGHS Khurram (F)




Karak





15





Takht-e-Nasrati


Takht-e-Nasrati Bala





25





GPS Takht-e-Nasrati No.1 (F)




Karak





15





Takht-e-Nasrati


Takht-e-Nasrati Payan





26





GPPS Takht-e-Nasrati Payan (F)




Karak





15





Takht-e-Nasrati


Bogara





27





GGHS Bogara (F)




Karak





16





Mianki


Gandiri Khattak





28





GPS Wagi Banda (M)




Karak





16





Mianki


Gandiri Khattak





29





GCMS Shobli Banda (F)




Karak





16





Mianki


Shahidan Banda





30





GHS Bangi Killa (M)




Karak





16





Mianki


Shahidan Banda





31





GGPS Bangi Killa (F)




Karak





16





Mianki


Shahidan Banda





32





GHS Shahidan Banda (M)




Karak





16





Mianki


Shahidan Banda





33





GGMS Shahidan Banda (F)




Karak





17





Siraj Khel


Siraj Khel





34





GHS Garang Siraj Khel (F)




Karak





18





S.G Khel


Nara





35





GPS Mona Khel (F)




Karak





18





S.G Khel


Nara





36





GMS Jangraizi Banda




Karak





18





S.G Khel


Nara





37





GGPS Chak Manzai




Karak





18





S.G Khel


Kari Dhand





38





GGPS Banjakh Banda




Karak





18





S.G Khel


Kari Dhand





39





GGPS Mina Khel




Karak





18





S.G Khel


Kari Dhand





40





GMS Jarasi Banda




Karak





18





S.G Khel


Shah Salim





41





GPS Hukami Banda




Karak





18





S.G Khel


Shah Salim





42





GPS Koh-e-Maidan




Karak





19





Warana Ahmad Abad


Saikot





43





GPS Shaikhan Sekot (M)




Karak





19





Warana Ahmad Abad


Saikot





44





GPS Sekot (F)




Karak





19





Warana Ahmad Abad


Saikot





45





GHS Sekot (M)




Karak





19





Warana Ahmad Abad


Saikot





46





GGPS Sekot No.1 (F)




Karak





19





Warana Ahmad Abad


Warana Mir Hassan Khel





47





GMS Warana Mir Hassan Khel (M)




Karak





19





Warana Ahmad Abad


Warana Mosakan





48





GGMS Paloski Banda (F)




Karak





19





Warana Ahmad Abad


Tatter Khel





49





GPS Alam Sheri




Karak





19





Warana Ahmad Abad


Tatter Khel





50





GGHS Khojaki Killa at Tatter Khel (M)




Karak





19





Warana Ahmad Abad


Tatter Khel





51





GPS Tatter Khel (F)




Karak





20





Jahangiri


Jahangiri





52





GPS Inzar Banda




Karak





20





Jahangiri


Jahangiri





53





GGPS Machaki Banda




Karak





20





Jahangiri


Yaghi Mosakan





54





GPS Daggar Killa (M)




Karak





20





Jahangiri


Yaghi Mosakan





55





GMS Daggar Killa (F)




Karak





20





Jahangiri


Yaghi Mosakan





56





GGPS Gul Adam Banda ( C )




Karak





20





Jahangiri


Yaghi Mosakan





57





GGMS Odeen Shah (F)




Karak





20





Jahangiri


Khojaki Killa





58





GPS Marwatan Banda (M)




Karak





20





Jahangiri


Khojaki Killa





59





GGPS Gardi Banda Khan Badshah Koroona (F)




Karak





20





Jahangiri


Khojaki Killa





60





GPS Niaz Muhammad Koroona




Karak





20





Jahangiri


Khojaki Killa





61





GHS Khojaki Killa




Karak





21





Chowkara


Chowkara





62





BHU Chokara (F)




Karak





21





Chowkara


Chowkara





63





GMS Nari Khawar




Karak





21





Chowkara


Ahmad Abad





64





GGHS Ahmad Abad (F)




Karak





21





Chowkara


Ahmad Abad





65





GGPS Ahmad Abad No.2




Karak





21





Chowkara


Ghundi Killa





66





GGPS Babal Khel (F)




Karak





21





Chowkara


Ghundi Killa





67





GHS Ghundi Killa




Karak





21





Chowkara


Ghundi Killa





68





GGHS Ghundi Killa


















69





GGPS Ghanderi Khattak (F)


















70





GHS Surti Killay 2 ( C )
























Bannu





48





Ziarki Pirba Khel


Musa Khel Waligai





1





PS No. 397 GPS Sanzar Khel Marghali (F)




Bannu





25





Ghoriwala


Ghoriwala-I





2





PS No. 342 GPS Ghorawal (Combined)




Bannu





36





Jhandu Khel


Jhandu Khel





3





PS No. 371 GGPS No.2 Jhando Khel (F)




Bannu





45





Bizen Khel


Unerzai-I





4





PS No. 410 GGPS Mataki Bezin Khel




Bannu





36





Jhandu Khel


Jhandu Khel





5





PS No.373 GPS Adami Rasool Khel (Combined)




Bannu





24





Mira Khel


Mira Khel





6





PS No.351 GGPS Mavya Kalla




Bannu





45





Bizen Khel


Umerzai-II





7





PS No.415 Govt Plytechnic Institute Bannu Township




Bannu





44





Domel


Domel-I





8





PS No.401 GHS Walizar Kalla




Bannu





45





Domel


Domel-II





9





PS No.405 GGMS Muhammad Noor Patokhel (Combined)




Bannu





45





Bizen Khel


Umerzai-II





10





PS No.418 GGPS Doggar Umerzai Haji Moqadam




Bannu





41





Shahbaz Azmat Khel







11





PS No.109 GGMS Shahbaz Azmat Khel




Bannu





41





Shahbaz Azmat Khel







12





PS No.110 GPS Shahbaz Azmat Khel




Bannu





16





Koti Sadat







13





PS No.54 GPS Boza Khel




Bannu





46





Khandar Khan Khel


Khandar Khan Khel-II





14





PS No.446 Kotka Muhammad (Combined)




Bannu





48





Khandar Khan Khel


Khandar Khan Khel-II





15





PS No.448 GHS Dandi Killa (Combined)




Bannu





49





Khandar Khan Khel


Eidal Khel





16





PS No.449 GPS Kotka Ayaz Killa




Bannu





50





Khandar Khan Khel


Eidal Khel





17





PS No.450 GMS Sher Zaman R/Side (M)




Bannu





51





Khandar Khan Khel


Eidal Khel





18





PS No.451 GMS Sher Zaman L/Side (F)




Bannu





52





Khandar Khan Khel


Eidal Khel





19





PS No.452 GGHS Miraj-ud-Din R/Side (M)




Bannu





53





Khandar Khan Khel


Eidal Khel





20





PS No.453 GGHS Miraj-ud-Din L/Side (F)




Bannu





45





Bizen Khel


Bizen Khel





21





Govt Technical Training Center Bannu Township




Bannu





45





Bizen Khel


Umerzai-II





22





PS No.419 GPS Umarzai (F)




Bannu





38





Mandan


Mandan





23





GPS Inayat Mita Khel




Bannu





49





Aral Hathi Khel


V/C Aral Hathi  Khel-II





24





PS No.427 GMS,Malang Khurgai (Com)




Bannu





49





Aral Hathi Khel


V/C Aral Hathi  Khel-II





25





PS No.429 GPS,Gul Rauf Pirba Khel (F)




Bannu





45





Bizan Khel


V/C Umerzai-II





26





PS No.416 GPS No.1,Dabak Saeed Khel (M)




Bannu





45





Bizan Khel


V/C Umerzai-II





27





PS No.417 GGPS,Dabak Saeed Khel (F)




Bannu





45





Bizan Khel


V/C Umerzai-II





28





PS No.420 GPS,Umerzai Awal Khan (F)
























Lakki Marwat





15





Tajazai


Tajazai





1





GPS No.1 Tajazai (F)




Lakki Marwat





3





Issak Khel


Zangi Khel





2





GGPS No.1 Zangi Khel




Lakki Marwat





7





Aba Khel


Aba Khel-IV





3





GHSS Abba Khel




Lakki Marwat





29





Marmandi Azim


Marmandi Azim





4





GHS Zafar Mama Khel




Lakki Marwat





30





Marmandi Azim


Marmandi Azim





5





GHS Nar Muhammad E/S (M)




Lakki Marwat





31





Marmandi Azim


Marmandi Azim





6





GGHS Marmandi Azim W/S (F)




Lakki Marwat





32





Marmandi Azim


Marmandi Azim





7





GMS Nar Samand Adamzai (Combined)




Lakki Marwat





33





Marmandi Azim


Marmandi Azim





8





GGPS Nar Surab Singh (Combined)
























D.I.Khan





8





Dewala


Dewala-III





1





GDC No.1 PS No.27 (M)




D.I.Khan





8





Dewala


Dewala-III





2





PS No.26 Chah Mughal Wala




D.I.Khan





20





Ratta Kulachi


Himat





3





PS No.269 GGPS Himat (F)




D.I.Khan





20





Ratta Kulachi


Himat





4





PS No.267 GPS Himat Wala (Combined)




D.I.Khan





9





Muryali


Muryali





5





PS No.119 GPS Sultania Muryali




D.I.Khan





48





Miran


Ramak





6





PS No.650 GGPS Ramak




D.I.Khan





43





Parwa


Babar kacha





7





PS No.576 GGPS (F) Babar Kacha




D.I.Khan





45





Lunda Sharif


Lunda Sharif





8





PS No.599 GGPS,Lunda Sharif (Com)
























Abbottabad





7





Nara


Gohra





1





GMS Maira Bala




Abbottabad





7





Nara


Nara





2





GPS Keri Kalanda




Abbottabad





17





Sarbana


Deesal





3





GPS Deesal




Abbottabad





17





Sarbana


Aziz Bang





4





GGHS Aziz Bang




Abbottabad





17





Sarbana


Mohar Khurd





5





GPS Mohar Khurd




Abbottabad





21





Banda Pir Khan


Banda Pir Khan-II





6





GHS Banda Pir Khan (M)




Abbottabad





12





Tajwal


Nowshera





7





GGPS Nowshera
























Mansehra





12





Karnol


Doga





1





GGHS Doga




Mansehra





11





Garhi Habibullah


Brar Kot





2





GMS Batang




Mansehra





5





Hangrai


Suan





3





GPS Chapra Chohal




Mansehra





2





Mohandary


Naka Jaraid





4





GHS Jaraid











Kewai


Bhonja





5





GPS Bhonja (F)
























Buner





13





Gagra


Bajkata-I





1





PS No.139 GGMS Bajkata