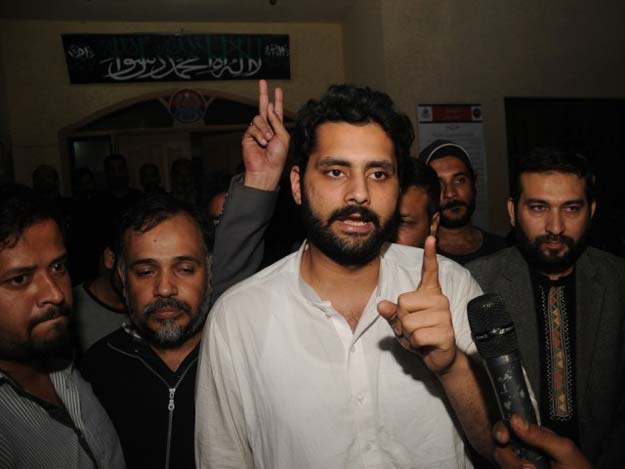 ---
Social activist Jibran Nasir lashed out at Sindh Chief Minister Qaim Ali Shah on Wednesday over the deplorable condition of government hospitals as the death toll from the Karachi heatwave surpassed 1,000.

"Have you seen the condition of the hospital's toilets? There is sewage all over the place," Nasir angrily questioned the provincial chief minister, as he left Jinnah Hospital after visiting the heatwave victims.

Read: Death toll from killer Karachi heatwave surpasses 1,000

Furious at the state of the government-run hospital, in a video which went viral on social media, Nasir was heard saying, "The patients are falling sicker because of the state of the hospital's toilets."

Further, the activist-turned-politician said, "The air conditioners in the hospital are not working and citizens have installed chillers on their own."

"Where is the Sindh government's Rs45 billion budget?" Nasir questioned, claiming the government has turned a blind eye towards the plight of the heatwave victims.

Read: No mercy: After morgues, city runs out of funeral vans

As Nasir continued, the chief minister chose not to respond. However, his protocol consisting of Rangers and Police personnel tried to stop Nasir from speaking.

"Do not touch me, I am talking to my CM as a citizen. If you touch me, I will take you to the courts," Nasir warned Shah's protocol.



Nasir has started a heat-stroke awareness campaign under a platform named Elaj trust. He was at the Jinnah Hospital when he encountered the Sindh chief minister and his entourage that kept patients from entering the hospital premises.

Read: Killer heatwave: Mercury drops but death toll continues to rise

The death toll from the worst heat wave to hit Karachi for nearly 35 years surpassed 1,000 people, as experts warned of another similar heatwave in the metropolis in the coming week.

The heat wave in the city of 20 million people coincided with severe electricity cuts, leaving many without fans, water or light, and the beginning of the holy month of Ramazan, when many Muslims do not eat or drink during daylight hours.

An influx of bodies into the morgues has forced medical officials to store bodies in body bags on the floor, said Anwar Kazmi, a senior official of the Edhi Foundation.

Air conditioning units at the morgue have stopped working. The provincial government had done little except try to blame others, Kazmi said.
COMMENTS (13)
Comments are moderated and generally will be posted if they are on-topic and not abusive.
For more information, please see our Comments FAQ