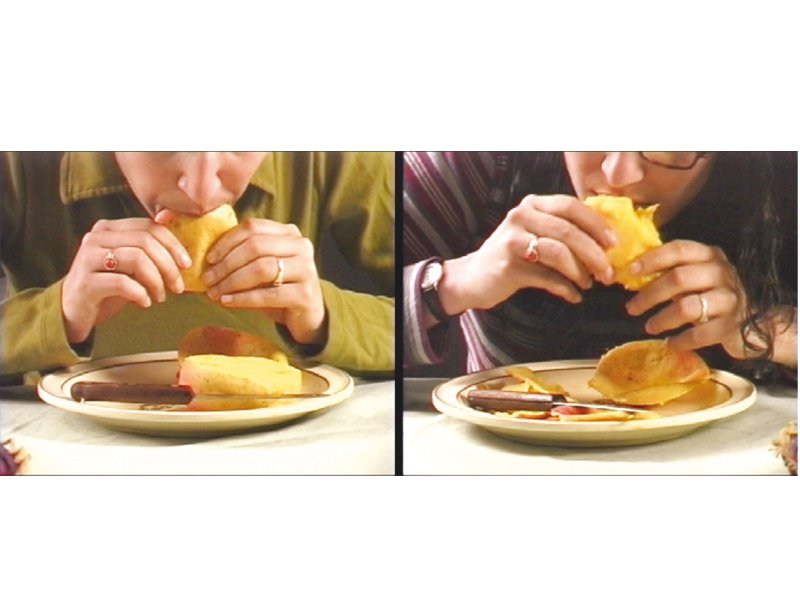 ---
Hajra Haider Karrar, curator of 'The Science of Taking a Walk' at Gandhara Gallery says, "The artist's curiosity often takes him/her to navigating unknown paths or (re)navigating known ones." Highlighting the role the eight participating artists play in this interdisciplinary exhibition, Karrar alludes to the fact that each one of them wishes to take viewers on a visual journey stemming from their exploration and response to certain spaces (tangible or intangible) they experienced in their lifetime.

To reiterate the idea of navigation, each viewer was given a 'map', highlighting, in different colours, the placement/location of works by the artists on two floors of the gallery. Every viewer, thus, charted out his or her own route. The first piece that caught my eye on the left was Omar Wasim's Untitled. A suspended brown lamp, hung very low, lit up a mass of rusting nails in what seemed like murky liquid. The placement of the piece made getting a good look at the nails difficult, perhaps deliberately? According to Wasim, "Exposure and concealment are my tools, [also] human beings are constituted by language, [and] they, too, are texts". He echoed this idea in another untitled piece, where 56 sheets of paper were paired in rows. Each sheet contained crisply arranged text, with chunks that seemed to be removed, rearranged or replaced. The stories they told were short yet embodied the human condition.





A still from the video Untitled, 2015, by Yaminay Chaudhri .




It was interesting to see how other artists had incorporated text in their works as well. Naiza Khan's digital print on paper, derived from her documentary, highlighted various images, taken through binoculars, of the Pakistani common man bathing in the highly frequented Karachi Sea. Accompanying this was text derived from Henry Pottinger's colonial-era book on the 'Kurrachee' port with terms blotted out by the artist. Perhaps this mirrored the act of erasure and reinvention of our history by the British.

Fazal Rizvi, too, worked with text. However, rather than creating words and sentences, Rizvi's text formed images through the help of a typewriter. These images were minimal, yet powerful, as they traced out various spaces that intrigued the artist: Samandar traced a land-reclamation site, while Pathar was a derivation of the notoriously violent site in Karachi — Katti Pahari. For his work, Rizvi often relied on visuals that stayed in his memory, drawing upon ideas of fragility, reclamation and man's influence on the changing nature of spaces.





Seher Naveed and Seema Nusrat's False Perspective.




Shalalae Jamil displayed enlarged passport photographs of various people. Voyeuristic in a sense, it re-contextualised images meant for official use. Perhaps Jamil speaks about the journey these images made: from where they belong (passports) to where their presence is unexpected (the gallery space) or the journey these people may have undertaken as passengers. More so, the subjects look back at the viewer, returning their gaze and bringing about the uncomfortable feeling of being watched.

Seher Naveed and Seema Nusrat literally added a new dimension to the gallery in False Perspective. A life-size image of a wall was pasted on the same wall from a different perspective, altering the gallery space and startling the viewer for a moment. This gave rise to several questions: how can a simple thing, such as taking a walk, bring about multiple perspectives? Can a situation be seen in a number of ways, with each way being true? How often has our mind tricked us into seeing something that isn't there, or vice versa? Naveed and Nusrat's work sparked physical and psychological queries.

On the first floor, Bani Abidi's video, Mangoes, provided comic relief with a serious message. Originally made 15 years ago, it displayed Abidi as an Indian and a Pakistani conversing with one another over a plate of mangoes. While the conversation was initially friendly and nostalgic, it became slightly hostile when the two began to compare the variety of this venerated fruit available on both sides of the border. Undoubtedly, the Indo-Pak rivalry is real and never-ending; yet, the two nations are inherently similar, as depicted by the choice of fruit, language and, of-course, appearance.





Untitled by Omar Wasim.




Farida Batool's lenticular print installation Kahani Ek Shehr Ki spanned two large rooms. Through this illusory medium, it depicted the artist walking across roads in Lahore, crossing graffiti, street vendors, cars, barricades, oblivious people and small shops. But rather than seeing from her point of view, viewers could simply see, in sequential fashion, the linear walk she takes. Could she be hinting upon how entities/the media provide us with a one-sided view of things? Or how perception changes with proximity/placement?

Yaminay Chaudhry's video depicted a boat, painted gold, washed ashore on a Karachi beach. Like a sea-monster breathing its last, the boat was seen responding to the waves, calmly, as sea-goers claimed it is theirs. One may ask: what journey did the boat take before it was abandoned? Who really owns the items washed ashore?

A catalogue accompanied the show with essays by people from various disciplines: an artist, film-maker, fiction writer, etcetera. According to the curator, the thought processes resonated between the artists and the writers, making this exhibition a coherent whole.

Shanzay Subzwari is an artist and art writer based in Karachi.  She tweets @ShanzaySubzwari

Published in The Express Tribune, Sunday Magazine, June 28th, 2015.
COMMENTS
Comments are moderated and generally will be posted if they are on-topic and not abusive.
For more information, please see our Comments FAQ