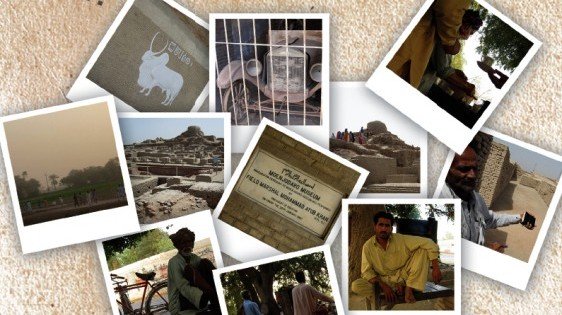 ---
KARACHI: City [E]scape Part 9

My bus from Larkana to Sukkur is delayed and hot and cramped.

I am pleased to reach this slow calm city. I immediately want to get around and grasp the place. This is my instinct on arriving at a new city. Walk the streets. Familiarise. Look less like what I am, which is an outsider, who knows nothing.

Sadhu Bela is a beautiful shrine on an island in the middle of the Indus. It is beautiful from the banks but that is as far as I get. A group of middle-aged men who look like middle management on holiday are lazily waiting for the boatman. As am I.

The boatman comes and the men board. The boatman stops me. He asks the men if I am with them. The men say I am not. The boatman tells me I cannot come on board. I plead that I just want to see the shrine. The boatman pushes off.

My editor had written about the island after a visit a few years ago. He wrote that 'a Sadhu by the name of Baba Ban Khundi had come here in 1823 and set up camp on this island in the middle of the Indus. The king of the area, Mir Sohrab Khan, gifted him the island after the Sadhu impressed him with his simplicity and wisdom.'

I was pissed off that such simplicity and wisdom and common sense had not been inculcated by the keepers of Baba Ban Khundi's resting place. Then I remember that my editor had told me to call him if I visited Sukkur. He had mentioned that I would need permission to visit Sadhu Bela and he would arrange it.

In his article he had also written that, 'The boatman, a government employee, says it is his job to screen out troublemakers.' It is hot and I am moody. I feel all this is too much trouble so I move on. When I come out to the road, three rickshaw drivers are lined up. On the way I sit in the back seat for 20 minutes, looking at my driver in the mirror while we chat. But now I cannot tell which one of the three he was.

I had always disputed the idea that the Chinese look the same to everyone else and black people look the same to everyone else, and so on. But to my shame I had reached a point where all Sindhi men have started looking the same. No doubt all travellers with our guidebooks and self-important back-packs look the same to them.But there are not many of us around here, so I find him in the end or rather he finds me.

We drive along past some canals. The afternoon heat is sapping. My body is coated with dust and my hair dried to straw. I look down at the water buffalo lazing in the water as children swim and smile alongside. I think for a moment about jumping in. The moment does not last long.

We arrive at the Minar-i- Masumi. It is a tall tower built in 1605 by a man called Masum Shah whose tomb sits at the base. I climb the eighty or ninety steps and reach the circular balcony at the top. It is a tight squeeze and I experience vertigo. I am not helped by the memory of reading that the tower is nicknamed 'Suicide Tower.' Iron bars have been fitted to stop people from jumping. But they are no bar to my inherited fear of heights. I am queasy and my legs shake.

The view is, however, panoramic and I can see boys flying kites high in the air from rooftops with the Indus providing a picture-perfect backdrop despite its depletion. But up here in the cramped baclony there is a large family. Young boys are swinging around like monkeys. I make my way down three minutes after making my way up. I have seen Sukkur from top to bottom and east to west, though of course I have not really seen it at all.

Later, I see the Sukkur Barrage and more canals and markets. But mostly I write and read and take in the wide expanse of the night sky. A friend had told me of this sky and what she said was true. The night sky over Sindh pushes back the celestial body further than I think I have ever seen. Yet paradoxically you feel so close to it you could touch it.
COMMENTS
Comments are moderated and generally will be posted if they are on-topic and not abusive.
For more information, please see our Comments FAQ