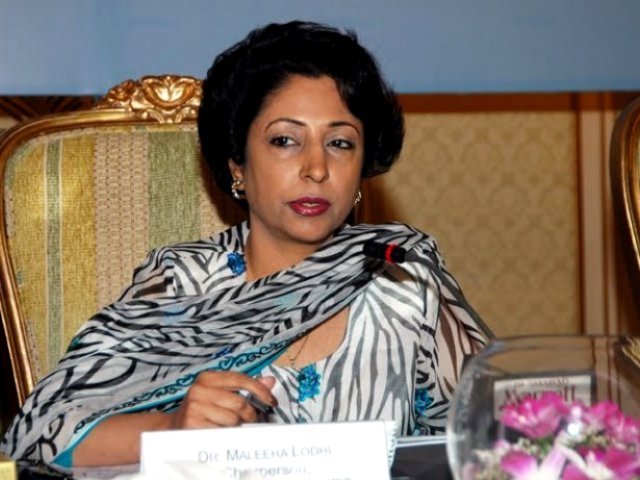 ---
UNITED NATIONS:



Reaffirming Pakistan's commitment to eliminating all terrorists 'without distinction', Ambassador Maleeha Lodhi warned of a forceful response to attempts to destabilise parts of Pakistan.




"We will be relentless in rooting out terrorism, whosoever its sponsors, external or internal," she told the UN Security Council on Monday. Acknowledging that terrorism remained a common challenge, she told the 15-member council that Pakistan had condemned the recent uptick in violence in Afghanistan. She reaffirmed Islamabad's commitment to cooperating with the strife-torn country in fighting the scourge.

Ambassador Lodhi spoke after the quarterly briefing by Nicholas Haysom, Special Representative of the Secretary General and Head of the United Nations Assistance Mission in Afghanistan (UNAMA). Haysom urged the international community to work towards lasting peace by facilitating direct talks between the government and armed groups. The country continued to need the support of the international community and the sustained attention of the council, he stressed.

In her remarks, Ambassador Lodhi said Pakistan would play a constructive role in promoting peace and security in Afghanistan. This could best be achieved through a process of national reconciliation undertaken and led by Afghans themselves. "We welcome the first tentative steps taken in recent months to advance the reconciliation process. We hope these steps will lead soon to direct talks as well as de-escalation of violence.

"Pakistan will do everything possible to encourage this process. Success will require reciprocal accommodation and above all, strategic patience," she added. Ambassador Lodhi affirmed enhanced engagements between her country and Afghanistan based on the principles of non-interference. She reiterated the commitment of none use of territory to attack the other country and treatment of each other's enemies as common enemies.

Outlining activities related to the Heart of Asia process that Pakistan co-chaired, she stated that sustainable peace in Afghanistan would lead to regional stability. She welcomed Afghanistan's commitment to the return and reintegration of refugees hosted by Pakistan and hoped for continued UNAMA assistance in that regard. Ambassador Lodhi called for more focused action with international support to stem the illicit drug trade. Haysom, the UN envoy to Afghanistan, also said the Afghan National Security Forces had been stretched as they took on full security responsibilities. 

Published in The Express Tribune, June 24th, 2015.
COMMENTS
Comments are moderated and generally will be posted if they are on-topic and not abusive.
For more information, please see our Comments FAQ