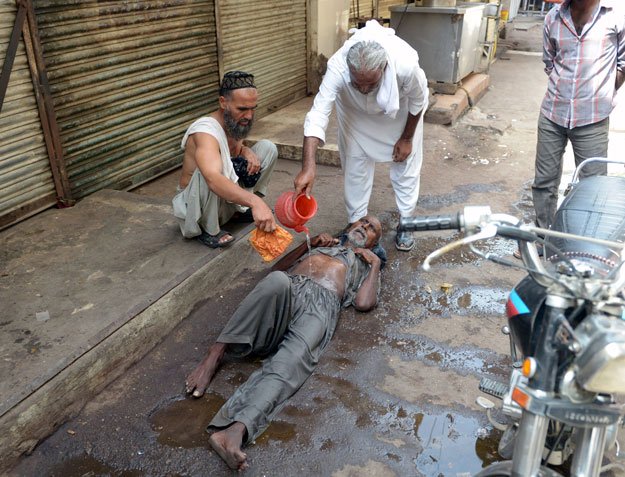 ---
KARACHI: The prevailing heatwave in Karachi has left over 700 people dead in last three days, as per latest figures available on Tuesday evening.

Earlier, medics battled to treat victims after a state of emergency was declared in hospitals.

In Karachi, the Met department forecasts maximum temperatures to reach as high as 43 degrees Celsius over the next 24 hours, with chances of rain-thundershower and dust storm during the evening and night.


An army doctor treating a heatstroke patient. PHOTO: INP

Eight to 10 people have also died in other parts of southern Sindh, senior provincial health official Sabir Memon told AFP earlier. "More than 450 people have died due to heat stroke in the past three days."

Read: PM orders emergency measures as death toll exceeds 425

Semi Jamali, a doctor at Jinnah Hospital said they had treated about 3,000 patients suffering from heat stroke.


A man pouring water on his head in Karachi to beat the heat. PHOTO: MOHAMMAD AZEEM/EXPRESS

"More than 200 of them were either received dead or died in hospital," Jamali told AFP. Another 67 people died in another hospital, the Civil Hospital, an official there said.

Read: Deadly heatwave shows no signs of easing as death toll climbs to 350 in Karachi

Edhi Welfare Organisation, said their two morgues in the city had received more than 400 corpses.

"More than 400 dead bodies have so far been received in our two mortuaries in past three days," Edhi spokesperson Anwar Kazmi told AFP.

"The mortuaries have reached capacity."


Men rest in the shade of trees during a heatwave in Karachi on June 23, 2015. PHOTO: AFP

In Karachi, electricity shortages crippled the water supply system, hampering the pumping of millions of gallons of water to consumers, the state-run water utility said.

Read: Energy management: PM Nawaz grills top bureaucrat over blackouts

Met Office said temperatures hit 43 Celsius in Karachi on Sunday and 49 Celsius in Turbat, close to the Iranian border.

Despite the increasing number of deaths being reported in the provincial capital, neither government officials nor any other organisation has made any arrangements for collecting and collating the data of the death toll.

Meanwhile, Prime Minister Nawaz Sharif issued directives to the National Disaster Management Authority (NDMA) to immediately take necessary measures to deal with the prevalent situation in Sindh, where the tenacious heat wave continues to claim lives. The NDMA chairman has asked the Karachi corps commander to assist the authority in this regard.

Read: A helping hand: Rangers establish Heatstroke Relief Centres in Karachi

On the other hand, the Provincial Disaster Management Authority (PDMA) of Sindh has requested the Pakistan Army and Pakistan Rangers to render all possible services and assistance to alleviate the suffering of the people.


People sleeping on the footpath in Karachi due to frequent power outages. PHOTO: MOHAMMAD NOMAN/EXPRESS

However, residents of Karachi breathed a sigh of relief when their neighbourhoods received light showers on Monday afternoon.

Dark clouds descended on the entire city but did little to break the heat of the past few days. The light showers only managed to make the mercury drop from 41 degrees Celsius to 38 degrees. The areas that received some rain included North Karachi, Buffer Zone, New Karachi, Federal B Area and North Nazimabad, followed by Gulshan-e-Iqbal and PECHS by evening.

But there is hope. According to the director for the Institute of Meteorology and geophysics, Abdul Rashid, the city will have more rain in this week. "Rains will hit Karachi properly by Wednesday while light showers are expected on Tuesday," he said.
COMMENTS (20)
Comments are moderated and generally will be posted if they are on-topic and not abusive.
For more information, please see our Comments FAQ