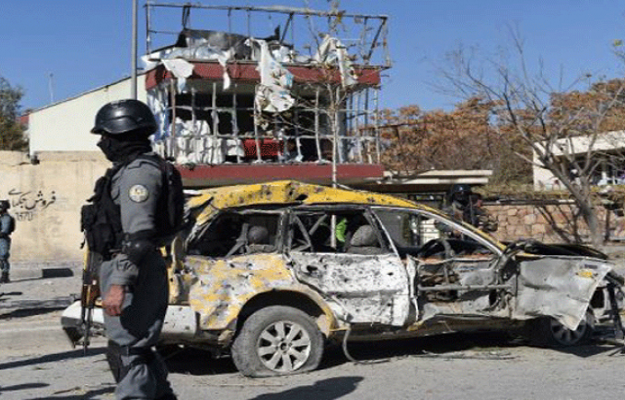 ---
KABUL:



At least two people, including a child, were killed when Taliban militants launched an assault on the Afghan parliament on Monday, triggering gunfire and explosions and sending lawmakers scurrying for cover in chaotic scenes relayed live on television.




The attack came as the Afghan president's nominee for the crucial post of defence minister was to be introduced in the Parliament and ended two hours later when all seven attackers, including a suicide car bomber, were dead.

The assault on such a high-profile target in downtown Kabul raises fresh questions about security as Afghan forces battle a resurgent Taliban for the first time without the aid of Nato forces, who ended their combat mission in December.

"First a car bomb detonated on the main road near the parliament building, then a group of attackers entered a building in front of the parliament," Kabul police spokesman Ebadullah Karimi told AFP.

Police said two civilians, a woman and a child, were killed in the attack, which left a thick plume of smoke hanging over the parliament complex and tore a huge crater in an adjoining street.

Deputy interior ministry spokesman Najib Danish said there were seven attackers and the health ministry reported 31 people, including five women and a child, wounded.

Dramatic television footage of the moment the first explosion struck showed pandemonium and screams inside parliament, with Speaker Abdul Rauf Ibrahimi sitting in his chair, calmly telling lawmakers "it's an electrical issue". TV pictures showed legislators leaving the building, engulfed in dust and smoke, without panicking.

MP Mohammad Reza Khoshak, who was in the chamber at the time, described hearing "a loud explosion, followed by several other smaller explosions".

"In a few seconds the hall was filled with smoke and MPs began fleeing the building," he told AFP.

Kabul police chief Abdul Rahman Rahimi said all lawmakers were safe.

He said the assailants were armed with assault rifles and rocket propelled grenades. Some lawmakers' bodyguards fired sporadically during the attack, hampering the response by Afghan forces, he added. Police will investigate how the attackers got so close to parliament. "We have appointed a delegation to find the weak point or points and report it back to us," Rahimi said.

"Several mujahideen have entered the parliament building," Taliban spokesman Zabihullah Mujahid posted on Twitter.

"The attack happened at a time when the defence minister was being introduced."

Police denied that Taliban fighters had breached the high-security complex.

President Ashraf Ghani criticised the raid, saying in a statement that "targeting innocent people in the holy month of Ramadan is a clear act of hostility against the religion of Islam".

Published in The Express Tribune, June 23rd, 2015.
COMMENTS
Comments are moderated and generally will be posted if they are on-topic and not abusive.
For more information, please see our Comments FAQ