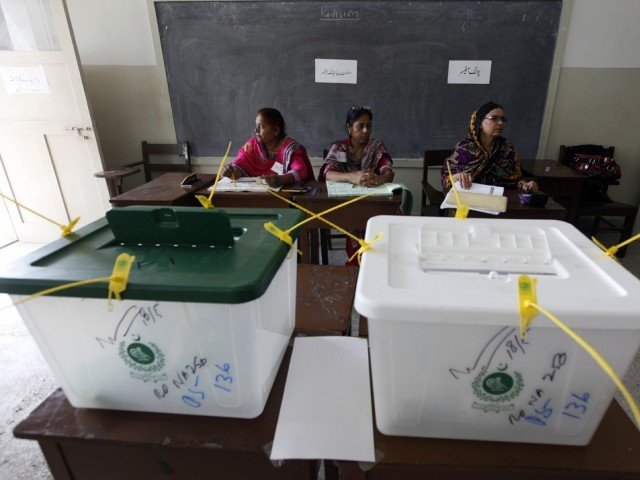 ---
ISLAMABAD:



The Election Commission of Pakistan (ECP) on Tuesday told the inquiry commission probing allegations of systematic rigging in the May 2013 polls that 43 returning officers (ROs) are not responding to ECP's requests for Form-15s in their respective constituencies.




ECP's counsel Salman Akram Raja told the three-judge commission, headed by Chief Justice Nasirul Mulk, that the ECP had received Form 15s from 59,000 polling stations but 43 ROs were not providing reports on Form-15 in their respective constituencies, adding that the ECP was in contact with them.




The ECP counsel also shared with the commission the report regarding 11 National Assembly constituencies, identified by the commission on Monday from where Form 15s had been obtained. Of these 11 constituencies, PML-N candidates had emerged victorious at seven in the 2013 polls.

According to the report, 0.91% Form 15s were missing at NA-21, 4.55% at NA-34, 5.88% at NA-53, 8.43% at NA-118, 21.63% at NA-119, 30.94% at NA-125, 2% at NA-157, and 8.4% Form 15 were missing at NA-171. Around 0.83% Form 15s were missing at NA-222 and 8.93% at PP-43 Fata.

However, the commission expressed dissatisfaction over the ECP report and summoned the 11 ROs today (Wednesday) to testify regarding their demand for printing of more than 10% extra ballot papers in the last general elections.

The CJP remarked that at 2-3 constituencies, more than 25% Form 15s were missing, which was not a good indication. "Even the ROs do not have the entire record of Form 15s," he added.

He observed that the remaining record was available neither at the treasury nor with the ROs. However, he told Pakistan Tehreek-e-Insaf (PTI) counsel Abdul Hafiz Pirzada that most of the vote bags were sealed in the treasury.

During the hearing, the PML-N counsel Shahid Hamid welcomed the commission's decision to summon the ROs to get their explanation regarding their demand for the printing of extra ballot papers. "Please summon the ROs straightaway," he said.

He also recommended that the missing Form 15s might be obtained from the Free and Fair Election Network (Fafen). However, the CJP said: "Let the ROs come tomorrow".

The commission while accepting a PTI plea also directed the National Database and Registration Authority (NADRA) to produce 40 pre-scanned reports.

The PTI had requested the commission to undertake further inquiry by calling for all Pre-Scanning Reports prepared by NADRA to-date to examine the extent of missing polling material, especially missing electoral rolls and counterfoils.

Published in The Express Tribune, June 17th, 2015.