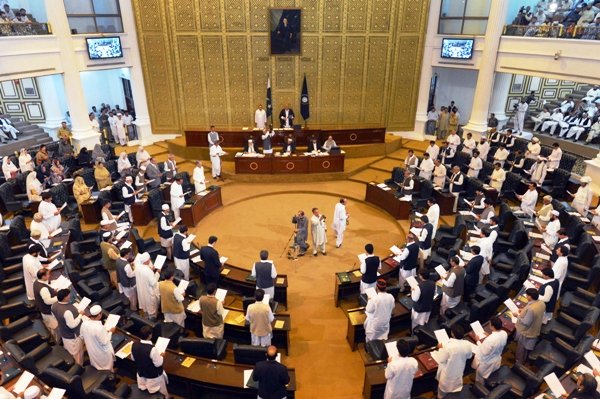 ---
KARACHI: Pakistan Tehreek-e-Insaf (PTI) led Khyber-Pakhtunkhwa (K-P) Assembly outperformed any other provincial assembly in the country during parliamentary year 2014-15, scoring 44 per cent for its overall performance on a Comparative Score Card compiled by Pakistan Institute of Legislative Development and Transparency (PILDAT).

The report did not include performance of Gilgit-Baltistan assembly.

The K-P assembly was closely followed by the provincial assemblies of Sindh and Punjab, who share second spot with a score of 42% each. Balochistan was the weakest, as it scored just 39%.




In terms of number of government bills passed, Sindh outdid the other three provincial assemblies with 41 bills passed this year. Even so, this number was down by 14% from last year.

K-P Assembly, however, showed the greatest improvement for year-on-year it government bills, passing 37 bills this year, compared to 28 in 2013-14, with an increase of 32%.

Punjab Assembly too passed 37 government bills this year, but it only had a year-on-year improvement of around 19%.

Meanwhile the Balochistan Assembly lagged far behind the other three assemblies as it passed just 16 government bills this year, 36% less than the previous year. It also scored the lowest on the legislative performance ladder, with the score of just 38%.

The K-P Assembly took lead in the private members' bills category, which stood at five for the 2014-15, followed by four in Sindh.

Provincial assemblies of both Balochistan and Punjab failed to pass a single private members' bill.

According to the PILDAT scorecard, the K-P Assembly scored 45% on Legislative Capacity followed by Punjab and Sindh with scores of 44% and 43%, respectively.

Balochistan was again last with a score of just 38%.

With regards to the total number of actual sittings of the Provincial Assemblies for parliamentary year 2014-15, the K-P Assembly again took the lead with 133 sittings, followed by Sindh and Punjab with 63 and 62 sittings, respectively.

The Balochistan assembly only met for 47 sittings this year.

Read: Dharnas brought PM back into parliament, but activity remains stagnant




In terms of average working hours per each sitting for the second parliamentary year of the assemblies, Sindh Assembly led with an average of 3.1 hours per sitting, followed by Punjab Assembly with an average of 2.63 hours per sitting while the provincial Assembly of K-P was third with an average of two hours per sitting.

Balochistan Assembly's performance was the weakest for this parameter with the average of just 1.57 hours spent per sitting.

Interestingly, the provincial Assembly of Balochistan fared best among all the provincial assemblies with average attendance, which stood at 32.73 per sitting, which translates into 50% of the total members of the assembly. Sindh Assembly stood second with an average peak attendance of 74.36 per sitting (45% of the total membership).

Meanwhile attendance in Punjab was lowest at an average of 84.12 peak attendance (23% of total membership).




Chief Minister Balochistan Dr Abdul Malik Baloch could be credited for Balochistan Assembly taking lead in the average peak attendance parameter since he regularly attends the Assembly. At 70% attendance, Baloch scored highest amongst all the chief ministers for attending assembly sittings. Qaim Ali Shah of Sindh was second on the list, having attended 44% of 63 Sindh Assembly sittings in 2014-15. K-P CM Pervez Khattak was present in only 19% of assembly sittings.

For the second consecutive year, Punjab Chief Minister was the worst performer in this regard, attending just one of Punjab assembly's 62 sittings.




Although all the provincial assemblies were marred by delays in starting the daily proceedings, the Punjab Assembly was the worst with a delay of approximately 71.50 minutes per sitting. Meanwhile, Sindh and Balochistan saw average delays of 54.48 minutes and 49.27 minutes per sitting respectively.

Provincial assemblies of K-P and Sindh scored the highest on Transparency and Accessibility, with both receiving scores of 45%, followed by Punjab who received a marginally lower score of 44%. The Balochistan Assembly received the lowest score in this parameter with just 41%.

For the second year running, members of Punjab Assembly submitted the highest numbers of questions with a total of 2,554 questions submitted. The government responded to 45% of the questions asked. MPAs in Sindh submitted 1,558 Questions, of which 36% were answered by the government.

The high number of questions from both assemblies reflects the engagement of the members in debating subjects.

In comparison, members of Balochistan assembly asked merely 57 questions, of which 95% were answered.

Meanwhile, the K-P government, who have championed the right to information law to boost transparency, responded to only 23% of the 826 questions asked by MPAs.

Just like the National Assembly, the provincial assemblies barely bothered to go through the motions of passing the budget, with no sign of reform allowing MPAs to scrutinise and debate budget proposals in detail. A total of 10 working days were spent on budget sessions in Punjab Assembly, with an average of 3.13 hours per sitting.

Provincial assemblies of Sindh and Balochistan met for only eight days each to discuss the budget, spending approximately 3.24 and 2.25 hours per sitting respectively. The

K-P Assembly met for only nine days with an average of two working hours per sitting.

Although the Standing Committees of K-P, the Punjab, and Sindh Assemblies had been formed within the first year, the Provincial Assembly of Balochistan continued to delay appointments of Standing Committees Chairpersons, which would allow the committees to become functional.

It must also be noted that the Balochistan Assembly had the dubious distinction of not forming any committees in its previous term as well.

The K-P Assembly received a 43% score for Effectiveness of Parliamentary Oversight over the Executive, followed by Punjab with a score of 39%. Sindh Assembly scored 37%, while Balochistan came last with the score of 35%.

The Provincial Assembly of Sindh received the highest score of 55% on Representativeness. The Punjab and Khyber-Pakhtunkhwa Assemblies come in second with scores of 53%, while Balochistan lagged behind with a score of 50%.
COMMENTS (9)
Comments are moderated and generally will be posted if they are on-topic and not abusive.
For more information, please see our Comments FAQ