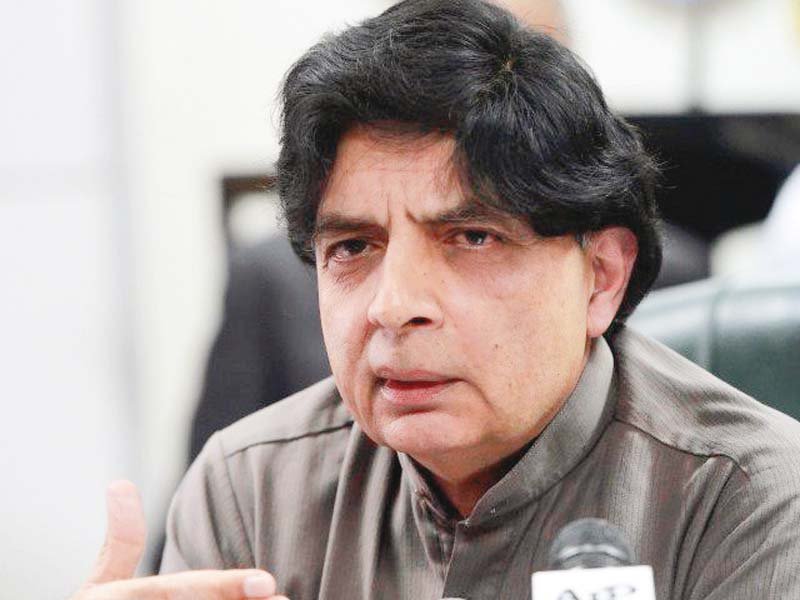 ---
ISLAMABAD: Interior Minister Chaudhry Nisar Ali Khan has said that the decision of restraining the NGO Save the Children from operating was not withdrawn. However, he did not mention anything about the closure of provincial offices of the INGO, saying that "only the office in Islamabad will remain closed."

While talking to the media persons in his chamber in the National Assembly, Nisar confirmed that the government has stopped to take any further action against any INGOs, as a high level committee formed by prime minister was working on the regulation process of these organizations.

A notification of the ministry issued earlier on June 12 held the action against INGO in abeyance. Commenting on the notification, Nisar said, "There is status quo on this issue." "We will not close any INGO or put any such organization in red category until the final recommendations of an inter-ministerial committee formed by PM."

Nisar said that there was no substantial evidence against the respected INGO — Save the Children — which had been registered in 1997 during PML-N regime and in 2014 the organisation's ownership was split between three countries. He said that neither was there any evidence on the record against Save the Children regarding its involvement in the OBL episode adding that many organisations are doing great job and the government will facilitate such INGOs.

In a separate move, a communique issued by PM office says that the Prime Minister Nawaz Sharif has directed the high level inter-ministerial committee, set up under Special Assistant to PM Tariq Fatemi for reviewing laws and regulations regarding accreditation and working conditions of INGOs operating in Pakistan, to submit their report expeditiously.


Nisar said that all INGOs operating in the country will be regularised and their registration checking process would be introduced soon. Nisar said that many INGOs are working honestly. We have catagorised these INGOs in three groups: Green, Yellow and Red. In the first green category, all INGOs have been put which are abiding the rules. In the yellow category, the government has placed the names of those who enhanced their assigned work and offices without prior permission and those who worked against national security of the country would be placed in red category.


Published in The Express Tribune, June 16th, 2015. 
COMMENTS (2)
Comments are moderated and generally will be posted if they are on-topic and not abusive.
For more information, please see our Comments FAQ