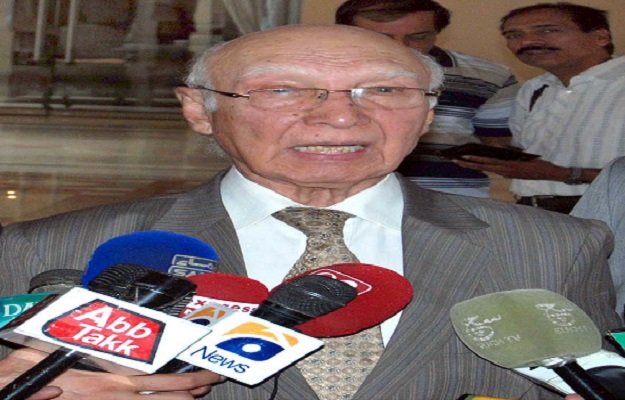 ---
ISLAMABAD:



Pakistan seeks "tension-free relations" with India, even if the neighbouring country is not keen on accepting "our offer of friendship", Sartaj Aziz said on Monday.




Talking to the media, the prime minister's adviser on national security and foreign affairs made it clear that Pakistan would not hold negotiations on India's terms.

Aziz also expressed Pakistan's decision to talk to UN Secretary-General Ban Ki-moon about the recent controversial statements of India's political leadership.

"It is a matter of grave concern if this is more than jingoism," he said while referring to Indian Prime Minister Narendra Modi's admission about his country's role in the events of 1971 as well as threatening statements issued by his cabinet members.

Politicians on both sides of the border have been exchanging a volley of accusations hither and thither since Modi blamed Pakistan for fuelling terrorism in India.




Aziz urged the international community to take notice of the anti-Pakistan rhetoric by the Indian leadership. He said such provocations were a threat to regional peace.

He stressed the need for resuming talks. However, he acknowledged that India seemed more interested in negotiating on its own terms. "This is unacceptable to us! We want to hold discussions with India on all mutual issues, including water and Kashmir."

'Weapons not decorations'

Warning India that Pakistan would respond in coin if forced into a war, Defence Minister Khawaja Asif said: "Let me make it very clear that arms are not meant for decoration."

He also told the media that Pakistan sought "good neighbourly relations" with India, but he made it clear that Pakistan would not tolerate threats from across the border.

The minister said that through its rhetoric, India wanted to prevent Pakistan from economically growing and prospering.

On the subject of the China-Pakistan Economic Corridor (CPEC), he said the trade corridor would make Pakistan economically independent.

"The effects of the CPEC will be for the entire region. The economic and regional hegemony will dilute," he argued.

Relations between Pakistan and India have hit a new low in the recent weeks after a war of words between the two nuclear-armed neighbours.

In a series of statements, the Indian political leadership threatened Pakistan with neutralising terrorists through terrorists and even called for "surgical strikes".

The verbal spat has diminished any chances of resumption of stalled peace talks in the near future. Hopes were high for the breakthrough when the Indian foreign secretary had visited Islamabad in April under Saarc Yatra.

Published in The Express Tribune, June 16th, 2015. 
COMMENTS (7)
Comments are moderated and generally will be posted if they are on-topic and not abusive.
For more information, please see our Comments FAQ