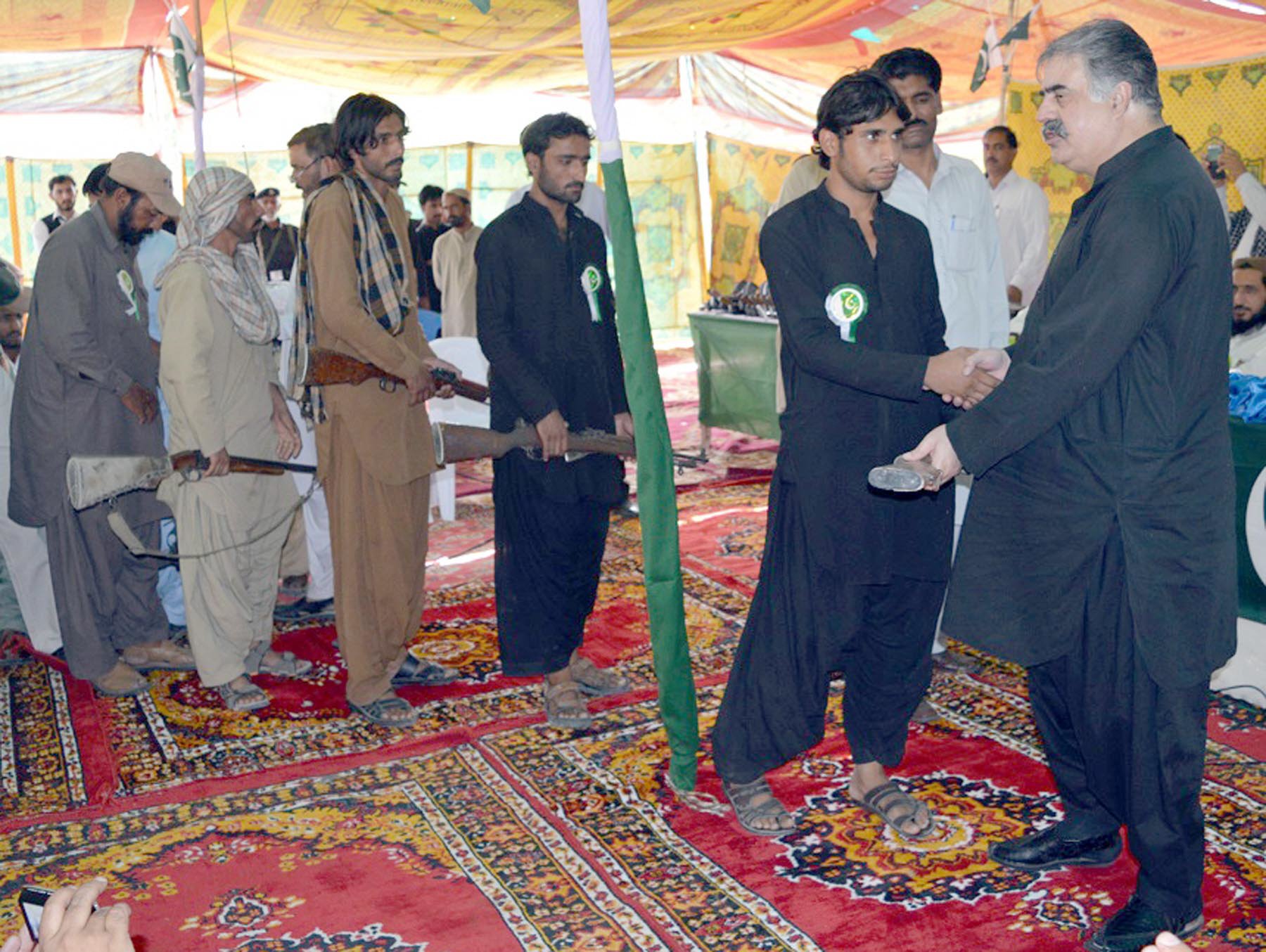 ---
QUETTA: A day after 49 militants surrendered and renounced violence, two more commanders of the banned Balochistan Liberation Front (BLF) and Tazeem Lashkar-e-Balochistan (TLB), along with 57 militants laid down their arms and surrendered before the government in Khuzdar on Sunday.

Pakistan Muslim League-Nawaz (PML-N) provincial president Nawab Sanaullah Zehri was also present on the occasion.

Commanders of the banned BLF Din Jan alias Meeran and TLB leader Ubaidullah alias Beebarg have vowed to become a part of the national mainstream. Both were given shawls of Pakistani flags, and also chanted slogans of 'Pakistan Zindabad' and 'Balochistan Paindabad'.

Speaking on the occasion, Zehri welcomed them to be a part of the mainstream in Pakistan, saying they would be provided full citizenship rights.

He said those tempting the poor Baloch masses towards so-called 'freedom' while sitting in Switzerland and London had no support of the people of Balochistan or any of the 65 members of Balochistan Assembly adding that Pakistan Army was never against the people of Balochistan.

Read: Insurgency in Balochistan: 49 militants surrender

The provincial president of the ruling party alleged that the people funded by foreign intelligence agencies such as Mossad and CIA were eternal enemies of the Baloch, who have always hatched conspiracies against Pakistan.

Earlier on Saturday, two commanders, along with 47 militants from banned Baloch insurgent groups, laid down their arms and renounced violence on Saturday. They announced their surrender at a news conference in the presence of Balochistan Home Minister Sarfraz Bugti and PML-N's senior leader Nawab Jangez Marri.
COMMENTS (4)
Comments are moderated and generally will be posted if they are on-topic and not abusive.
For more information, please see our Comments FAQ