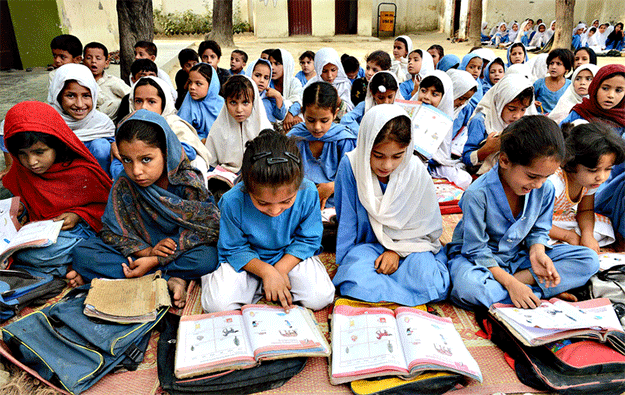 ---
LAHORE:



For the first time in the country's history, a woman presented the largest-ever provincial budget. In her capacity as Punjab finance minister, Ayesha Ghaus Pasha unveiled the Rs1,447 billion fiscal 2016 budget of Punjab in the provincial assembly on Friday amidst opposition heckling.




The Punjab budget contained large allocations towards Punjab Chief Minister Shahbaz Sharif's signature priorities of infrastructure, education, health and law enforcement. The 2016 budget is a key component of the Punjab government's economic growth strategy, aimed at doubling private investment, creating new jobs, increasing exports by 15% annually and achieving 8% economic growth.

Of the Rs1.4 trillion budget, Punjab will spend Rs400 billion on development in fiscal 2016. Another Rs753 billion will be spent on regular government expenditures such as paying school teachers, policemen, etc. This amount is just 7.6% higher than the previous year. The increase in current expenditure is owed to higher salaries of civil servants and pensions of those retired, as well as increased allocations for law enforcement and for the non-salary budget for schools.

The largest sector allocation overall will go to education: Rs310 billion or 27% of the total budget. Health has been allocated Rs166 billion, or 14% of the budget. Agriculture and rural development will get Rs144 billion, or 12.5% of the total. For law enforcement, Punjab will spend Rs109 billion, or 9.5%, of which Rs94 billion will go towards the police. Another Rs18 billion has been allocated for the provincial judiciary.

To pay for it all, Lahore will receive Rs889 billion from the federal divisible pool of taxes under the National Finance Commission award in addition to raising at least some revenues on its own.

In line with the federal government's budget, the Punjab government has also increased salaries and pensions of government employees by 7.5% with a 25% increase in medical allowance. Minimum wage has also been set to match the federal level of Rs13,000 per month.

Of the development budget, the largest piece will go to infrastructure such as roads, irrigation and energy project, on which Punjab will spend Rs161 billion in fiscal 2016, including Rs52 billion for the Rural Roads Programme, and Rs35 billion for irrigation. Overall spending on rural infrastructure will get Rs150 billion in fiscal 2016. Development projects in education, health, water and sanitation and women's resources will be allocated Rs119 billion.

Within the health sector, the allocations will go towards projects such as the Rs3 billion health insurance programme, mobile health units, and funding two hospitals in Lahore: a new hospital focused on oncology, as well as the Pakistan Kidney and Liver Institute. Education allocations include repairing dangerously damaged schools, improving school infrastructure, and building more Daanish schools. A grant of Rs600 million has been allocated to set up new primary schools in Punjab.

In her speech, Finance Minister Pasha said that energy projects worth Rs618 billion are currently under way in Punjab. Projects nearing completion include the 1,320 megawatt Sahiwal power plant, the Bahawalpur Solar Park and the coal power project at Pind Dadan Khan. Energy projects will receive Rs31 billion under the development budget for establishment of coal based power plants in Lahore and other districts of Punjab, as well as for run-of-the-river hydroelectric power projects.

The minerals sector has been allocated Rs2.2 billion. The government has also allocated funds for barrages including the Jinnah and Khanki barrages. For irrigation Rs50 billion have been set aside this year with Rs8.6 billion for livestock. The government has also allocated Rs1 billion for religious minorities under which scholarships would be given to students from minority backgrounds. Projects like skill development, Rozgar scheme, Punjab Social Protection Authority and protection centres for women and children have been announced by the government.

The government will also spend money this year computerising land records and improving its information technology systems.


Published in The Express Tribune, June 13th, 2015.