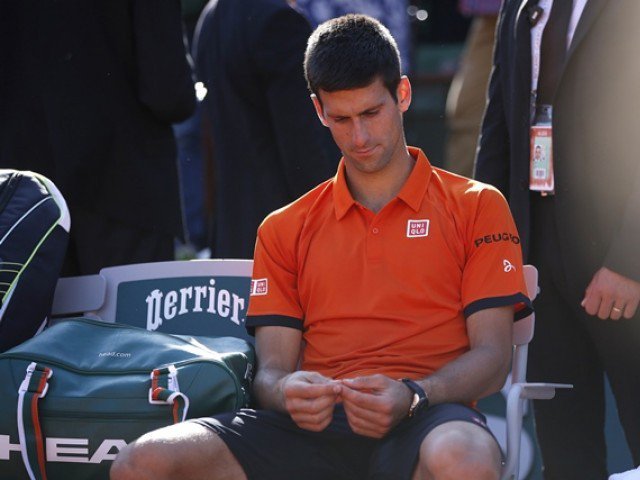 ---
It was not just a French Open title that slipped through Novak Djokovic's fingers. It was the third French Open title that eluded the world number one in as many deciders. It was yet another stumbling block in the Serb's quest for a career Grand Slam, an honour that has been tantalisingly close since 2012 but still just out of grasp.

In the first two finals, nine-time champion Rafa Nadal was Djokovic's undoing. This time, it wasn't so. The two did meet in the quarter-finals, but the sixth-seeded Spaniard was only a shadow of his former intimidating self and was swept aside by his in-form opponent in straight sets.

Then was it Roger Federer, the once invincible force in tennis who still displays flashes of brilliance, who denied Djokovic his shining moment? Hardly. So was it Andy Murray, whose unprecedented success on clay this season saw him lift two back-to-back titles on clay courts, who prevented Djokovic from lifting the Musketeers' Trophy? He may have, had he not been beaten in the semi-final at the hands of his old rival despite putting on a spirited four-hour show and taking the match to five sets.

No, it was a man outside the Big Four who shattered Djokovic's dream of joining the seven male players in the elite Career Grand Slam club. It was the man few were counting on to create the great upset even after he raced to the final after dropping just two sets on his way. Stan Wawrinka, all 1.83 metres of him, ended Djokovic's 28-match winning streak with a scorching backhand inside the baseline and flung his racquet in the air in triumph.

Read: Wawrinka stuns Djokovic to win French Open

The 30-year-old Swiss, slowly emerging from the shadow of 17-time Grand Slam champion and compatriot Federer, epitomised a well-placed example of a 'silent' destructive force in the 2015 French Open final as all attention was on Djokovic. The irony of the result was not lost on the losing finalist, who said, "It feels like I'm the only player who wants to win this trophy, and nobody wants to win it as much as I do. This is completely untrue."

However, the audience can be forgiven their fixation if one recalls where the Serb was coming from. Even if his overall achievements are to be discounted, this season alone vindicates the soaring expectations of the tennis world from Djokovic. Titles in Australian Open, Indian Wells, Miami Masters, Monte Carlo Masters and Rome Masters lent an almost indestructible aura to the top seed, and true to the anticipation, he steadily vanquished all opposition on his way to the final and, barring his clash with Murray, was never pushed all the way.

Read: Djokovic haunted by Paris ghosts of Sampras, Edberg, Becker

But the fairy-tale run was cut short by Wawrinka — fresh off a semi-final win against homeboy Jo-Wilfried Tsonga and a quarter-final triumph over Federer — who unleashed a barrage of 60 winners, nine aces, searing backhands and impressive forehands on an increasingly helpless Djokovic, eventually winning 4-6, 6-4, 6-3, 6-4.

The champion not only brought a breath of fresh air to the podium, but also his sense of humour. Just after arriving at his final French Open news conference, he draped his pink-chequered shorts over the table in front of him. "They will be in the museum of Roland Garros. You will see my shorts every day if you want," declared the winner amid peals of laughter from an appreciative audience.

The late bloomer's resume boasts an Olympics gold medal in the doubles event (2008), a Davis Cup trophy (2014), an Australian Open title (2014) and now a French Open crown.

With that final backhand that sealed the fate of the 2015 French Open, Wawrinka put himself in contention for more glory to come.

Read: French Open: Ill Serena's 20th Grand Slam bid hangs by a thread

The fall of the French Open face

No moments are more bitter, no losses so crushing and no pain so heart-rending when a sporting icon is ousted from a longstanding reign over his domain. Such was the case with Rafa Nadal, dubbed the 'King of Clay' for his formidable reputation on the crimson surface that has given him nine of his total 14 Grand Slam titles.

While a mediocre season was already indicating Nadal's eventual relinquishment of his French Open title, a slim ray of hope still remained. Maybe he will make a late comeback to form for his beloved court. Maybe he will extend his successive five-title streak at Roland Garros. Maybe, just maybe, he will beat the odds.

That ray took on the intensity of a flame when Nadal — seeded an all-time low sixth in the tournament on the back of a poor season — made it to the quarter-finals with just one dropped set; a feat that would not have been a surprise until last year but was like manna to the Spaniard's fans this time around.

But that was as good as it got for the 29-year-old. The last-eight encounter against Novak Djokovic was an ordeal for all eyes watching, as the once untouchable clay maestro lost the first, second and third set consecutively in an agonising battle. It was almost a physical ache for the world to watch Nadal being tamed in his own backyard. The torment was finally over in two hours and 26 minutes, handing Djokovic a 7-5, 6-3, 6-1 victory.

A proud head was finally bowed in defeat, and whether it will rise again remains to be seen.
COMMENTS
Comments are moderated and generally will be posted if they are on-topic and not abusive.
For more information, please see our Comments FAQ