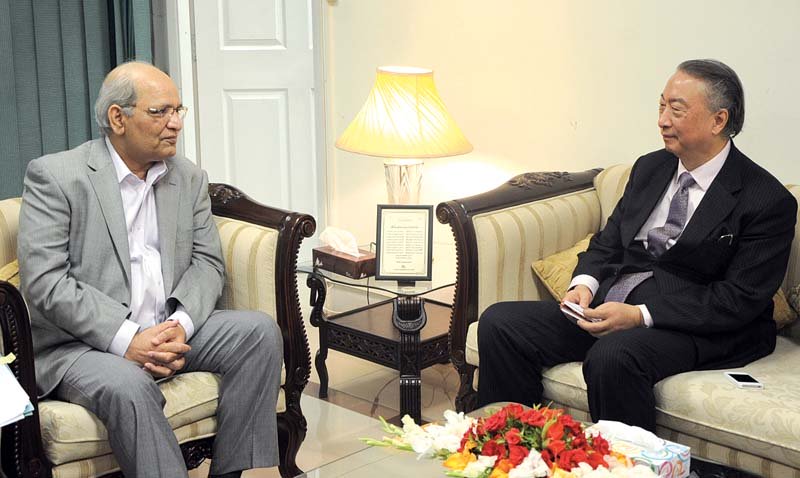 ---
ISLAMABAD: Pakistan and Chinese governments will address the environmental and ecological concerns about the proposed China-Pakistan Economic Corridor (CPEC).

We will work with our Chinese counterpart to cope with the possible adverse ecological effects of the project and make it environmentally and economically sustainable, Federal Minister for Climate Change Mushahidullah Khan said during his meeting with the International Union for Conservation of Nature (IUCN) President Zhang Xinsheng here on Sunday.

The minister said some quarters are raising their voice about the potential environmental impacts of the CPEC. "We are committed to addressing them at all costs with the help of the Chinese government," the minister said.

"Pakistan views CPEC as a potential game changer. For, it deems the convergence of the country's interests with those of China's, a big boon for the ordinary and corporate citizens of the country, China and the region," he said.

Khan vowed to work with his Chinese counterpart to bring together environment and climate change experts to study the potential impact of the CPEC, particularly on glaciers, rivers and mountain communities and their livelihoods.

The IUCN President assured the minister of the full support of his organisation at all scales so that whatever socio-economic development was achieved in the region it was in conformity with the principles of sustainable development and environmental sustainability.

He told the minister that natural habitat and resettlement, and social sector issues were must-meet-requirements for such large scale projects.

The IUCN president stressed the need for mitigating the environmental impact during infrastructure constructions including multi-lane road networks and bridges.

Khan said that China was a global power and should play its due role in helping poor countries tackle the adverse impact of climate change, particularly in water, agriculture and energy sectors.

The minister said IUCN could play a vital role in coping with climate change-induced disasters, particularly floods.

He said that the government had waived off sales tax and customs duty on the import of solar panels and certain related components for one year.

The minister said that approval had been given for provision of interest-free loans for setting up new solar-powered tube wells to help farmers.

The meeting was also attended, among others, by the IUCN Global Vice President, Malik Amin Aslam, IUCN Regional Director Asia Aban Marker Kabraji, and Country Representative Mahmood Akhtar Cheema.

Published in The Express Tribune, June 8th, 2015.