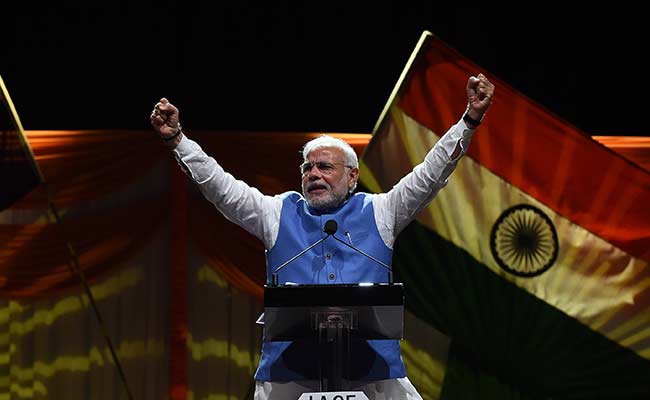 ---
Indian Prime Minister Narendra Modi's government has ordered its armed forces to organise a "carnival" to mark 50 years of the 1965 war with Pakistan.

The three-week long event will take place on days that coincide with those of the 1956 war, according to Kolkota-based paper, The Telegraph.

From September 1 to September 23, the Indian Army and the Indian Air Force have been asked to organise tableaux, exhibitions, processions, public lectures and film shows, the paper stated.

However, the paper stated, "The Indian Navy is barely involved in the planned carnival."

"On September 7, 1965, the Pakistan Navy, in its first assault, had bombed the Indian temple town of Dwarka on the Gujarat coast, about 200km from Karachi. The Indian Navy's fleet was in refit in Bombay and there was practically no response to Pakistan's 'Operation Dwarka'," it added.

Read: China-Pakistan Economic Corridor 'unacceptable', Modi tells China

"Indian sources record that Pakistan's naval bombing of Dwarka, chiefly targeted at a radar station, was to little effect. Six years later, in the 1971 war, the Indian Navy's "Operation Trident" - the bombing of Karachi - is described in military academies as a classic manoeuvre," the article added.

Further, the carnival is set to to trigger public discourse on the legacy of the Congress government of the time headed by Prime Minister Lal Bahadur Shastri with Yashwant Rao Chavan as defence minister.

However, the article clarified that there could be political motives behind the decision to mark the war besides 'pumping up national pride.'

Read: No talks until Pakistan takes action against Lakhvi: Indian external affairs minister

"Shastri has been identified with the slogan Jai Jawan, Jai Kisan - sections that are now perceived to be miffed with the Modi government because of the delay over one rank, one pension, farm distress and the land acquisition legislation. The government is unlikely to complain if the war carnival gives it an opportunity to ingratiate itself with farmers and soldiers," the article stated.

Further, the event is said to re-ignite a debate on whether India lost on the negotiating table what it won on the battlefield, as per the paper.

"In the Indian Army, there are many who believe that Shastri had surrendered at the talks in Tashkent in January 1966 the strategic Haji Pir pass that the army had captured," the article stated.

Moreover, the paper said, "An official account called The India-Pakistan War of 1965, a history (editor S N Prasad; general editor UP Thapliyal) issued by the ministry of defence's history division - parts of which are not yet public - may be reviewed."

Indian Defence Minister Manohar Parrikar will supervise preparations for the events to mark the war.

This article originally appeared on The Telegraph - Calcutta.
COMMENTS (12)
Comments are moderated and generally will be posted if they are on-topic and not abusive.
For more information, please see our Comments FAQ