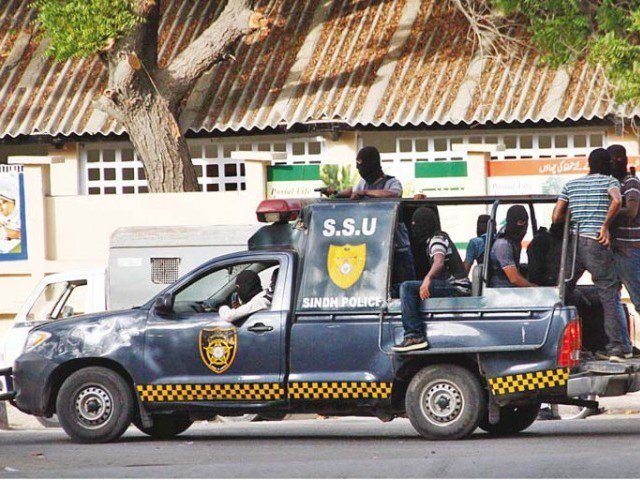 ---
KARACHI: Senior police officials submitted on Thursday in the Sindh High Court additional affidavits on the measures undertaken when masked personnel in plain clothes beat up the guards of Dr Zulfiqar Mirza and journalists covering the violent escapade.

A division bench, headed by Justice Sajjad Ali Shah, fixed May 28 for framing contempt charges against the IG, Karachi AIG Ghulam Qadir Thebo, the South Zone DIG, Preedy SHO and others.

Show-cause notices were issued on Monday to the senior police officials during the hearing of a petition seeking protection for the former home minister, Zulfiqar Mirza, from his arrest in criminal cases.

Read: Defying court orders: Sindh IG may face contempt charges

At the outset of Tuesday's proceedings, IG Jamali filed his personal affidavit in response to the court's show-cause notice.

The police chief said the Preedy SHO, the superintendent of police's Special Security Unit (SSU) and its 12 personnel, who had beaten up the journalists and others outside the high court, had been suspended. The police have also suspended the Central Zone SSP Chaudhry Asad, who had the additional charge of the South Zone SSP, on the day of the incident.

In his personal affidavit, the IG maintained that he had no intentions to disobey the orders issued by the high court. However, he offered an unconditional apology for the whole episode that took place outside the SHC.

Read: IG Sindh will be held in contempt: SHC

Rejecting  the personal affidavits submitted by the IG and AIG, the bench directed the IG, Karachi AIG and the South Zone DIG, along with the suspended SP and Preedy SHO to file their additional affidavits today (May 28).

The two judges hinted that contempt charges may be framed against the IG and all other relevant officials, if found responsible for the attack on the high court after examining their replies on the next date of hearing.

These masked men in plain clothes surrounded the high court premises on Saturday and allegedly beat up the guards of Dr Zulfiqar Mirza as well as media personnel.
COMMENTS (2)
Comments are moderated and generally will be posted if they are on-topic and not abusive.
For more information, please see our Comments FAQ