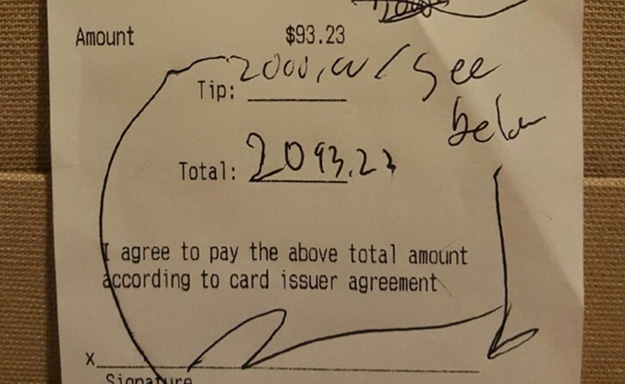 ---
A Washington man shocked the staff of a neighborhood restaurant earlier this week by leaving a $2,000 for a meal of beer and gumbo he shared with a friend.

The man, described by Blue 44's owner Chris Nardelli as a gumbo-loving regular who lives nearby, left the tip on a $93 bill on Monday night.

Read: KFC delivers to Dubai beach by helicopter 

"Thank you for the gumbo!" he wrote on the bill after indulging his taste for the Louisiana Creole dish, a specialty of the house.


PHOTO: YAHOO

"It was pretty shocking to say the least," said Nardelli, who also is a chef and bartender at the four-year-old restaurant in the Chevy Chase neighborhood. "It made everybody do a triple take."

Read: German grandmother gives birth to quadruplets at age 65 

The customer, who was not identified, asked on the bill that $1,000 go to chef James Turner and $500 each for Nardelli and waitress Laura Dally.
COMMENTS (1)
Comments are moderated and generally will be posted if they are on-topic and not abusive.
For more information, please see our Comments FAQ