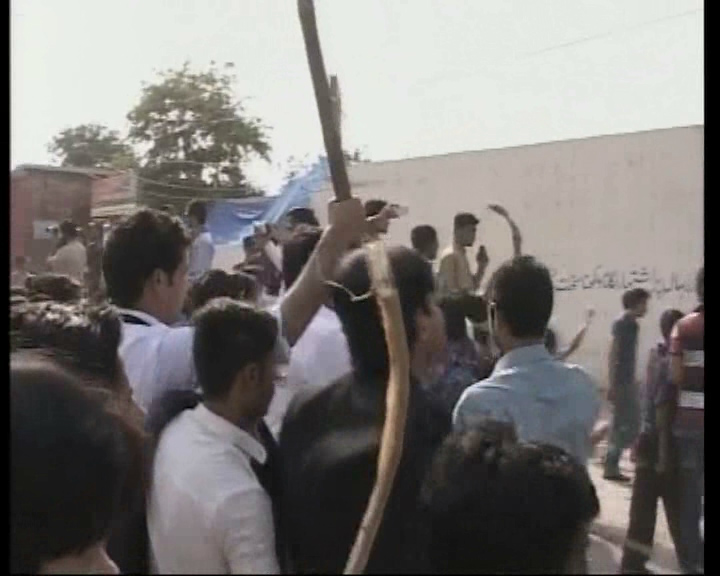 ---
DASKA: Two lawyers, including the president of a local bar association, were killed and another was injured on Monday when a clash broke out between lawyers and police officials in Daska area of Sialkot, Express News reported.

According to the initial reports, a scuffle broke out between police officials and lawyers when the latter were peacefully protesting outside a police station.

Daska SHO Sardar Shehzad opened fire to disperse the angry crowd, injuring President of Daska Bar Association Rana Khalid and two other advocates. The security forces also fired tear gas at the protesters.




An Express News screengrab of the Daska SHO.

Lawyers Khalid and Irfan succumbed to their injuries on the way to the Gujranwala hospital. According to hospital authorities, the injured are reportedly in critical condition.

Soon after the incident, lawyers strongly protested against police officials. They hurled stones at them and set the office of the deputy superintendent of police on fire. The Sialkot district police officer was injured as a result. The windows of Lahore Commissioner Abdullah Sumbal's car were also smashed on Mall Road as protests spread in various cities including Gujranwala and Sialkot.



Meanwhile, lawyers set the assistant commissioner's house on fire. He and his family was not in the present in the house, and according to reports, have fled the city.






Chief Minister Shahbaz Sharif took notice of the incident and ordered a judicial inquiry into the incident.

The team will be consisted of members from Police, Inter Service Intelligence and Intelligence Bureau.

The orders were issued for the suspension of TMO Daska and making Assistant Commissioner Daska as an OSD, Radio Pakistan reported.

A province-wide strike was also announced by the Punjab Bar Council.






An Express News screengrab.

'Rangers might be called in'

Amid the mayhem and chaos that have also hit Gujranwala, RPO said Rangers could be called in if they feel the security situation is no longer in police's control.

He added a case had been registered, and those responsible will face due course of law and punishment.


Lawyers beating a police official during a protest in Faisalabad. PHOTO: ONLINE

The RPO said miscreants were taking advantage of the situation and resorting to arson and vandalism. He claimed that they had taken relevant measures to safe masses from further losses after the clashes broke out.

Imran Khan lashes out at Punjab police

Pakistan Tehreek-e-Insaf (PTI) chief Imran Khan tweeted on the death of the innocent citizens.


Punjab's Gullu police again kills innocent citizens - this time in Daska.2 PTI lawyers incl Rana Khalid Abbas Pres Daska Bar shot dead. 1/2

— Imran Khan (@ImranKhanPTI) May 25, 2015


Khan said Punjab police have become murderers rather than protectors of citizens.

He also announced to hold peaceful demonstrations across the country to denounce the incidents.
Governor Punjab orders action


2/2 & two other PTI lawyer critically wounded. Shocking & outrageous. Punjab police have become murderers rather than protectors of citizens

— Imran Khan (@ImranKhanPTI) May 25, 2015
When Model Town gullus go unpunished, then there is little to deter the police from committing murder again and again.

— Imran Khan (@ImranKhanPTI) May 25, 2015


Governor Punjab orders action

Taking notice of arson and acts of vandalism during the riots, Governor Punjab Rafique Rajwana has directed action against those involved.

In a statement, Rajwana said no one could be allowed to break havoc and take law into their hands under the garb of protest.

He furthered that he had communicated the situation to CM Punjab.


Lawyers protesting against Daska incident in Lahore. PHOTO: ONLINE

On May 3, the Pakistan Peoples Party (PPP) Buchiana president was shot dead by unidentified assailants near Lundianwala police station

Read: Deadly clash: Buchiana PPP president shot dead


Buchiana police post in-charge Muhammad Shafiq Gujjar told newsmen that Rana Shafqat Ali was at the party office near Buchiana Chowk when some men riding a motorbike shot him. He said Ali died on the spot. He said the killers managed to flee.
COMMENTS (27)
Comments are moderated and generally will be posted if they are on-topic and not abusive.
For more information, please see our Comments FAQ