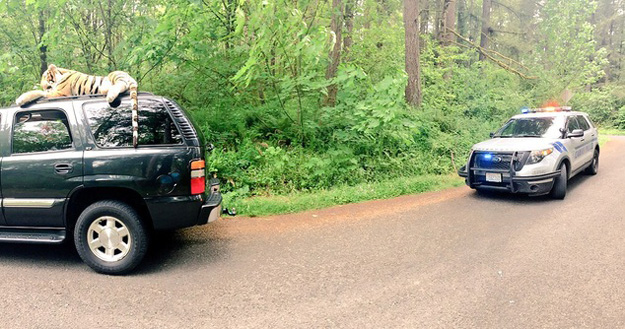 ---
Police in Washington state said on Wednesday they had responded to an emergency call about a Bengal tiger lounging on top of a car, but it turned out the cat was actually a big stuffed animal.

A concerned citizen called 911 on Monday after seeing what appeared to be a live tiger riding atop a sport utility vehicle at Lacamas Lake, a popular recreation area, according to police in the city of Camas.

Read: KFC delivers to Dubai beach by helicopter 

"This person thought it was real and called it in," Camas police Sergeant Rob Skeens said, adding no report was taken during the Monday incident because there is no law against strapping stuffed animals to the top of a car.

According to the Columbian newspaper, Connor Zuvich, 19, of Vancouver, Washington, had found the stuffed tiger among some trash bags at the lake and decided to strap it to the top of his black SUV.
Read: Oklahoma school concerned over dancing dead cats video 

He told the newspaper that he has kept the tiger on his truck since the 911 call, often to the delight of other motorists.
COMMENTS
Comments are moderated and generally will be posted if they are on-topic and not abusive.
For more information, please see our Comments FAQ