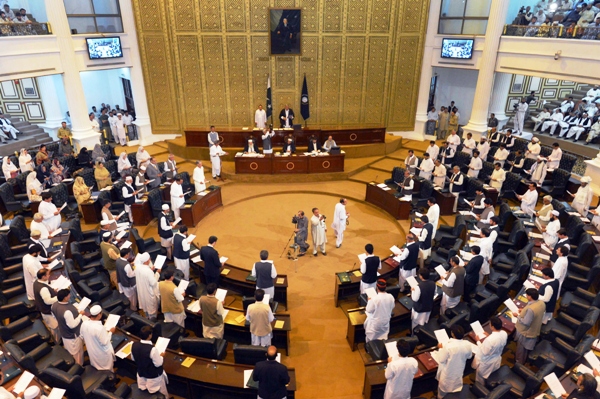 ---
PESHAWAR: As the current Khyber-Pakhtunkhwa Assembly is making history for all the wrong reasons, there seems to be a lack of interest from MPAs as attendance is at its lowest.

On Tuesday, the session was adjourned due to a lack of quorum soon after a recitation from the Holy Quran; there were only eight members present in the house.

The session started around 2:40pm, after a delay of about 40 minutes. At the time, Qaumi Watan Party lawmaker from Hairpur Gohar Nawaz Khan was the lone public representative in the house.

Four women and two men treasury lawmakers, along with an opposition MPA, trickled in after Speaker Asad Qaiser took his seat.

Gohar drew Qaiser's attention towards the lack of quorum, asking him to ensure the presence of MPAs in the house. He stressed lawmakers were informed about the schedule days in advance and yet MPAs failed to turn up. The QWP MPA pointed out the no-shows were hampering proceedings. Gohar asked the speaker to issue a warning to MPAs to ensure their presence during the proceedings.

Qaiser then asked the bells to be rung for two minutes and adjourned the session after he saw no increase in the number of lawmakers. Officer and media galleries were also nearly empty.

The speaker asked lawmakers to ensure their presence and directed the Assembly Secretariat to contact all members to inform them about session timings.  The session was adjourned till Friday without taking on a single item on the agenda.

A house in disarray

The current session which will enter its seventh month started in October 2014 and has been ongoing ever since.

Members' vested interests, coupled with campaigning for local government elections, have marred house proceedings.

Time and monetary resources involved in arranging members' allowances, deployment of security and printing of relevant documents run into hundreds of thousands of rupees for each session.

The agenda distributed on Tuesday was previously scheduled to be taken up on May 11. However, it lasted only three minutes after six lawmakers turned up and was adjourned till May 19.

Some lawmakers point to the lack of interest for the low attendance. However, despite repeated instructions from the speaker and assurances from the treasury, little improvement has been witnessed.

Minister for Information Mushtaq Ahmed Ghani, when approached for comments, said the session has become far too lengthy and the government has to meet the 100 mandatory session days before the parliamentary year ends in May.

"Treasury and opposition lawmakers are not attending," Ghani said.

He added Chief Minister Pervez Khattak instructed lawmakers to ensure their presence and that might improve the situation. Ghani said that current session would continue till May 30.

Published in The Express Tribune, May 20th, 2015.
COMMENTS
Comments are moderated and generally will be posted if they are on-topic and not abusive.
For more information, please see our Comments FAQ