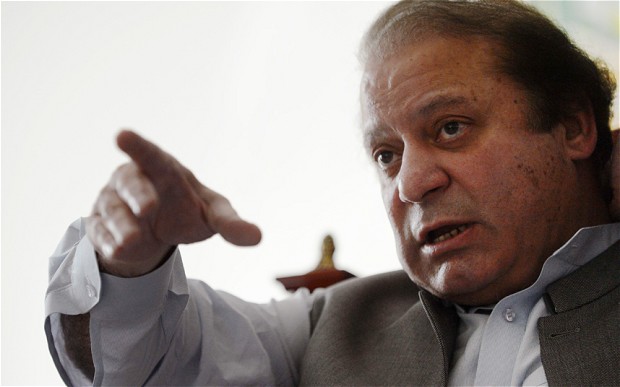 ---
ISLAMABAD:



In a bid to address ever growing concerns on the China-Pakistan Economic Corridor (CPEC) route, the minister in-charge on Monday said he would quit if there were a change in the project. However, he failed to satisfy senators who insisted on a briefing by Prime Minister Nawaz Sharif.




"I assure you that I will quit and not defend [the decision] if someone could prove that the route, as agreed on July 5, 2013 [during the PM's visit to China], has been changed," Minister for Planning and Development Ahsan Iqbal said while fielding a barrage of questions, particularly raised by members from Balochistan and Khyber-Pakhtunkhwa.

Though senators from both sides of the aisle comprehensively spoke about the issue and expressed their concerns during a marathon session that lasted more than six hours, the opposition made an attempt to boycott the proceedings when the minister took the floor, demanding a clarification on the subject from the PM.

However, Senate Chairman Raza Rabbani convinced the opposition not to boycott and later on he gave a ruling to constitute a special committee – comprising members from all parties and provinces – to discuss the corridor project.




"This is a national project and no one wants to make it controversial but there is a gap of information, therefore, a special committee be constituted," Rabbani said.  The move was welcomed by the Leader of the House, Raja Zafarul Haq.

During his speech, Ahsan Iqbal gave a detailed background of Pak-China relations and said there was confusion that the CPEC was the name of a road.

"Instead it is the name of a portfolio or package, and Gwadar port [as well as] energy [and] infrastructure [projects] and industrial zones are its components," he said. Iqbal, however, clarified that Orange Line Railway Project for Lahore city was not part of the CPEC.

"There is also a misconception among many – including some lawmakers – that Karachi-Peshawar motorway is a part of the corridor route, which it is not," he said.

He said the western route of the corridor would be completed by December 2016 and "it is our top priority to complete this route at the earliest and make it operational."

Iqbal said Chinese companies would invest $37 billion in energy sector and the government would have a purchase agreement with them. Ahsan Iqbal said Pakistan has already missed several trains but "today we all have to stand united so that we do not miss this golden opportunity."

Senator Dr Jahanzeb Jamaldini, Ilys Bilour, Saifullah Magsi and Dawood Khan Achakzai said they did not want to make the project controversial and the establishment should stop alleging that they were working at someone else's behest.

Earlier, the house unanimously passed a resolution in connection with victims of the Naltar Valley helicopter crash and recommended that "in acknowledgment of the services of diplomats who laid their lives while on duty and the valiant Pakistani pilots and soldier who embraced martyrdom, the highest national honour be conferred on them."

Published in The Express Tribune, May 12th, 2015. 
COMMENTS (17)
Comments are moderated and generally will be posted if they are on-topic and not abusive.
For more information, please see our Comments FAQ