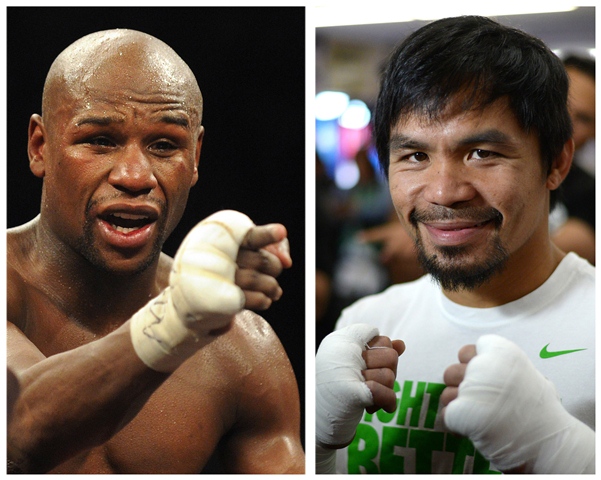 ---
LOS ANGELES: Floyd Mayweather has said he is willing to grant Manny Pacquiao a rematch following the Filipino boxer's disclosure that a shoulder injury hampered his performance in last weekend's world title showdown, ESPN reported Tuesday.

ESPN reported that Mayweather had told journalist Stephen A Smith in a text message that he was ready to don gloves once again after Pacquiao recovers from surgery to repair a rotator cuff.

"I will fight him in a year after his surgery," Mayweather said in the text message, according to ESPN.

Mayweather's apparent readiness to step into the ring with Pacquiao once more appears to contradict remarks he made in the aftermath of his victory in Las Vegas on Saturday, when he insisted he planned to retire after one more fight in September.

"My last fight is in September, and then it's time for me to hang it up," said Mayweather, after his unanimous decision victory.

The 38-year-old, who is just one win away from matching Rocky Marciano's 49-0 record, has previously said he has no desire to move past the heavyweight's revered unbeaten benchmark.

However while it is doubtful that any rematch with Pacquiao could generate the levels of interest and income seen in their first encounter, it would still earn enough to be a money-spinning duel.

Pacquiao's camp on Monday issued a statement confirming that the Filipino had suffered a "significant" muscle tear in his shoulder.

"We have an MRI scan that confirms he has a rotator cuff tear. He has a significant tear," surgeon Neal ElAttrache of the Kerlan Jobe Orthopedic Clinic said.

ElAttrache is one of the most respected surgeons in North America, having operated on New England Patriots quarterback Tom Brady, Los Angeles Dodgers pitcher Zack Greinke and Los Angeles Lakers star Kobe Bryant.

Pacquiao's camp have complained that the Nevada State Athletic Commission barred the fighter from receiving treatment for the injury using an anti-inflammatory injection approved by the United States Anti-Doping Agency.

Fan fury

Two Nevada men filed a class-action lawsuit against Manny Pacquiao on Tuesday, seeking millions in damages because they say he fraudulently concealed a shoulder injury before his defeat to Floyd Mayweather.

It is just the latest fallout from Mayweather's victory in Las Vegas on Saturday in a unanimous decision, with Pacquiao saying afterwards that the shoulder complaint hampered his performance in the welterweight world title showdown.

The plaintiffs argue that by failing to go public with the injury before the feverishly anticipated bout, the Philippine icon and his camp violated the Nevada Deceptive Trade Practices Act.

The suit filed in a US District Court in Las Vegas names Pacquiao, his manager Michael Koncz, promotional company Top Rank and Top Rank chairman Bob Arum and president Todd duBoef.

According to court documents available online, the lawsuit claims that when plaintiffs Stephane Vanel and Kami Rahbaran – who bought tickets, forked out pay per view fees or bet on the fight – the defendants "knew and had full knowledge and information that defendant Pacquiao had been seriously injured and was suffering from a torn rotator cuff."

"Defendants further know that such injury would severely affect his performance," the lawsuit says.

"None of the defendants informed or apprised the public or even the Nevada Athletic Commission about the injury to defendant Pacquiao."
The clash between Pacquiao and Mayweather at the MGM Grand Garden Arena was billed as the "Fight of the Century."

It's certainly set to go down as the most lucrative bout in history, with possible revenue of $400 million.

That could include as many as three million pay-per-view purchases, at about $100 each.

The bout went the full scheduled 12 rounds, Mayweather easily winning on the judges' scorecards to take his perfect record to 48-0.

After the fight, Pacquiao and Top Rank revealed the 36-year-old had been injured in training camp some three weeks earlier.

They said he'd been cleared by doctors to fight, although they had expected him to be able to take an anti-inflammatory injection on fight night, but the Nevada State Athletic Commission ultimately denied him.

Pacquiao attorney Daniel Petrocelli told The Los Angeles Times that he expects the lawsuit to be dismissed.

"It claims Pacquiao was injured (immediately) before the bout and that's not true – he was injured (nearly a month) before the bout, was examined by doctors and cleared to fight," Petrocelli said. "And he was examined by the commission right before he fought."
COMMENTS
Comments are moderated and generally will be posted if they are on-topic and not abusive.
For more information, please see our Comments FAQ