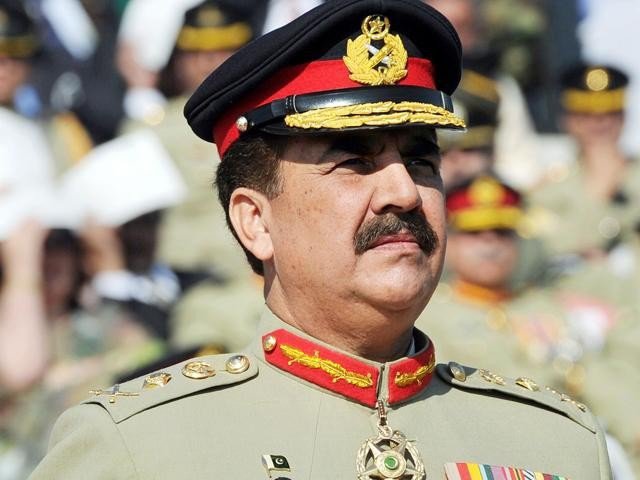 ---
RAWALPINDI: The country's top military commanders have expressed serious concern over the involvement of Indian intelligence agency, the Research and Analysis Wing (RAW), for "whipping up terrorism" in Pakistan.

The concern was raised during a corps commanders' conference presided over by Army chief General Raheel Sharif at the General Headquarters in Rawalpindi on Tuesday.

"The conference also took serious notice of RAW's involvement in whipping up terrorism in Pakistan," an Inter-Services Public Relations (ISPR) statement issued after the meeting read.

This is the first time in recent years that military commanders have publicly alleged the Indian hand behind unrest in the country.

The statement comes days after a senior police officer in Karachi arrested two Muttahida Qaumi Movement (MQM) workers for allegedly inciting violence at the behest of RAW.

Read: Dangerous liaisons: RAW trains MQM workers for unrest in Karachi, says SSP

The army chief, while addressing the conference, said, "Terror free Pakistan is now a national resolve."

"The surge against terrorists and criminals is apolitical, across the board and focused to achieve peace in the country," he added.

Lamenting the deaths of thousands of innocent Pakistanis, including children, at the hands of terrorists,  the army chief said, "Law enforcement agencies and our brave armed forces have given a lot of sacrifices in fighting these misguided and hardened criminals to safeguard a peaceful and better future for our next generation."

"These sacrifices will not go to waste. We will take this war to its logical conclusion. Dignity and honour of our country, its people and gallant armed forces will be safe guarded at all costs," he added.

Further, Gen Raheel said, "With the overwhelming support of the entire nation, Operation Zarb-e-Azb has inflicted significant damage on terrorists."

"Emphasising the continued precision targeting of terrorists squeezed in isolated pockets in the [Federally Administered Tribal Areas], COAS directed all concerned to intensify IBOs against criminals, terrorists and their abettors in urban areas for enduring peace in the country," the ISPR statement added.

The statement further said, "Professional matters were discussed during the meeting. Participants also dwelt at length on internal and external security situation in the country and reviewed progress of Operation Zarb-e-Azb and ongoing IBOs in the country."

Read: Corps Commanders Conference discusses security situation, Zarb-e-Azb

Major General Muhammad Imran Majeed promoted

Meanwhile, Major General Imran Majeed was promoted to the rank of Lieutenant General and appointed Surgeon General, according to ISPR.

Read: Corps Commanders' meeting reviews National Action Plan

Regarded a pioneer in cardiac electrophysiology at a national level, his services in the field have been acknowledged duly in the field.

He has also held the commandant position at the Armed Forces Institute of Cardiology (AFIC) and is presently posted at Army Medical College in Rawalpindi.
COMMENTS (65)
Comments are moderated and generally will be posted if they are on-topic and not abusive.
For more information, please see our Comments FAQ