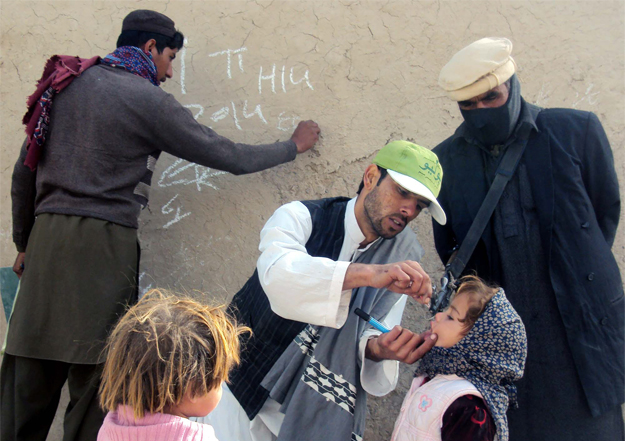 ---
PESHAWAR: Although 22 polio cases have been confirmed in the country so far, the number is likely to increase since over 300 suspected polio cases are currently being processed by the National Institute of Health, Islamabad.

The samples were collected throughout April from patients suffering from acute flaccid paralysis (AFP), a condition characterised by a sudden onset of weakness of muscles and loss of muscle tone. AFP surveillance is the international standard for detecting cases of poliomyelitis in a population.

According to senior officials in the health department, the over 300 AFP cases were reported from across the country and stool samples are being processed at NIH to confirm polio. Therefore, there is a possibility that the number of cases in the country would increase.

"I cannot say for sure from which areas the samples were collected from, but I can confirm that the number is more than 300," a health official associated with the polio eradication drive told The Express Tribune. However, he requested anonymity as he was not authorised to speak to the media.

Another health official said the number of AFP cases reported from an area is an indicator of strong or weak surveillance. "In order to have a strong surveillance structure, it is a must that in a year at least two AFP cases are reported per 100,000 people under the age of 15," he explained. "Otherwise surveillance is termed weak."

This is the international standard. According to the official, when health officials in Pakistan come to know that the number of AFP cases from a particular district is low, they inform relevant officials that surveillance is weak.

According to the official, AFP cases reported in January, February and March have been processed and from them 22 have been confirmed polio cases.

Acting Deputy Director of the Expanded Programme on Immunization Dr Taimur Shah confirmed to The Express Tribune that the samples of over 300 cases are being processed at the NIH lab. However, he said the area from where the most number of AFP cases were reported is yet to be confirmed.

According to Shah, once onset of paralysis or weakness in limbs is reported in anyone under the age of 15, stool samples are collected and sent to the NIH lab for confirmation of polio. He added disability could be caused by several other diseases or conditions, not necessarily poliovirus.

Of the 22 polio cases confirmed thus far, nine are from Khyber-Pakhtunkhwa, six from Federally Administered Tribal Areas, four from Sindh and three cases from Balochistan.

Published in The Express Tribune, May 4th, 2015. 
COMMENTS
Comments are moderated and generally will be posted if they are on-topic and not abusive.
For more information, please see our Comments FAQ