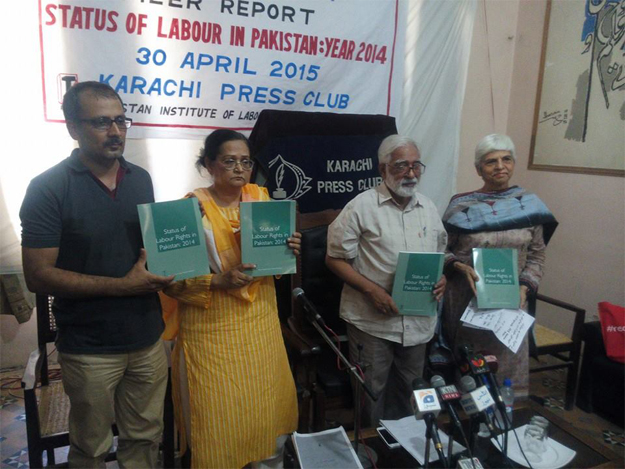 ---
KARACHI: The government stopped providing official labour statistics 15 years ago; even the trade union directory is not published anymore, said Pakistan Institute of Labour Education and Research (Piler) executive director Karamat Ali.

He was speaking at the launch of Piler's report, titled 'The Status of Labour Rights in Pakistan 2014', on Friday.

"It is a criminal offence if you pay someone less than the minimum wage but 80 per cent of people in Pakistan are still paid less than it," Ali pointed out, adding that the government figures for unemployment were incorrect. "Around 45 per cent of the country's educated young people are unemployed."

He stressed that in order to change the situation of Pakistan's labourers, not just the labour policy but the economic policy needed to be improved.

Meanwhile, journalist Zubeida Mustafa asserted that the more labourers progressed, the more the country will progress. "The service sector has increased to more than 50 per cent of the workforce but the elite classes suppress labourers across the world, whether through the education system or in other ways," she claimed, saying that there were around 60 million labourers in the country.

Published in The Express Tribune, May 2nd, 2015.
COMMENTS
Comments are moderated and generally will be posted if they are on-topic and not abusive.
For more information, please see our Comments FAQ