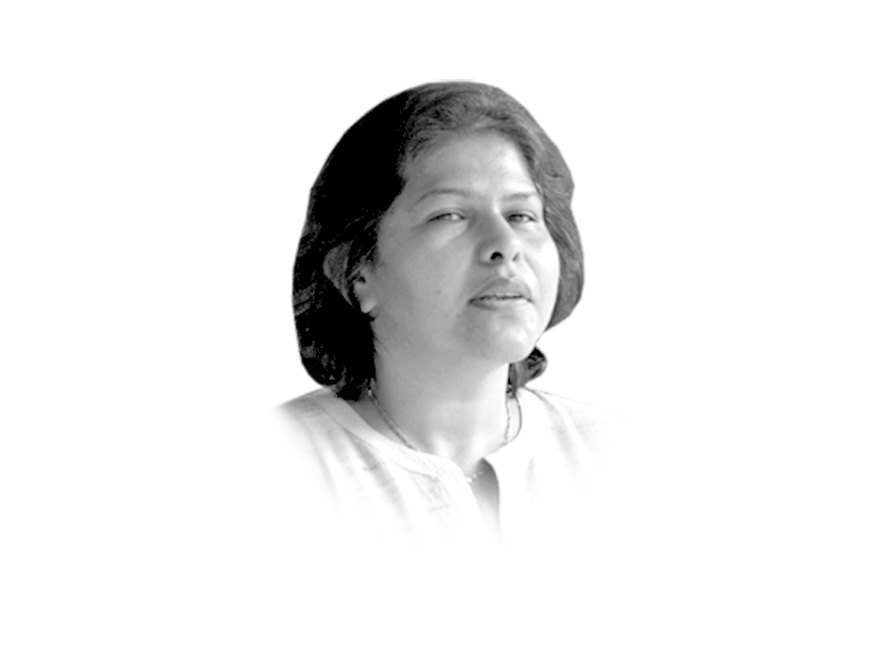 ---
Just the other day I had a discussion on social media with a young journalist about idealism versus pragmatism. She rightly reminded me the worth of morality in politics, especially geo-politics — a tough lesson in this day and age of realpolitik. We disagreed on some issues but it did make me think about the space we have in our society for 'moralpolitik'. In one way or the other almost all of us, who are in the thinking, writing and opinion-making business, are super-conscious of the norms of realpolitik. It could be caution or exhaustion. I wanted to tell her about my own experience of moving to Islamabad — a city of policy buffs. In my 16 years here, I have grown lonelier watching mates, one after the other, fall victim to pragmatism. Islamabad is extreme but not exceptional as this is the story of a lot of cities in the country.

Idealism is beautiful. I was reminded of what my mother used to tell me years ago that it's the mad and passionate who keep the world going and not the pragmatists. I was about to call the young lady and tell her I have converted to her perspective when Sabeen Mahmud was shot dead. It was a reminder that idealism in our society can be extremely expensive. Notwithstanding our tall claims about a vibrant and strong civil society, the fact is that the state has always been strong and is getting stronger. The violence and poor governance do not necessarily indicate weakness. The state is deliberately oblivious of the society it governs. The state is not mother-like, but is almost mean, stepfather-like.

It has the potential to keep itself intact in the face of all challenges. I disagree with those who think that Pakistan will disintegrate. It is stronger than ever. So, what if there is some bloodshed? The pragmatists will tell you it happens everywhere. If anyone would hear the interview of a former intelligence chief, it becomes very clear that the state's permanent establishment can tolerate loss of life as collateral damage.

Today, the state is over-confident. Going by the aforementioned interview, it believes that the world is too keen to talk to Pakistan. Its strategic position in the immediate region seems quite secure. The elected government in Afghanistan is keen to make Rawalpindi comfortable, including by discouraging Indian investment in areas bordering Pakistan and there is hope that any future arrangement would be mindful of Pakistan's interests.

Internally, there are a few worries. Economic development was a major issue which will get resolved with Chinese investment. The economic corridor, it is hoped, will turn the country around. If you think Balochistan is a worry, then that's changing. It may get up the state's nose but the threat has been sufficiently neutralised to make room for Chinese investment. Besides divisions along ethnic and political lines, the region has multiple fault lines. The Baloch insurgency is not cohesive and suffers from inner contradictions. The threat of insurgents is limited to operations against lowly unarmed labourers or perhaps, random pipelines. The use of direct and indirect force (the latter in the form of militants) proved useful. Now the narrative of there being an urgent need for development will justify further the use of force. A supporting elected government then helps in window-dressing. It is also a good showcasing of a 'guided democracy'. And like the American corporation, 'United Fruit' that monopolised banana trade from Central America through the massive use of force and bribing Central American politicians (this became the source of the term banana republic), here politicians who are part of the government could be encouraged to develop personal interests that are served by maintaining the status quo and dealing with political hiccups on behalf of the state. Colombia had bananas and Balochistan has copper.

Surely, the civil society might crib and raise a hue and cry. But is that a worry at all? It can be silenced through many ways — from deprivation to the use of bullet. Any physical harm is noticeable so it is considered serious. But the state also has the means of killing people intellectually. Silencing the narrative is an art which has been perfected. Also, the civil society is not a real threat at least quantitatively. Label people as NGO-funded and liberal and they will automatically become targets. In any case, the fear of the mullah-militant keeps many in the civil society glued to the state. There are even those who will market the 'state as a protector' argument nationally and internationally.

It is not entirely smooth sailing either. There is the evil social media, which may get selectively or more generally gagged. Some of the articles of the Cyber Crime Bill can and will be used primarily to silence troublesome dissent. It may possibly get used more against civil society than against militants. If the purpose was to tackle militants, then the PTA has enough power to block social media presence of many terrorists and militants, including Ehsanullah Ehsan.

But I will get back to my original question of the need for morality and idealism, the price tag of which has gone steeply high. A strong state with tribal thinking makes things immensely fuzzy. You don't know when you have crossed an imaginary threshold of the state's tolerance and will get a backhand or a bullet. Sabeen Mahmud will be remembered for her dedication and commitment to human rights and fostering communication amongst people. Her departure is tragic in many ways. One can almost feel the eerie silence and fear generated by her killing. Anyone would be lying if they said that as Sabeen was getting buried, they didn't think about being personally careful or about just shutting up. The sense of vulnerability has multiplied.

I had often wondered how rebels, revolutionaries and idealists could change and sell themselves (I am not counting those who use anti-state rhetoric to build a reputation of independence before cashing in). Now I know how. An endless battle against a strong state is tiresome and people collapse. Unless there is possibility of creating a critical mass for dissent, pragmatism may rule the roost in coming years.

Published in The Express Tribune, April 30th, 2015.

Like Opinion & Editorial on Facebook, follow @ETOpEd on Twitter to receive all updates on all our daily pieces.
COMMENTS (7)
Comments are moderated and generally will be posted if they are on-topic and not abusive.
For more information, please see our Comments FAQ