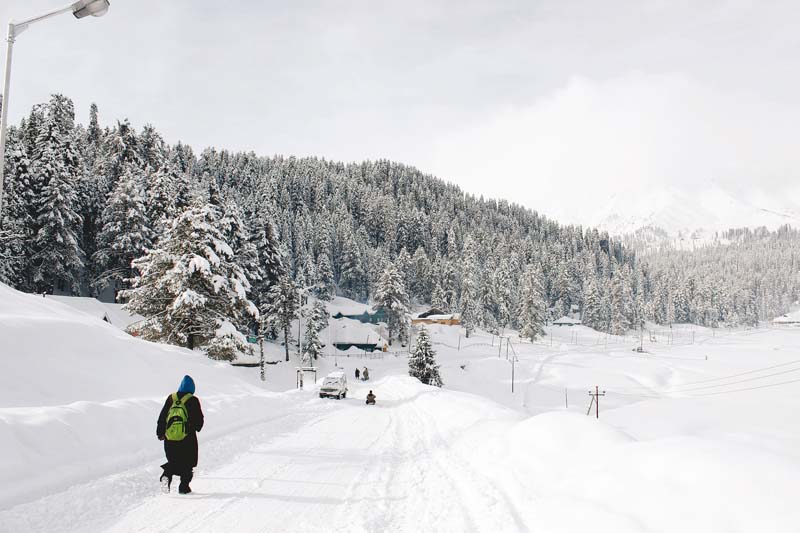 ---
Gulmarg or 'the path of roses' — where gul means rose and marg means path — is considered the heartland of winter sports in Indian Kashmir. From November up till the end of February, Gulmarg remains draped under a thick blanket of snow, making it an ideal destination for skiing, tobogganing, snowboarding and heli-skiing on the slopes of the Affarwat mountains.



A view of Gulmarg at night. PHOTOS: HAZIQ QADRI






Gulmarg's heavy blanket of snow makes it an ideal spot for snow sports. PHOTOS: HAZIQ QADRI




Situated in the Himalayas, Gulmarg has been the pride of Indian Kashmir since colonial times. Its history dates back to the era of the emperor Jahangir and King Yousuf Shah Chak. The Mughal emperor sourced 21 different species of wild flowers for his gardens from the meadows in Gulmarg. In 1927, the British introduced skiing in Gulmarg and the hill station has been a popular destination for thousands of adventurous skiers ever since.





A family enjoys snowfall in Gulmarg. PHOTOS: HAZIQ QADRI






Tourists enjoy a snow scooter ride across the hill station. PHOTOS: HAZIQ QADRI




Compared to most European and American winter resorts, Gulmarg is an under-developed hill station. To attract tourists, the authorities and other independent groups organise various skiing competitions. A cable car system called Gondola — one of the highest in the world, reaching 3,979 metres — has also been set up to manoeuvre over the difficult terrain.





For four months, Gulmarg remains under a shroud of snow. PHOTOS: HAZIQ QADRI




Besides being a popular skiing destination, Gulmarg also boasts the highest golf course in the world.

Haziq Qadri is a Kashmir-based photojournalist.

He tweets @haziq_qadri

Published in The Express Tribune, Sunday Magazine, April 26th,  2015.