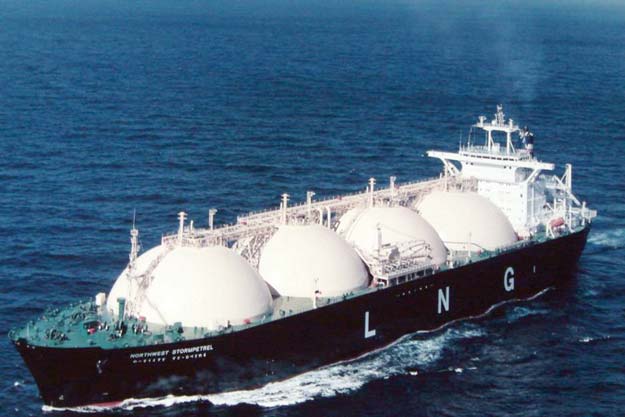 ---
KARACHI:



After their failure to convince power producers to commit funds to buy liquefied natural gas (LNG), the government is relying on an ad-hoc group of businessmen to bring in shipments in an attempt to keep the country's first gas import project alive.




Some sponsors of fertiliser-manufacturing companies and owners of gas-fuel stations have been brought under the umbrella to contribute money to import what would be the second consignment of LNG, Petroleum Minister Shahid Khaqan Abbasi said.

"Originally, IPPs (Independent Power Producers) were supposed to open letters of credit to facilitate LNG import. They are the main beneficiaries since they use (expensive) diesel and low sulphur fuel oil," he said.




"Now, we have incentivised the private sector by allowing it to import gas for its own requirement. It will arrive in the next few days."

But, just like the first cargo, this one will also come on board the FSRU – floating storage and regasification unit – that was originally meant to be anchored at Port Qasim and work as a processing plant.

A delay in signing the agreement between Pakistan State Oil (PSO) and Qatargas has pushed the government to use the FSRU as a LNG carrier.

FSRU is a large ship with onboard storage tanks and processing plant to convert super-chilled liquid methane back into gaseous form. It remains stationary and processes LNG while vessels bring in new shipments every few days.

It has been hired by Engro's subsidiary, Elengy, which runs the LNG terminal and collects tolling tariff on gas that goes into national pipeline system.

Using FSRU to transport LNG was never part of the project. As a matter of fact, it hasn't happened in any of the countries, which have used a similar model to import gas.

However, the government's desperation is also understandable since it has to pay $272,000 to Engro every day as processing fee whether it brings the LNG or not.

When the FSRU first came to Karachi on March 26, it brought along 3,000 million cubic feet of gas, which was paid for by Pak Arab Fertilizer, part of Fatima Group.

Fawad Mukhtar, Fatima's Chairman, did not say if his group would have share in the second LNG cargo but said that it was in talks with government over the matter.

"What is important to realise is that this LNG project has to be supported. There would be a serious crisis in Punjab if we don't do that," he said.

Fatima's Pak-Arab Fertilizer has been a victim of gas crunch in recent years and remains keen to have uninterrupted supply of gas, which is the key ingredient in making fertiliser.

About the reluctance of the private sector, especially the IPPs, to become part of LNG import project, he said that power producers could not do much if they did not receive timely payments from the sale of electricity.

The diesel-run IPPs, which are most suitable for LNG, include Kapco, Fauji Kabirwala Power, Saif Power, Sapphire Power, Halmore and Orient.

On his part, Petroleum Minister Abbasi insists that circular debt plaguing the power sector has nothing to do with IPPs' refusal to become part of the LNG project.

"They are already buying diesel and fuel oil under a similar arrangement. In fact, their financial exposure will actually be reduced if they use gas," he said.

But, the CEO of one of the IPPs says that power producers have actually agreed to provide standby letters of credit. "We just want government to ensure sustainability of gas supply."

Engro refused to comment.

Published in The Express Tribune, April 22nd,  2015.

Like Business on Facebook, follow @TribuneBiz on Twitter to stay informed and join in the conversation.