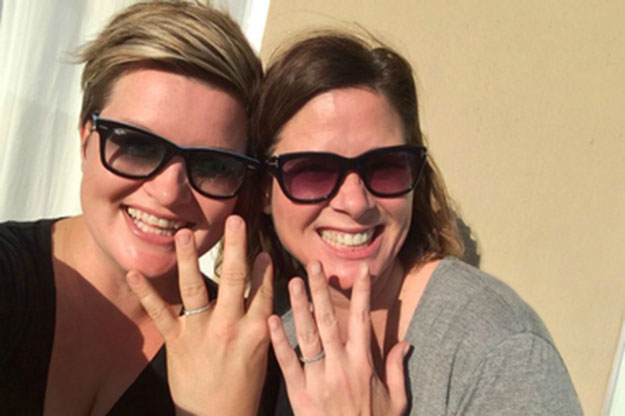 ---
NEW YORK: A Muslim cab driver has been ordered to pay a lesbian couple $10,000 for telling them to stop kissing in the back of his taxi, a city judge ruled last month. 

Mohammed Dahbi, a yellow cab driver in New York City was accused of discriminating against the couple over their sexual orientation by ordering them to "keep that [behaviour] for the bedroom or get out of the cab."

The passengers, Christy Spitzer and Kassie Thornton were reportedly abused with foul language being called names when they decided to get out of the taxi without paying.

The taxi driver was also ordered to attend anti-discrimination training and to pay a $5,000 civil penalty to the city. However, the city's Commission on Human Rights, which brought the complaint against Dahbi on behalf of Spitzer and Thornton, still must approve the judge's decision.







PHOTO: KASSIE THORNTON FACEBOOK


"We felt that what happened to us was wrong and he needed to take responsibility for his actions," Spitzer, a TV executive, told DNAinfo New York on Friday.

The incident occurred on September 18, 2011, after Spitzer and her dog climbed into Dahbi's cab at Columbus Circle and drove south to pick up Thornton in Chelsea. When they arrived in Chelsea, Thornton, who had been traveling, put her luggage in the taxi's trunk, and Dahbi began driving them to Thornton's home in Sunset Park.

The women testified at the trial that, at West 15th Street in the Meatpacking District, the cab driver told them to stop kissing and "save that behavior for the bedroom."

Dhabi, during the hearing claimed that he couldn't  keep his eyes on the road and was distracted because Spitzer and Thornton were kissing "heavily" and "touching all over each other."

Dahbi further told the judge that he found their behavior "distracting" and feared it would make him have an accident.

Spitzer and Thornton both testified at the trial that they had just kissed each other with a "peck on the lips."

Spitzer also told DNAinfo that she was certain it was only a light peck because she had just had massive dental work done.

"That's why I'm so aware of what my behavior was in the taxi," she informed.

After Dahbi gave his ultimatum to get out of the taxi, Thornton told him that he was discriminating against them because they were gay, according to the decision.

"Don't make me out to be an a--hole," Dahbi responded to her, the decision said.

Thornton told the judge that after that comment she didn't feel comfortable, so she got out of the cab, grabbed her luggage and left.

Spitzer followed shortly after with her dog, according to the decision.

When the women refused to pay him the fare to that point, he hurled expletives at them and sped away.

Dahbi, a married father of four who has been a cabbie for the past 17 years, said at his trial that he was not discriminating against the women because they were gay.

He further told the judge that for the last few weeks he had been volunteering at a food pantry for a charity called Metropolitan Community Church, which served many gay homeless individuals.

Shocked at the news, many took to social media to express their views and concerns about the taxi driver's alleged behaviour.

https://twitter.com/dsyedasad/status/587060901674483713

https://twitter.com/HenryMakow/status/587336207362732032

https://twitter.com/NewFreedomFight/status/587420511648419840

This article originally appeared on DNAinfo
COMMENTS (26)
Comments are moderated and generally will be posted if they are on-topic and not abusive.
For more information, please see our Comments FAQ