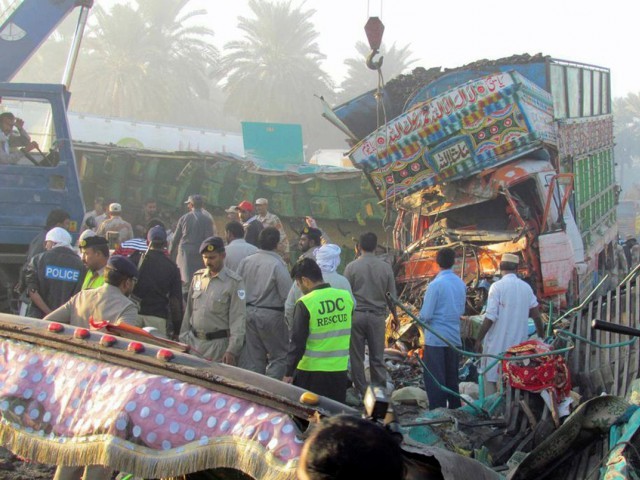 ---
SUKKUR: Fourteen people were killed and 20 injured in a head-on collision between a passenger coach and a truck on Mehran National Highway in Khairpur district in early morning hours of Wednesday.

According to reports, the passenger coach was en route to Karachi from Rawalpindi. While trying to overtake a camel cart near Setharja area, it rammed into a truck coming from the opposite direction.

A police contingent, led by Thari Mir Wah's SP Sajjid Khokhar, rushed to the scene and started the rescue operation. Reports said the dead bodies were shifted to the Gambat hospital, while the injured were ferried to hospitals in Gambat, Thari Mir Wah and Khairpur.

Some of the dead were identified as Hayat Khan, Syed Muhammad Junaid, Asad Qureshi, Hassan Qureshi, Gulnaz, Atta Muhammad, Muhammad Tayab, Abdul Aziz, Hamadullah, and Sultan Khan.

The truck driver, Shoukat Ali, was among the injured. The coach driver, however, could not be immediately identified, said an Edhi official named Gul Muhammad. According to SP Khokar, the coach driver was in a hurry and tried to overtake the camel cart without slowing down.

Sukkur Commissioner Muhammad Abbas Baloch said it is a single road highway and heavy vehicles are not allowed to use it. He added that drivers at night often switch over to the Mehran National Highway to save time as there are various diversions on the National Highway as construction work is in progress.

"We have established police posts at Thehri and Nangreja to stop heavy vehicles from using the Mehran National Highway. I don't know how the ill-fated vehicle passed unnoticed. The motorway police is responsible for checking the route permits of vehicles, but it failed to do so," the commissioner said.

Published in The Express Tribune, March 26th, 2015.