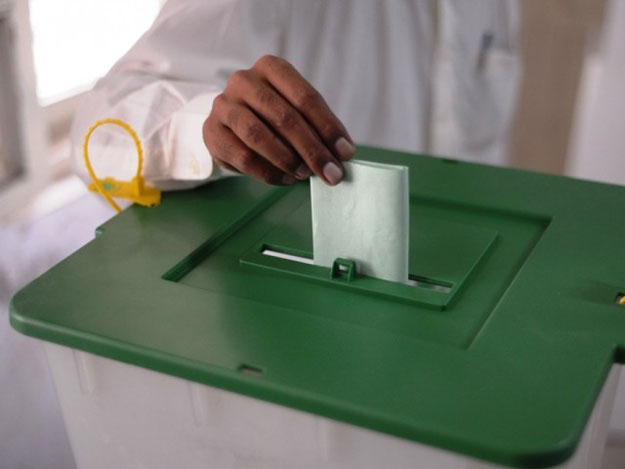 ---
ISLAMABAD:



Elections to fill 52 Senate seats that fell vacant earlier this month, culminated on Friday with the election of four new members from Federally Administered Tribal Areas (Fata).




After election of Sajid Hussain Tori, Aurangzeb Khan, Taj Muhammad Afridi, Haji Momin Khan Afridi as new senators from Fata, the upper house completed its full strength of 104 members.

The newly elected Senators will replace four members from Fata who were among the 52 members of the upper house that retired on March 11 after completing their six-year term. Under the Constitution, half of the members of the Senate retire after every three years and are replaced by new ones.

Elections for the other 48 senators were held on March 5, but polling on four Fata seats was postponed after a controversy over a Presidential Order issued just hours before voting was to start. The government through that order changed the procedure for elections to Fata seats. The contentious order was later withdrawn and a new schedule issued.

To elect members of Senate in the semi-autonomous tribal region, only national assembly members from the area can vote. With one national assembly seat from Fata vacant, there were only 11 voters to elect these four Senators. However, four MNAs on whose demand the Presidential Order was issued, boycotted Friday's vote, leaving seven others to elect four Senators. Three of the boycotting MNAs belonged to the PML-N, while one to the PTI.

Aurangzeb Khan and Taj Muhammad Afridi received seven votes each, while Haji Momin Khan Afridi and Sajjad Hussain secured six votes each. Under the voting system adopted in 2002,
each MNA from Fata can cast four votes.

This arbitrary power given to Fata MNAs had been attracting criticism – with critics claiming that it leads to buying of votes by the contestants. The ruling PML-N tried to fix this, but the move backfired due to its timing. The last-minute order promulgated by President Mamnoon Hussain would have curtailed the voting power of Fata members to one vote each.

Profiles

Taj Muhammad is a younger brother of business tycoon and Khyber agency MNA Al Haj Shahjee Gul Afridi, who is the executive director of Al Haj group of industries, a local journalist informed The Express Tribune. Whereas Taj himself owns an oil refinery and is a co-partner of FAW group, an automotive manufacturing company based in China. He was also working as a contractor for supplies to Nato forces in Afghanistan before contesting the elections.

Second electee Haji Momin Khan is the brother MNA Nasir Khan Afridi of Bara Khyber agency, who has vast businesses across the country, including markets, plaza, petrol pumps and property businesses in Peshawar.

Sajid Hussain, who bagged six votes, is the brother of MNA from Kurram Valley, Sajad Hussain Tori, who also has a wealthy background.

Aurangzeb Khan, the final electee, is a close associate of MNA GG Jamal of Orakzai. Aurangzeb, who had earlier helped GG Jamal during his election in 2013, has businesses in UAE and Pakistan. Another local journalist claimed that Aurangzeb was elected under a financial agreement with GG Jamal.

Reaction

When contacted, Shahabuddin Khan of Bajaur Agency, a PML-N MNA who boycotted the election, said there are question marks on the voting process. "When four out of eleven have not voted, how can seven members elect their own men?" he questioned.

Akhonzada Chitan, another PML-N member, informed The Express Tribune he had boycotted in protest over the corruption in senate elections. "Every elected senator has paid Rs400 million for their election," he claimed. "When one pays millions for their election, he will ultimately work for his self-interest and not for the welfare of Fata."

Published in The Express Tribune, March 21st, 2015.
COMMENTS
Comments are moderated and generally will be posted if they are on-topic and not abusive.
For more information, please see our Comments FAQ