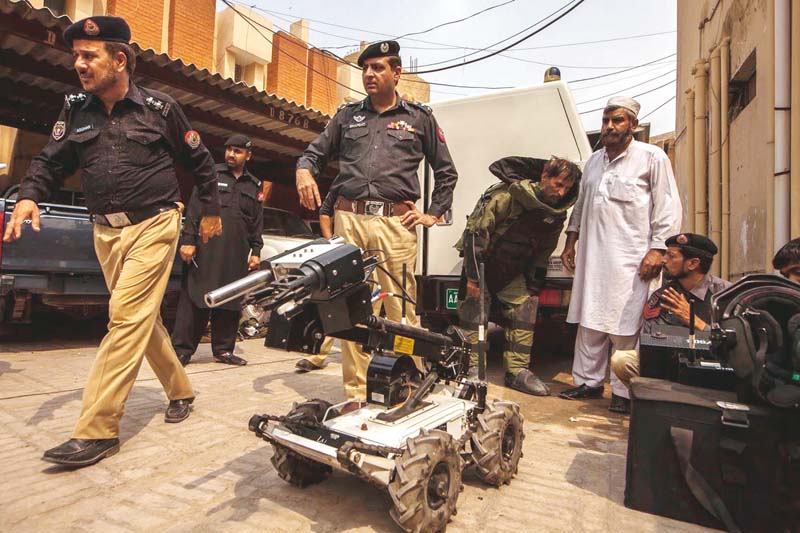 ---
Despite launching a military offensive, Operation Zarb-e-Azb, against various militant groups in North Waziristan on June 15, 2014, and increasing the defense budget to Rs700.2 billion for the 2014-2015 fiscal year, Pakistan has not succeeded in uprooting terrorism from its soil. Between 2013 and 2014, approximately 5,991 people, including civilians and security personnel, lost their lives in terror-related attacks, reports the South Asia Terrorism Portal (SATP). Within the first three months of 2015 alone, an appalling 315 others, including the 14 who died in the recent attack on a church in Lahore, have become victims of violence. Therefore, with the state enemies becoming more brazen with each attack, it is time to see how the country plans to shield itself from their next strike.


K-P's renewed defense strategy

With Khyber-Pakhtunkhwa (K-P) being the province that was worst-hit by terrorism — according to SATP, 196 people died in nine terror attacks during 2014 — it is imperative that the government establish its defense base camp in the province. According to the Assistant Inspector General of Police (AIG) and chief of Bomb Disposal Squad (BDS) Peshawar Shafqat Malik, the provincial government has already taken the necessary measures and chalked out a comprehensive security strategy. This includes the opening of a police school for explosive handling in Nowshera on Feb 9 earlier this year, shares Malik.





(Top) The Islamabad police patrol the streets, ready to respond to any emergency. (Right) A police officer handles a wireless controller which gives direction to the bomb disposal robot.  PHOTO: AFP




Annually approximately 1,200 police officers across the province will receive training on how to defuse Improvised Explosive Devices (IED) using robots at the school. In the past the BDS was equipped with a pair of ordinary wire cutters and a splicer, but the school has acquired two bomb disposal robots worth Rs1,000,000 each, two advanced bomb suits worth Rs10,000,000 each and an explosive ordnance disposal vehicle to train officers. "If we had trained our squad (in using robots earlier), we could have easily controlled mass destruction and human loss," says Malik. "From 2008 to 2013, 15 BDS members have died while defusing bombs."

The school has also invested in various detectors which include metal detectors, mine detectors and detectors to trace bombs. But the detectors aren't as effective as sniffer dogs, says Malik. "Their sense of smell is 5,000 times more powerful," he shares, adding that the dogs can serve for up to 10 years. The bomb disposal unit has purchased 40 trained sniffer dogs, costing Rs4,000,000 each, from the Pakistan Army to assist in detecting explosives. This excludes their monthly expenses, including food and vaccination, which totals at Rs15,000 per dog.


One of the police officers gets assistance in wearing the advanced bomb disposal suit at the explosive handling school in K-P.



A Pakistani Ranger instructs a female student of NED University during a counter-terrorism training demonstration. PHOTO: REUTERS




While a great deal of money has been pumped into acquiring the necessary protective gear, the province suffers from short-sighted planning. A forensic laboratory has yet to be established in K-P for post-blast explosive residue identification. Malik hopes to rectify this by opening a forensic laboratory which will not only study explosive residue to establish the origin and distribution of materials used in making a bomb but will also provide a safe environment for testing explosives.

Along with strengthening the BDS, the province has taken several measures to prevent schools from becoming vulnerable targets. In December last year, the provincial police launched the Android-based One-Click SOS Alert Service to allow users to tap an alert button that will instantly notify the police in case of an emergency. Additionally, since the province does not have the budget to build a bomb room in each school, security guidelines have been provided to students and teachers at both private and government-run educational institutes and they have been taught how to use weapons to secure themselves in case of an attack.





A police school for handling explosives was inaugurated in Nowshera on Feb 9, 2015.





K-P's provincial capital Peshawar has always been a soft target for militants; the city has 390 entry points which are almost impossible to man, explains Senior Superintendent of Police (SSP) operations Dr Mian Saeed. Despite this security in the the provincial capital has been beefed up and all routes linked with red zones inside the city have been secured with checkpoints, he assures.

Besides routine patrols, the capital city police have also deployed special security forces in Peshawar. "During school hours the Rapid Response Force (RRF) patrols the city streets for any suspicious activity and the Quick Response Force (QRF) is on the alert at every police station," says Saeed. Following the attack on Peshawar's Imamia mosque, special security has also been provided to guard places of worship.

Other provinces take a stand

Sindh, Balochistan and Punjab have adopted a number of K-P's security strategies. In the wake of the attack on Peshawar's Army Public School (APS) on December 16, 2014, the police force in every province have made several efforts to improve security of government and educational institutions. Along with providing them with security guidelines, closed-circuit television cameras have been installed and security guards have been deployed at the main gates of schools and colleges.




According to AIG Karachi Ghulam Qadir, Sindh plans on launching its own one-click SOS alert service for citizens. Although the province has no explosives-handling school, it has a BDU and is well stocked with modern detectors and two cell phone locaters. Sindh police is planning on purchasing more cell phone detectors as well, says Qadir. After the attack on Karachi's highly sensitive installations, especially the attack on Jinnah International Airport on June 8, 2014, the Karachi Police have formed a counter-terrorism strategy, which includes carrying out regular encounter operations and raids on places where suspected outlaws are believed to be taking refuge.




The RRF has also been deployed in different city zones to stand guard says Qadir. As a result, several terror plots have been foiled by the police in the city. "Since the approval of the National Action Plan, over 4,457 raids have been conducted and 22 terrorists have been killed, while 16 others have been detained. From December 2014 to February 24, 2015, almost 355 encounters have also been carried out in which 52 terrorists and 113 dacoits were killed," says Qadir. He further adds that the tightened security in the province since December 23, 2014, has resulted in the arrests of 7,086 criminals, recovery of 31 Klashinkovs, 1,429 rifles, 35 shotguns, nearly 52kgs of explosives, 123 hand grenades and three suicide jackets.




The National Action Plan has become a security blueprint for all provinces. Particularly in Balochistan, ADIG investigation Muhammad Kamran says, it has helped drastically improve the security situation. To combat attacks, Balochistan police have a counter-terrorism training academy in Quetta where the police force is trained by the Army. "The first batch of the Counter-Terrorism Force, including 18 female constables, has completed its training at the academy," says Kamran.




Additionally, the province has 22 police stations, several detectors, two Global System for Mobile Communications (GSM) locators and one bomb disposal team which comprises of five members. Despite limited resources, the BDU defuses around four to six bombs monthly in various parts of Quetta, says Kamran. "We still do not have a proper training facility when it comes to handling explosives," says Kamran. "The duty of these five personnel is, therefore, not only to defuse explosives but to also conduct search operations during VIP movements in the provincial capital," he adds. The Balochistan police have no sniffer dogs of its own either and borrow dogs from the Frontier Corps (FC) or the Army when required. There are no plans to launch a one-click SOS service either as the province has relies on its two help lines. "One has to dial 15 to reach the police and 115 to reach the FC," he says.




The weak spots

Despite the efforts made by provinces to secure their boundaries, several security loopholes serve as impediments to counter terrorism in the region. For instance, in most cases, the very people whom the state seeks to protect harbour militants in their homes, which was seen in the case of the APS attack. Cooperation from locals is, therefore, key to winning this battle against militants, says Saeed. Furthermore, all provinces have not been allotted equal resources. In K-P, for instance, the police department has no cell phone locators so the police can't trace calls made to cell phones used in attacks. "We depend entirely on word-of-mouth information and that is why we cannot control terrorism in the region," says Saeed.

Abdur Razzaq is a Peshawar-based radio and print journalist. He tweets @TheAbdurRazzaq

Published in The Express Tribune, Sunday Magazine, March 22nd,  2015.
COMMENTS
Comments are moderated and generally will be posted if they are on-topic and not abusive.
For more information, please see our Comments FAQ