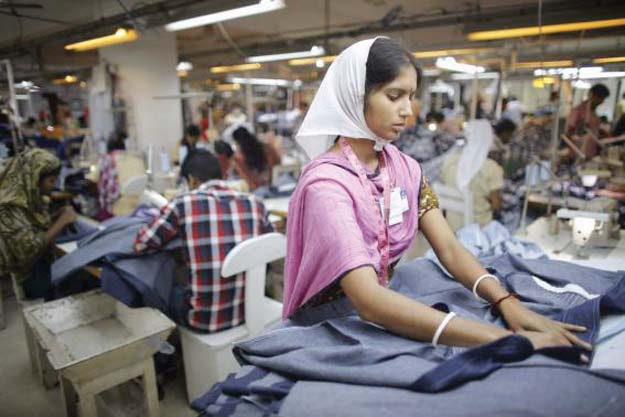 ---
KARACHI:



Whenever my casual acquaintances learn about my business engagements and frequent travels to Bangladesh, they quickly make an astonishing statement, "All our garment factories have migrated to Bangladesh because there is no electricity or gas here".




It's not phrased as a question requiring my confirmation. It doesn't sound as a matter of fact either.

No one quotes authentic data recorded by The Economist or The Financial Times in their claims support; or give actual numbers of factories that have migrated. Invariably, these declarations are delivered as grim announcements coming out of a grim economic outlook, with little to cheer.




It is true that our garment export trade has actually shrunk in the last 15 years to $3 billion while Bangladesh's stands at $27 billion. It is also true is that we have missed the $25-billion share from the gravy train of the apparel global trade. The claims reinforce the perceptions of our broken down economy. They undeservedly credit Pakistani owners for their prescient visions and their escape with their riches intact. These claims of migration also take away some of the credit from Bangladesh as the so-called migrating factories have zero contribution in Bangladesh's current success. The migration of our factories to Bangladesh is a stretch. But like any good urban legend, it endures and perpetuates itself.

While more than anything else, it has been our inability to control our militants that has ultimately decimated our garment industry. While Bangladesh's success has been a combination of thoughtful regulations, high quality entrepreneurs, emancipated hardworking women workers and a State that remains blind to any particular faith.

By 2013, I had visited more than 300 prospective customers in Bangladesh, and had served a dozen factories for ERP implementations. These large factories represent a Forbes list of sorts for the Bangladeshi garment scene. Most factories had been founded by the post-1971 first generation of Bangladeshis. They all are in their 50s and 60s. Few of them were born in pre-1971 cantonments and airbases of West Pakistan where their fathers had served in the Armed Forces or the Civil administration of the undivided country.

Some even graduated from IBA and NED in Karachi, Government College and NCA in Lahore, Gordon College in Rawalpindi or the Murray College in Sialkot. The events of 1971 which they all refer to as the Liberation War had severed these relations and turned us into aggressors. This history sums up the extent of their rather tenuous and unsympathetic connections with Pakistan. They were all Pakistanis before 1971 but they now remain very proud Bangladeshis.

Apart from the majority of Bangladeshi owned factories, there are dozens of garment factories in Bangladesh that are wholly owned by foreigners. Thanks to streamlined procedures for foreign investors, Bangladesh's Board of Investment (BOI) has successfully attracted large foreign investments. Last week, the BOI's procedures for foreign investors went paperless and are now available online obviating the need for the investor to physically visit the BOI offices in Dhaka. The procedures are transparent and fast track. They contain large tax incentives and put no limits on repatriation of profits abroad in foreign currency. These have resulted in sprawling export processing zones in Chittagong and Dhaka with hundreds of garment factories. Newer Export Processing Zones (EPZ) have been commissioned in the last decade. In Pakistan we only have one, comparatively small, Export Processing Zone in Karachi.

I found plenty of foreign owners hailing from EU countries with ethnic Bangladeshi Britons having the largest share. Taiwanese, South Korean, Hong Kong and Mainland Chinese owners were very active too. The Youngones Corporation, a giant South Korean manufacturer, tops the list with a 60-acre manufacturing complex in Chittagong EPZ. In 2012, it exported garments worth $800 million. Hop Lun, a Chinese intimate wear manufacturer based in Dhaka EPZ, clocked $240 million in 2011. There were few manufacturing concerns owned by Indians and Sri Lankans too. But amongst all the foreigners, I found only one Pakistani owner.

This Pakistani factory, established in 2012, belongs to one of the largest and the most successful garment exporters in Pakistan. The owner informed me that the new factory in Comilla EPZ is so far a work in progress and that currently it accounts for only a miniscule part of the overall production. He added that more than 90% of the group's manufacturing base will continue operating out of Karachi. He further added that his decision to further expand into Bangladesh would be largely depend on how successful the Comilla venture turned out to be.

The cost of setting up a brand new mid-sized garment factory in Bangladesh stands at $10 to $15 million. Operating margins lie in the range of 10% to 20% with a typical annual sales turnover lying between $20 to $30 million. For a mid-sized factory, the payback period of the entire investment could be as low as 4 to 5 years. Given the number of foreign owned factories in Bangladesh now, one can recognize that the investors from EU or advanced Asian economies certainly feel happy about their returns on investments.

From a Pakistani perspective though, it appears that $15 million investment may well be too big for our average entrepreneur's pockets who is typically a family-owned firm without access to capital from the stock markets. This certainly explains why there is only one Pakistani garment factory operating in Bangladesh right now. The fact that it had to be no other than the largest, only confirms the difficulty of raising and investing large sums. Only the largest and the strongest can pull this off. While decimation of this sector in Pakistan has left very few garment players standing. It is not hard to see that the claims of our factories migrating to Bangladesh remains a myth; as incredulous as it is untrue.

The writer is an entrepreneur who has worked in Bangladesh's garment sector 

Published in The Express Tribune, March  16th,  2015.

Like Business on Facebook, follow @TribuneBiz on Twitter to stay informed and join in the conversation.
COMMENTS (11)
Comments are moderated and generally will be posted if they are on-topic and not abusive.
For more information, please see our Comments FAQ