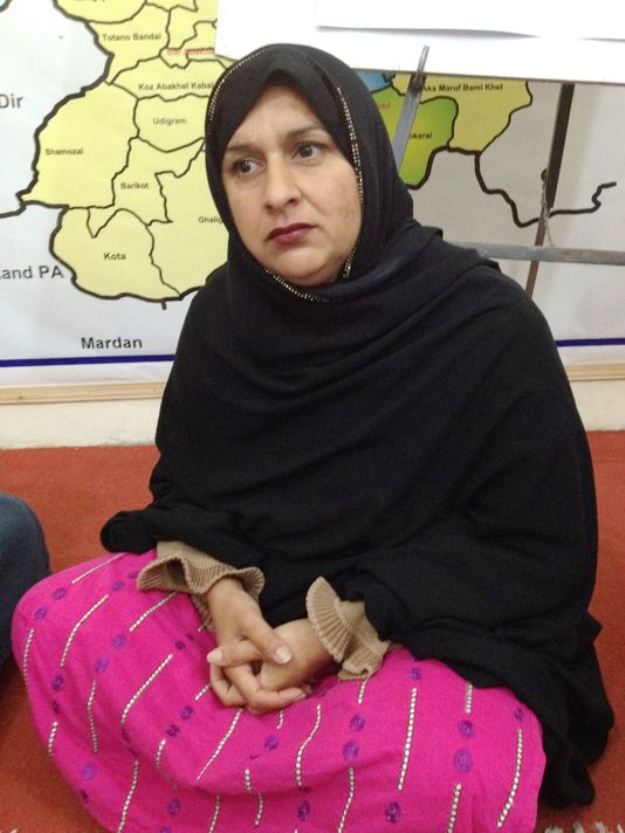 ---
WASHINGTON DC: After Malala Yousafzai claimed the title of the youngest ever Nobel Peace Prize winner, Swat valley has yet another feather to add to its cap. 

Tabassum Adnan , founder of her NGO Khwendo Jirga, or Sister's Council, a women-only jirga was awarded the 2015 Secretary of State's International Women of Courage Award in recognition of her services of women's rights.

According to a US Department of State press release, Deputy Secretary Heather Higginbottom presented 10 extraordinary women from 10 countries with the 2015 Secretary of State's International Women of Courage Award Thursday night.

Deputy Secretary Higginbottom presented the awards at a special ceremony on Friday afternoon at the US Department of State.


.@HHigginbottom & @AmbCathyRussell present the brave and amazing 2015 #WomenofCourage. http://t.co/kyiaV8fYNV #IWOC pic.twitter.com/lgmTvSRubR

— Mara Tekach (@Mara_Exchanges) March 6, 2015


Read: Defying offs: Pakistan's first female jirga to represent women in Swat

A victim of child marriage, Adnan was married when she was 13-years-old. After suffering 20 years of physical and mental abuse, Adnan divorced her husband, which made her lose her children, home, and money.


.@HHigginbottom: Today, we celebrate brave, heroic women who are changing their countries and this world. #IWOC http://t.co/1JQZkkukM0

— Department of State (@StateDept) March 6, 2015


Later she started the NGO, Khwendo Jirga, a first of its kind women-only jirga, where women meet weekly to discuss issues such as honour killings, acid attacks, and swara, or giving women as compensation for crimes.

………………………………………………………………………………………………………………………………………

[embed width="620"] https://vimeo.com/70399554
[/embed]
………………………………………………………………………………………………………………………………………

The jirga brought awareness to women's security, their right to vote and offers free legal help to victims of violence.

Read: Significance of the female jirga

The Secretary of State's International Women of Courage Award recognises women around the globe who have demonstrated exceptional courage and leadership in advocating for peace, justice, human rights, gender equality and women's empowerment, often at great personal risk.


Gender inequality is difference between instability & peace, extremism & moderation, poverty & prosperity. #IWOC http://t.co/a5n4dNKczU

— Department of State (@StateDept) March 6, 2015


The award was launched in 2007, and since then, has been given to 86 women from more than 50 different countries.

"This year's recipients reflect women's roles as agents of change and leaders in many of the crises and challenges facing the world today, from countering violent extremism to promoting security and recovery from the Ebola Virus Disease," said the press release.

Other women who won the award included:

1.  Nadia Sharmeen, journalist, women's rights activist (Bangladesh)

2. Rosa Julieta Montaño Salvatierra, Founder and Director, Oficina Jurídica para la Mujer (Bolivia)

3. May Sabe Phyu, Director, Gender Equality Network (Burma)

4. Béatrice Epaye, President, Fondation Voix du Coeur (Central African Republic)

5. Marie Claire Tchecola, nurse, Ebola survivor and activist (Guinea)

6.. Sayaka Osakabe, Founder and Representative, Matahara Net (Japan)

7. Arbana Xharra, Editor-in-Chief, Zeri (Kosovo)

8. Majd Chourbaji, External Relations Director, Women Now for Development Centers (Syria)

9. Captain Niloofar Rahmani, Afghan Air Force (Afghanistan)
COMMENTS
Comments are moderated and generally will be posted if they are on-topic and not abusive.
For more information, please see our Comments FAQ