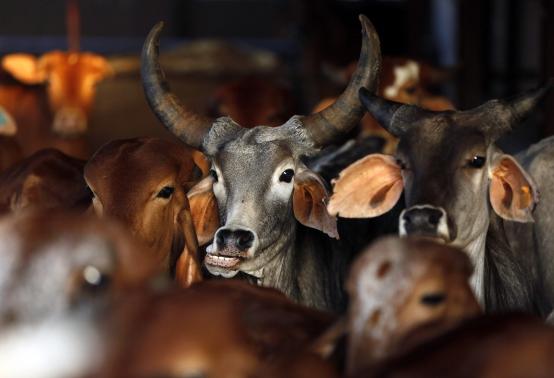 ---
Indian President Pranab Mukherjee approved on Tuesday the Maharashtra Animal Preservation (Amendment) Bill, 1995, banning the slaughter of cows and bulls and threatening to imprison for five years anyone found to be selling the meat or in possession of it.

"This is a historic step, which has cultural as well as economic implications for the state," BJP MP from Mumbai Kirit Somaiya said.

Nearly 19 years after the Maharashtra Assembly passed the Bill during the BJP-Shiv Sena rule in 1995, Mukherjee signed the Bill and sent it to the Ministry of Home Affairs, according to Indian Express.

"We had promised in our manifesto to bring this Bill and we have managed to do it," the MP added.

Under the bill anyone found to be selling beef or in possession of it can be jailed for five years and fined INR10,000.

"Thanks a lot Hon President Sir for the assent on Maharashtra Animal Preservation Bill. Our dream of ban on cow slaughter becomes a reality now," Chief Minister Devendra Fadnavis tweeted.

However, beef traders said they are checking if they can take legal action. The beef trade in the state is largely controlled by Muslims of the Qureshi caste.

"We are now holding deliberations to see if we can challenge this in any way. The beef traders have been impacted but it will be the farmers who will be affected the most," president of the Mumbai Suburban Beef Dealer Association Mohammed Qureshi said.

He added, "Apart from rendering people jobless, the immediate effect will be the spiraling price of other meats as people will be forced to gravitate to them."

The slaughter of cows was previously prohibited in the state under the Maharashtra Animal Preservation Act of 1976. However, the new Act bans the slaughter of bulls as well as bullocks, which was previously allowed based on a fit-for-slaughter certificate.
COMMENTS (40)
Comments are moderated and generally will be posted if they are on-topic and not abusive.
For more information, please see our Comments FAQ