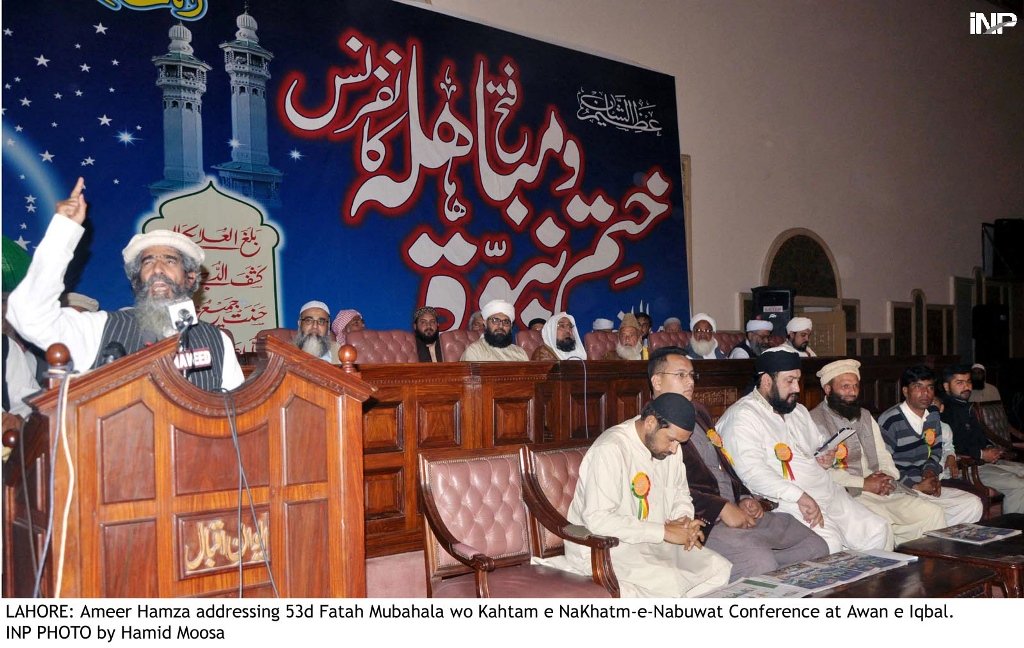 ---
LAHORE: The government has banned several Islamic books in a bid to curb extremism, Pakistan Muslim League-Nawaz MPA Alhaj Muhammad Ilyas Chinioti said, when it should have banned Ahmadi books. "The government is acting like a friend to Ahmadis...a friend of Ahmadis is an enemy of Islam."

Chinioti was presiding over the International Khatam-i-Nabuwat Movement at Aiwan-i-Iqbal on Thursday. Three retired judges of superior courts including former Lahore High Court chief justice Khawaja Muhammad Sharif, former LHC judge Nazir Ahmed Ghazi (both counsel for Mumtaz Qadri) and former judge of the Federal Shariat Court Khalid Mahmood spoke at the conference.

Other prominent speakers included Orya Maqbool Jan, Jamatud Dawa leader Amir Hamza, Abdul Hafeez Makki and Maulana Ahmed Ali Siraj.

Chinioti said that the Constitution had declared Ahmadis non-Muslim, yet they continued to call themselves Muslim.

"Then they must give up their faith and become Muslim or face consequences," he thundered.

Siraj shouted slogans against Ahmadis and their religious leaders.

Syed Kafeel Shah Bukhari, grandson of Syed Ataullah Shah Bukhari, said the government must implement legal provisions against Ahmadis in letter and spirit.

Maqbool Jan said he was a child when the most effective movement against Ahmadis erupted.

"Then there was no one to defend them on television...today, you will find many who speak up for them," he said. This is a dangerous trajectory which must be nipped, he said.

Justice (r) Ghazi said Ahmadis were pagans and the Supreme Court had declared them so in 1993.

He said the judiciary had fulfilled its duty, "it appears as if the Executive is aligned with Ahmadis".

He said the recent Protection of Pakistan Act was drafted to protect Ahmadis, as anyone calling them non-Muslim could be penalised. At this, the hall rang out with slogans vilifying Ahmadis.

One of the participants in the audience said Ahmadis were pagans and citizens should step forward and file complaints against them. He said many Ahmadis had infiltrated the police and military forces.

"They are leading a crack down against Islamic scholars," he said.

On Mumtaz Qadri, he said he might have been an employee of the provincial government then, but, he was a slave of the Holy Prophet (pbuh). He urged people to consider former governor Salmaan Taseer's murder a "virtuous act" without question.

Ameer Hamza said one of the reasons why they wanted to wage jihad against India was to demolish the graves of Ahmadi leaders in Qadian.

Published in The Express Tribune, February 27th, 2015.