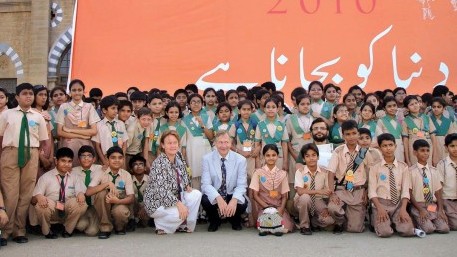 ---
KARACHI: To get back regular rain, a normal climate and sufficient food to eat, two events were organised by separate non-government organisations to mark Earth Day on Thursday. Participatory Development Initiatives (PDI) launched its 'Reclaiming Our Climate' campaign at a gathering at the PDI House in Karachi. Crop failures, reduced biodiversity, irregular rains, severe weathers and an increase in natural disasters have become a common phenomenon in Pakistan, said PDI director Sikander Brohi.

He explained that these factors have led to an increase in diseases, such as dengue fever, in urban Sindh and malaria and skin diseases in rural areas of Sindh. 'Reclaiming Our Climate' is a campaign focused on raising awareness on climate change, empowering minorities to participate, building alliances to fight negative environmental impacts, as well as advocating climate concerns for political decisions. Meanwhile, the Children's Museum for Peace and Human Rights (CMPHR) also organised an art exhibition at the Frere Hall on Thursday.

Over 500 students from 30 schools attended the event and displayed their work based on the themes of environmental awareness, global warming and climate change. Children also participated in a symbolic walk to save planet Earth, as they held banners saying 'our future is in our hands' and 'we need to save the Earth'. The environmental challenges in Pakistan and the world were also discussed by the representatives of Sindh government's environment department and the German consul-general Dr Christian Brecht.

The event was also attended by the country representative of the International Union for the Conservation of Nature, Shah Murad Aliani, Sindh Assembly Speaker Nisar Khuhro and secretary for the environment and alternate energy department, Mir Hussain Ali.