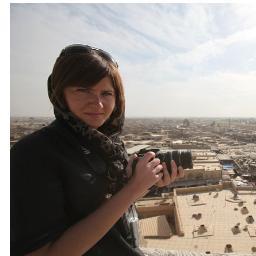 ---
ISLAMABAD: Pakistan and Afghanistan bureau chief for Reuters, Maria Golovnina, was found dead at her office located in Sector F-8 in Islamabad on Monday, the police said.

The police said that Golovnina, a Russian reporter, went to office and came back in the afternoon as she was not feeling well. Initial information revealed that she was feeling heavy headed and dropped on the floor after vomiting, the police said.

"We are saddened to announce that Maria Golovnina, Reuters Bureau Chief for Afghanistan and Pakistan, passed away on Monday. She was 34. Maria fell unconscious in the Islamabad bureau. An ambulance arrived quickly and she was rushed to Kulsum International Hospital, but medical teams were unable to save her.


Maria was a superb journalist with a long and varied career at Reuters. A fluent Japanese and Russian speaker, she joined Reuters in Tokyo in 2001 and subsequently worked in postings around the world including London, Singapore, Moscow, Afghanistan and Iraq. In 2013, Maria became Bureau Chief for Afghanistan and Pakistan, and led her team through an impressive run of exclusives and insights. Her talents, energy and can-do spirit will be sorely missed," said a statement released by Reuters on Golovnina's death.


Dr Ayesha Ishani, the spokesperson for Pakistan Institute of Medical Sciences (PIMS), said that she was brought dead to the hospital. Before that she was taken to a private hospital where she was pronounced dead. She further said that it was too early to get to the cause of death.

Contrary to the police version, the spokesperson said that Golovnina was found dead from the washroom of her office, adding that the body was recovered after breaking the door. Post-mortem report will reveal the real cause of death, she said.

Golovnina's husband had initially refused PIMS administration to carry out a post-mortem but then later gave permission for the hospital to carry out one.

Dr Ishani further said her post-mortem is underway and being carried out by medico-legal officers Dr Nasreen Butt and Dr Furukh Kamal.

"The body has been brought to PIMS so that it can be kept it in the mortuary," she added.

Golovnina had been working with Reuters as the news agency's bureau chief for Pakistan and Afghanistan for the past year-and-a-half.

According to her colleagues, the Russian journalist fell unconscious and was rushed to Pakistan Institute of Medical Sciences (PIMS) where she was officially pronounced dead.

Meanwhile, Information Minister Pervaiz Rashid expressed his grief over the sad demise of Golovnina.




Reports that AfPak Reuters bureau chief @MariaGolovnina found dead in Islamabad. Very big and sad news. A very good reporter.

— Michael Kugelman (@MichaelKugelman) February 23, 2015




https://twitter.com/Jan__Fran/status/569822109255335936




#RIP @MariaGolovnina of @ReutersPakistan @Reuters ; you'll be sorely missed

— Mohammad Taqi (@mazdaki) February 23, 2015
Terrible news! MT @News_Executive Reuters bureau chief for Afghanistan and Pakistan Maria Golovnina has been found dead in Islamabad

— Anuj Chopra (@AnujChopra) February 23, 2015
Very sad to hear about the death of @MariaGolovnina the @Reuters bureau chief for Pakistan & Afghanistan. I pray it wasn't foul play.

— Zeeshan Shah (@zeeshan_shah_dc) February 23, 2015
Police:#Reuters journalist & Bureau Chief #MariaGolovnina found dead under mysterious circumstances in #Islamabad pic.twitter.com/WNc6IoEg0P

— Arshad Sharif (@arsched) February 23, 2015




https://twitter.com/carolkhan_/status/569820409929052160
COMMENTS (19)
Comments are moderated and generally will be posted if they are on-topic and not abusive.
For more information, please see our Comments FAQ