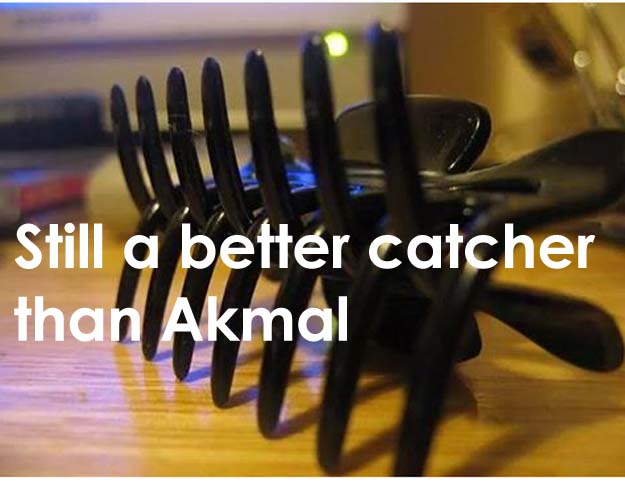 ---
A hapless Pakistan crumbled to their second straight defeat in the World Cup on Saturday, leaving the 1992 champions at the bottom of Pool B.

In Misbahul Haq's words, the team "just flopped" in all departments. They didn't bowl well, they dropped a lot of catches and a beyond terrible batting performance led to the worst start in ODI history.

The greenshirts' faltering campaign has left fans feeling what they have all felt before: angry, frustrated and for the most part just miserable. Here is how Twitter reacted to the Pakistan's loss against West Indies.  
10 overs down and @TheRealPCB fans think so far, so good! #PAKvWI https://t.co/8Ta2bWT73M

— Cricket World Cup (@cricketworldcup) February 20, 2015
Q: What is Pakistani cricketer's favourite software?
A: Dropbox

— Sidin (@sidin) February 21, 2015
Pakistani fielding so far has looked like they've had a few too many plates of biryani :)#cwc15 #PakvWI #Cricket pic.twitter.com/6V6i6tzACP

— Saj Sadiq (@Saj_PakPassion) February 21, 2015
Breaking - Pakistani fielders to be allowed to wear giant gloves to help them stop & catch the ball #cwc15 #PakvWI pic.twitter.com/TZIUppQM7J

— Saj Sadiq (@Saj_PakPassion) February 21, 2015
the healthy diet that is the key to our brilliant fielding and stamina #pakvwi pic.twitter.com/wIePoUoW9g

— Assad (@LeftArmAround) February 21, 2015
WATCH Samuels dropped by @SAfridiOfficial http://t.co/RVN4uawc6p
&@Umar96Akmal http://t.co/YczZZHTwla #PAKvWI #cwc15 pic.twitter.com/s2UNRHuEjw

— Cricket World Cup (@cricketworldcup) February 21, 2015
Toughest jobs in the world :-
Alaskan crab fisher
UN negotiator
Mountain Rescuer
Ice Road Trucker
Pakistan Fielding Coach#cwc15 #PakvWI

— Saj Sadiq (@Saj_PakPassion) February 20, 2015
#HeightOfBaighairtee : the Pakistani fans including myself who are still hopeful #PAKvWI

— Assad (@LeftArmAround) February 21, 2015
This is what happens when you bench Messi. #CWC15

— Shaheryar Mirza (@mirza9) February 21, 2015


https://twitter.com/MuGOHER/status/568920078365777921


We need 10 more Yasir Messi Shah's as fielders#PAKvWI

— REBEL (@RebelByChoice_) February 21, 2015


https://twitter.com/Namaloom_Engr/status/569034627752394752


My sympathies with all those who stayed up to watch #PAKvWI. Do ppl still think there's a chance of Pakistan winning? #Cricket #WC

— Sheema Khan (@sheema_kh) February 21, 2015
OH...Well....I'm Okay.... #PAKvWI ....Zzzzzzzzz

— VEENA MALIK (@iVeenaKhan) February 21, 2015
#PAKvWI @javeednusrat: Time for an Apex Committee comprising MI & ISI personnel to select cricketers after dissolution of the PCB?!

— Manzoor Ali (@Manzoor) February 21, 2015
The only quality decision made by a Pakistani today. RT @parrotrana: Quality decision not waking up for the match in the middle of night.

— Shaheryar Mirza (@mirza9) February 21, 2015
Mood pic.twitter.com/BpQ2Ym5PDj

— Shumail (@Shumyl) February 21, 2015
ICC Rule 23.2(b): Pakistan must lose at the World Cup to any team with IND in its name, irrespective of whether preceded by West or not.

— Hasan Zaidi (@hyzaidi) February 21, 2015


https://twitter.com/AZKhawaja/status/568961018283429889




On the bright side we can now all enjoy it for its comedic value. #PakistanCricket

— Kala Kawa (@kaalakawaa) February 21, 2015


https://twitter.com/asadmunir38/status/568999289482915840


At least that fixing worksheet is bullshit #pakvwi

— Assad (@LeftArmAround) February 21, 2015
Still I am sure Pakistan will bounce back from this and qualify for next stage.

— Sidin (@sidin) February 21, 2015
I am going out! That is a great idea! "@Shumyl: Pakistani fans right now pic.twitter.com/mlRen9RG8X"

— Maliha Mansoori (@MalihaMansoori) February 21, 2015
VIDEO: ICC